Intro to Acrylics: Painting Foregrounds
---
– – – – – – – – – – – – – – – – – – – – – – – – – – – – – – – – – – –
Intro to Acrylics: Painting Foregrounds
with Fred Lisaius
2-Week Class; 4 Video Lessons
Class Dates: April 6-15, 2017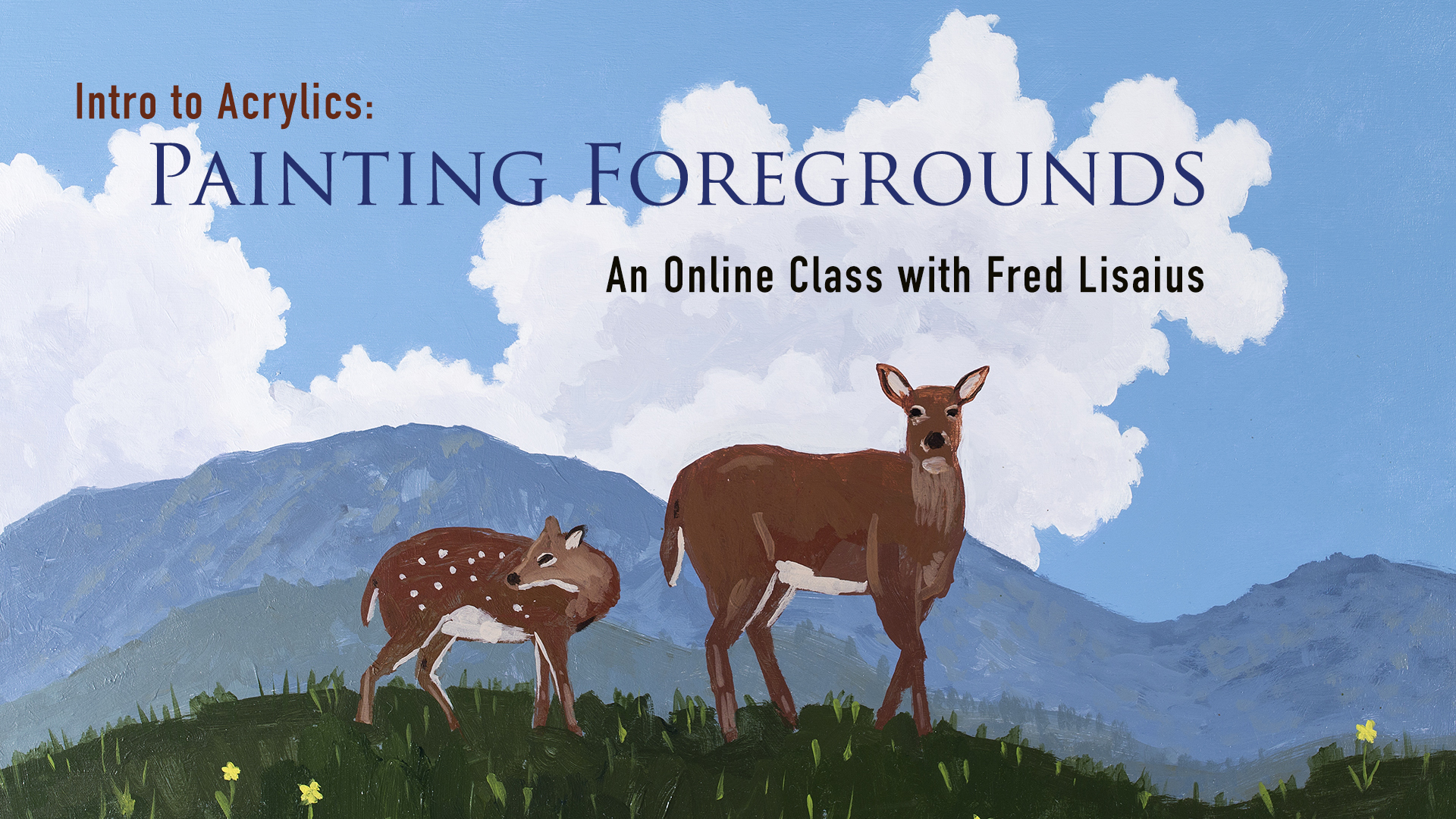 Welcome to the third class in a three-part series! In these classes we will learn how to create the Background, Middle Ground and Foreground. We will also learn many techniques for creating depth and making all three grounds work together.
In this third class we will use our paintings from Parts 1&2 and create two foregrounds, which will become the main subject of the paintings. Have fun deciding what will be in the foreground of your paintings. Is there a hiker with a dog? An animal? What else might work? Do some sketches to help visualize your ideas and then find some good photo reference to help you paint it accurately.
Acrylics paints are beautiful. The medium is creamy, colorful, and very versatile. This class is designed to introduce beginners to this beautiful medium and to excite more advanced students with new information and techniques. I look forward to painting with you! — Fred
CLICK HERE for the SUPPLY LIST.
(Note: For those of you who already signed up for the three-class series, there is no need to sign up again. You will receive a welcome email shortly.)
________________________
Sign up Today!
Three-class series:
Foregrounds class only:
________________________
Series Schedule:
Backgrounds (instant availability)
Middle Grounds (instant availability)
Foregrounds (June 6-15, 2017)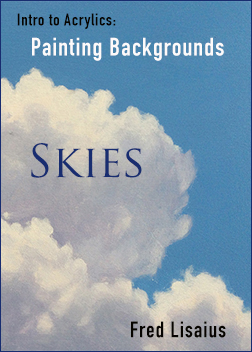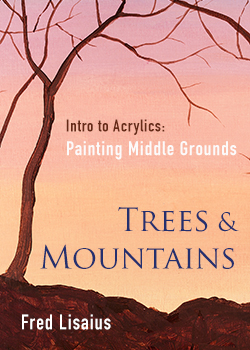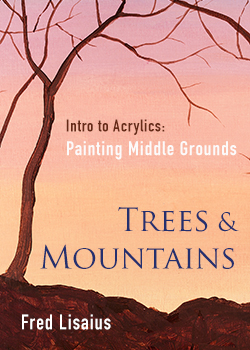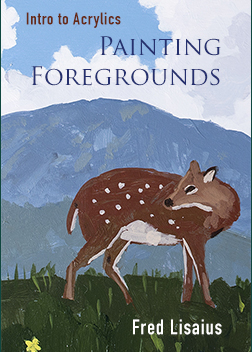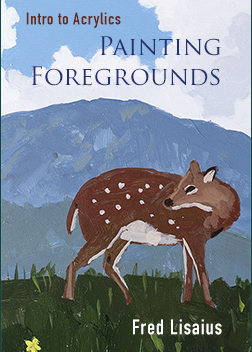 ________________________
Part 1 – Middle Grounds Class Itinerary
Week 1 – Blue Sky, Mountains, Deer
Lesson 1 – Decide on your foreground subject and make sketches to get familiar before committing to paint. Choosing warmer and richer colors to bring the subject forward and roughing in your subject with the first layer of paint.
Lesson 2 – Adding second layer of paint, refining the form of your subject, and adding final details to make it feel close and really bring it to life.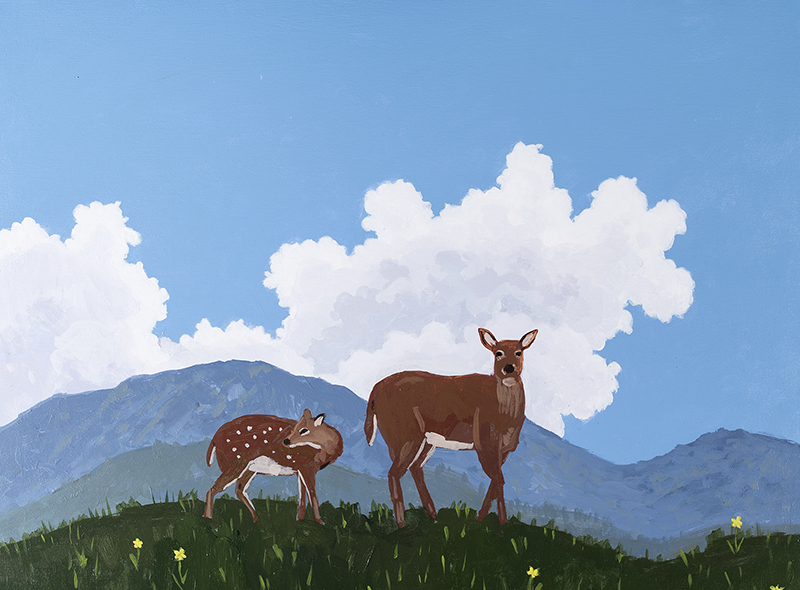 Week 2 – Sunrise Sunset, Trees, Hiker
Lesson 3 – This is the culmination of our whole series, and we will be taking on the challenge of painting the human figure, starting again with some pencil sketches and then applying our first layer of paint to our panels.
Lesson 4 – Using smaller brushes, we will make those final touches that give the human form its character and personality, as well as refining light and shadow and bringing it to its finish.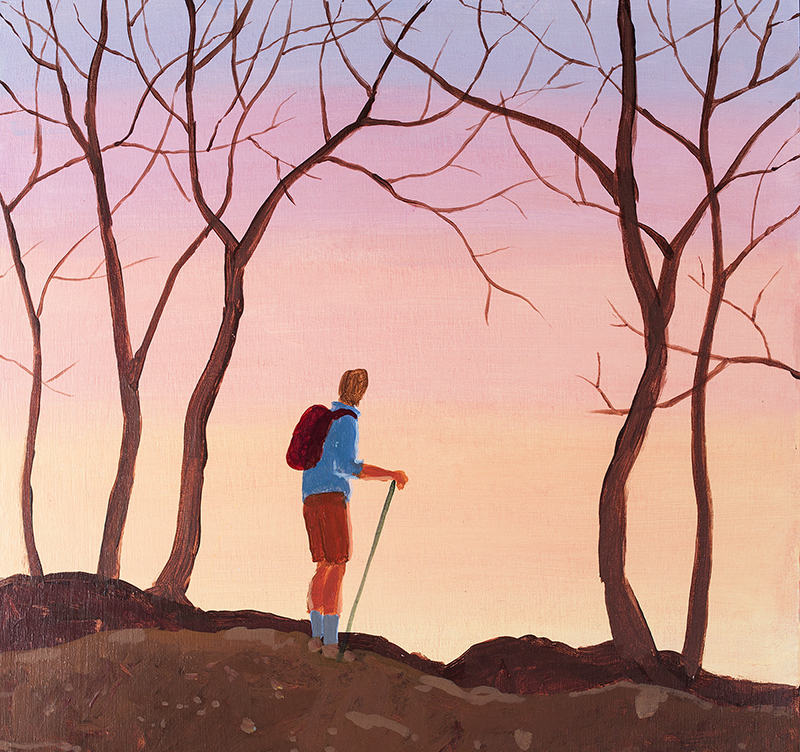 ________________________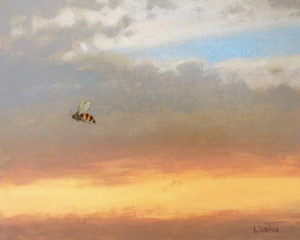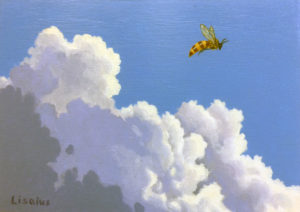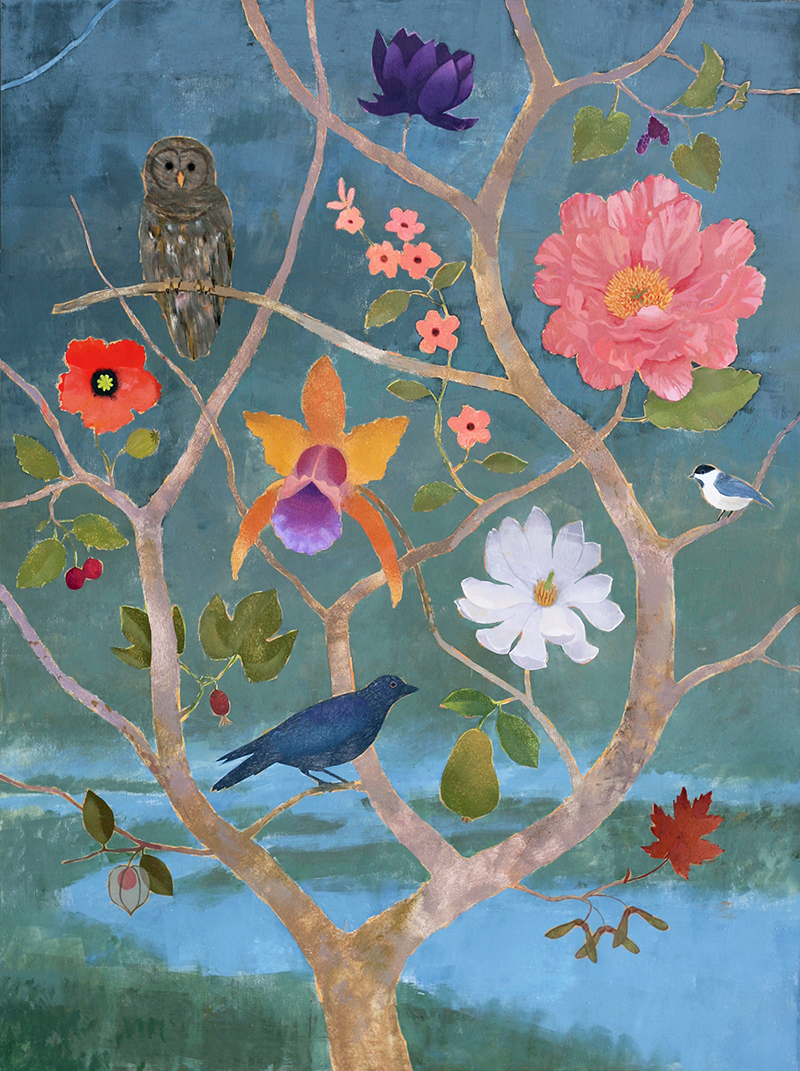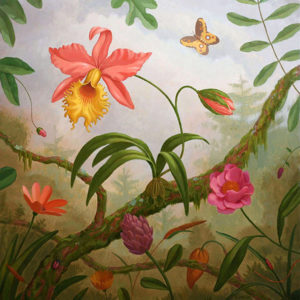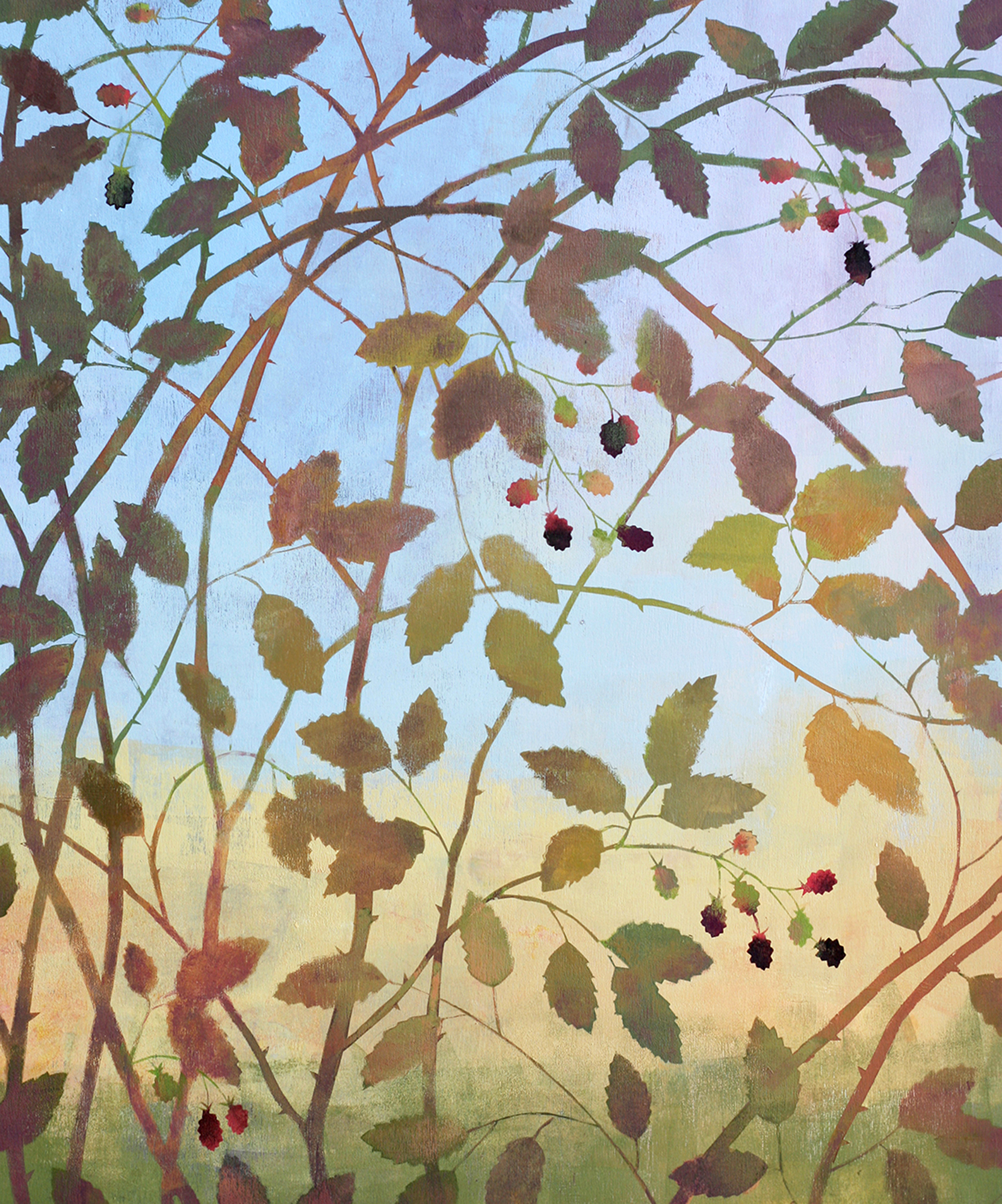 ________________________
Sign up Today!
Three-class series:
Foregrounds class only:
– – – – – – – – – – – – – – – – – – – – – – – – – – – – – – – – – – –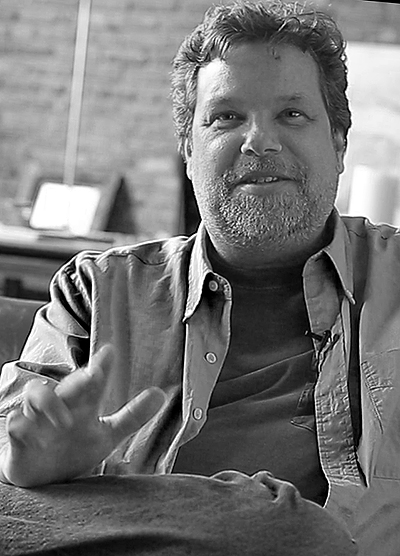 Fred Lisaius is a painter, sculptor, and a popular art teacher at Bellevue College, WA  ("Fred is perfect!"). Fred is represented by the Patricia Rovzar Gallery in Seattle, and his work is in many private and corporate collections. Fred recently had a show at the Bainbridge Island Art Museum.  From his statement:
The deeper I go into the forest the closer I feel to the truth. Off of the trail, there is a quiet calm where ideas can be contemplated and refined. In my paintings and my sculptures, I utilize the forum of nature to explore our relationship to the natural world and to each other.
– – – – – – – – – – – – – – – – – – – – – – – – – – – – – – – – – – –
– – – – – – – – – – – – – – – – – – – – – – – – – – – – – – – – – – –
NUTS & BOLTS
Here's how this online class works:
• A password-protected blog serves as our clubhouse; there you will find all of the lesson videos and class materials.
• A Facebook group has been created for you to (optionally) share your paintings, and enjoy and learn from the artwork of others. (However, if you are shy about posting your art, Fred is always available to look at your work via email.)
• You have indefinite access to the class materials.
• Upon registration, you will receive an email within 48 hours with the links to the class blog and Facebook group.
• Class fee is good for participants living in a single household.
QUESTIONS? carla[at]carlasonheim.com
FAQs – If you've never taken an online class before and would like to know more about our classes, click HERE.
---