Class Description
Welcome to this three-class series where we will learn how to create the Background, Middle Ground and Foreground. We will also learn many techniques for creating depth and making all three grounds work together.
Acrylics paints are beautiful. The medium is creamy, colorful, and very versatile. This class is designed to introduce beginners to this beautiful medium and to excite more advanced students with new information and techniques. I look forward to painting with you! — Fred
---
Class Itinerary
Part 1 – Backgrounds Class Itinerary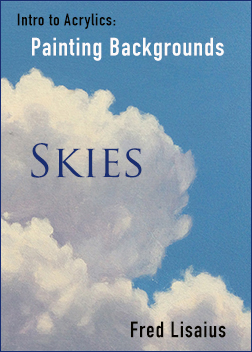 Lesson 1 – Mixing colors for the blue sky, building the big shapes, and defining our cloud edges.
Lesson 2 – Determining the color variations within the clouds, adding layers to create contrast and depth, and finishing by creating smooth transitions.
Lesson 3 – Create a warm color palette, lay down transition layers, and practice techniques for smooth blending.
Lesson 4 – Continue smoothing and refining, and glazing techniques for creating even more subtle tints.
Part 2 – Middle Grounds Class Itinerary


Lesson 1 – Picking colors that indicate distance and depth, and roughing in shapes of a distant mountain range.
Lesson 2 – Adding a second layer of paint to the first layer for complete coverage. Adding detail to create a realistic look.
Lesson 3 – Painting tree forms, .trunks and branches; working with subtleties color to create the right balance for a middle ground element in a backlit scene.
Lesson 4 – Revisit tree forms. Make adjustments in color transparency, adding additional branches and fine details with a small brush
Part 3 – Foregrounds Class Itinerary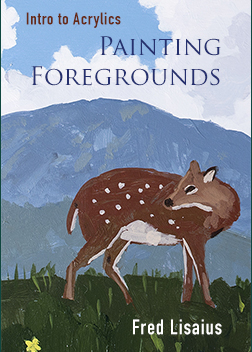 Lesson 1 – Decide on your foreground subject and make sketches to get familiar before committing to paint. Choosing warmer and richer colors to bring the subject forward and roughing in your subject with the first layer of paint.
Lesson 2 – Adding second layer of paint, refining the form of your subject, and adding final details to make it feel close and really bring it to life.
Lesson 3 – This is the culmination of our whole series, and we will be taking on the challenge of painting the human figure, starting again with some pencil sketches and then applying our first layer of paint to our panels.
Lesson 4 – Using smaller brushes, we will make those final touches that give the human form its character and personality, as well as refining light and shadow and bringing it to its finish.