Paper Love: 2 Classes with Dar Hosta James
---
Paper Love: Two Classes!
Hand-Painted Paper
1-Week Class
3 Lessons; $35
Now available as a self-study class.
Cut Paper Collage
2-Week Class
6 Lessons; $85
Now available as a self-study classes.
_________________________
Click below to purchase both classes together!
_________________________
Click HERE for supply lists for both classes.
_________________________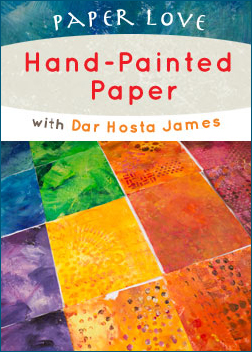 Class #1: Hand-Painted Paper
Create a rainbow of your very own hand-painted papers! Join collage artist Dar Hosta James for a playful exploration of color, pattern and texture using a variety of techniques to produce beautiful, decorative papers that can be used in cut-paper collage as well as other projects that call for special, decorative paper. We will experiment with layers of paint using found objects, spattering, dripping and more as we work in color families. You will paint on Yasutomo Kozo paper and finish with a collection of at least 20 sheets of gorgeous—and very personal— pieces of hand-painted paper, as well as a toolbox full of paper-painting techniques to mix and match.
Lesson 1
The warm color family — colors of the sun and fire! In this lesson we will play with busy and calm to create red, orange and yellow papers created with found objects, stencils, and your fingertips.
Lesson 2
Cool is the color of the sky, water, grass and things that sooth us. Lesson 2 focuses on blue, green and purple using the decorative paint techniques of the spatter screen and sgraffito.
Lesson 3
Neutrals like white, gray, brown and black bring harmony to composition. In Lesson 3 we explore neutrals with two more painting techniques, dry brush and gesso ghost drips.
To purchase Hand-Painted Paper separately:
_______________________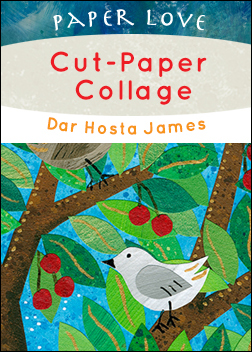 Class #2: Cut Paper Collage
Shapes, shapes, shapes! The whole world is made up of simple but beautiful shapes! In this six-lesson course, participants will use their personal stash of collage papers (or, for those of those who took "Hand-Painted Paper," their newly finished collection) to create a variety of playful collage compositions including buildings and architecture, floral, botanical, insect and animal. Learn Dar's favorite and unexpected adhesive technique, which allows you to bring detail and delicacy into your cut paper work, as well as her final, detail technique which will literally "light up" your collage!
Lesson 1
Did you know that almost everything in the world is made up of five, basic shapes? In lesson 1 we will begin our collage adventure by breaking it down to the basics in a fun exercise with magazine clippings.
Lesson 2
Because you can never have enough hand-painted paper, we will make some more! Lesson 2 brings metallic paints into the fray as well as a fun, handmade stamp exercise that will make your patterned papers truly your own. Plus, we will put the adhesive onto all of our papers so that they are ready to cut in lesson four!
Lesson 3
Backgrounds are the foundation of our painterly collages. In Lesson 3 we will create a variety of subtle backgrounds to use in our upcoming compositions.
Lesson 4
Let's build houses and buildings and neighborhoods! We will start "thinking in stacks" with 2D houses and then jump to rendering them in 3D to bring depth and dimension to architectural compositions.
Lesson 5
Florals and botanicals truly lend themselves to collage because they are so easily broken down into shapes. We will learn an easy way to begin to go beyond the basics into more complex shapes and then we will grow a big, abundant garden, as well as experiment with insects and animals.
Lesson 6
Acrylic ink is the grand finale; dots and lines bring detail to our work and will literally light it up!
__________________________
Sign up today!
__________________________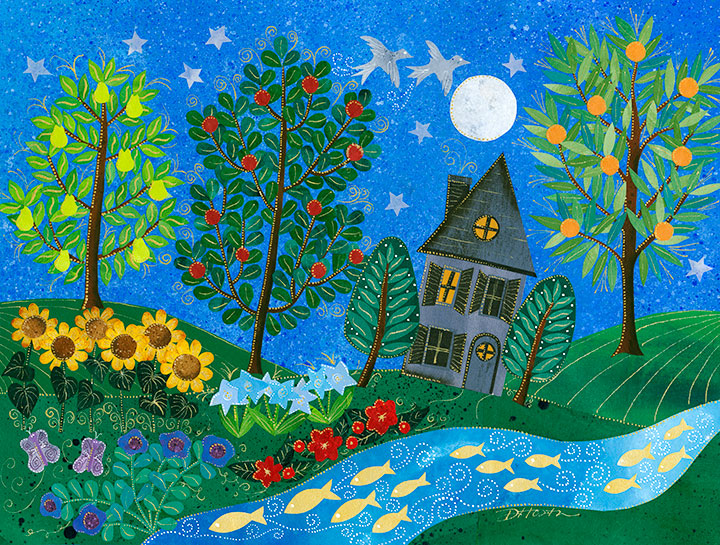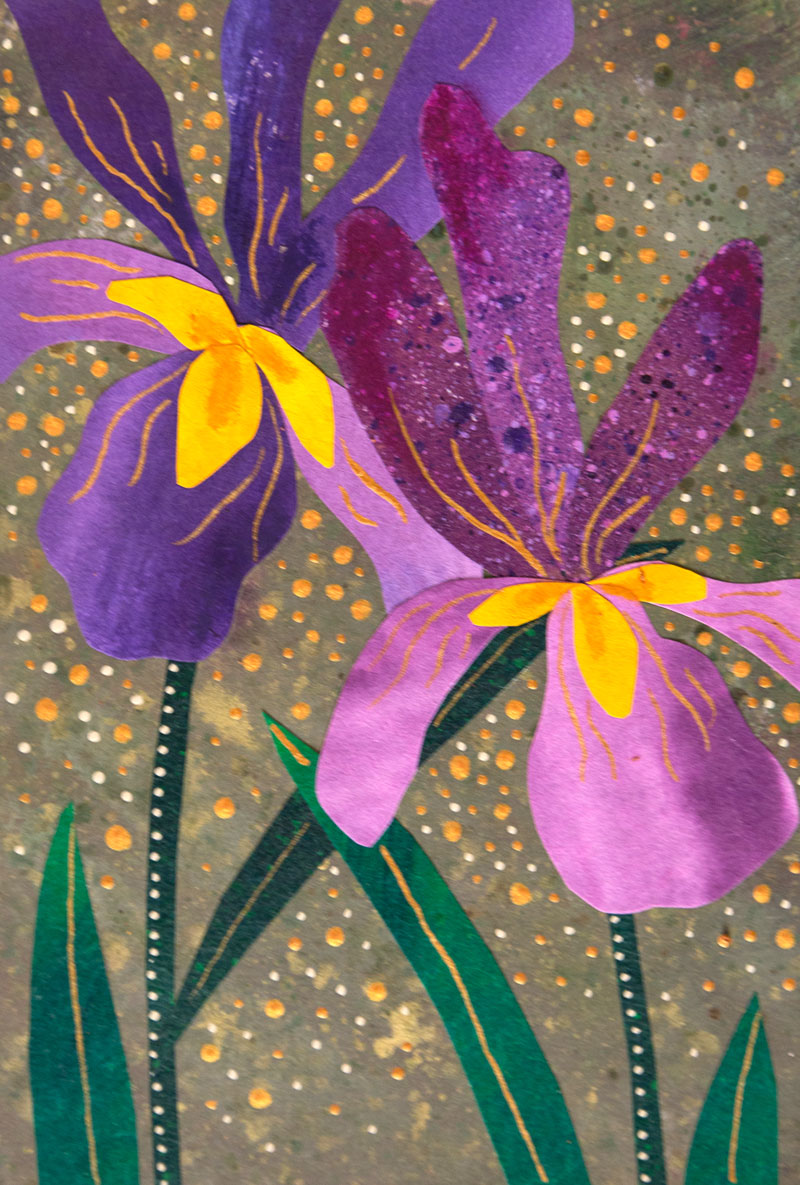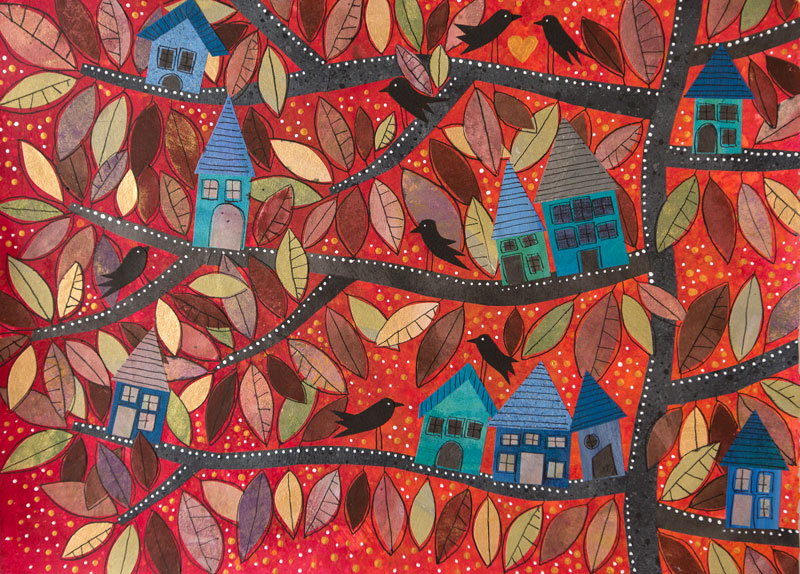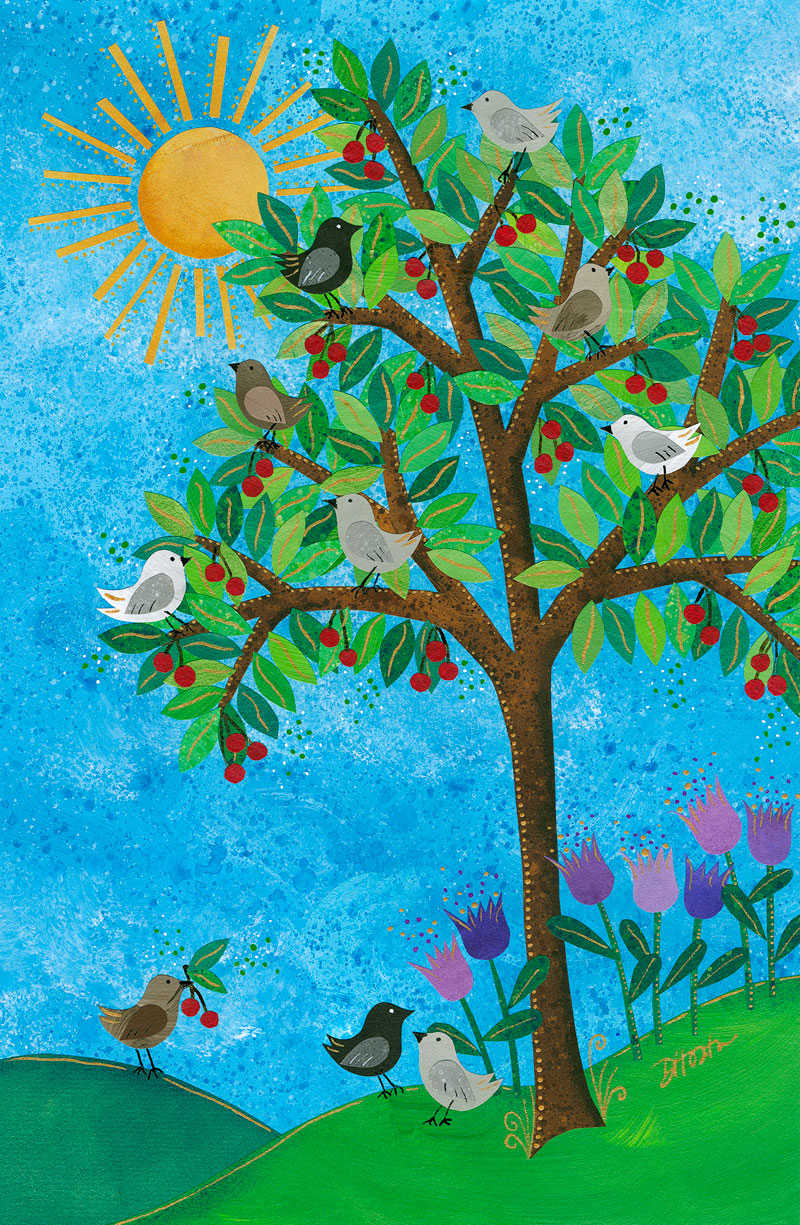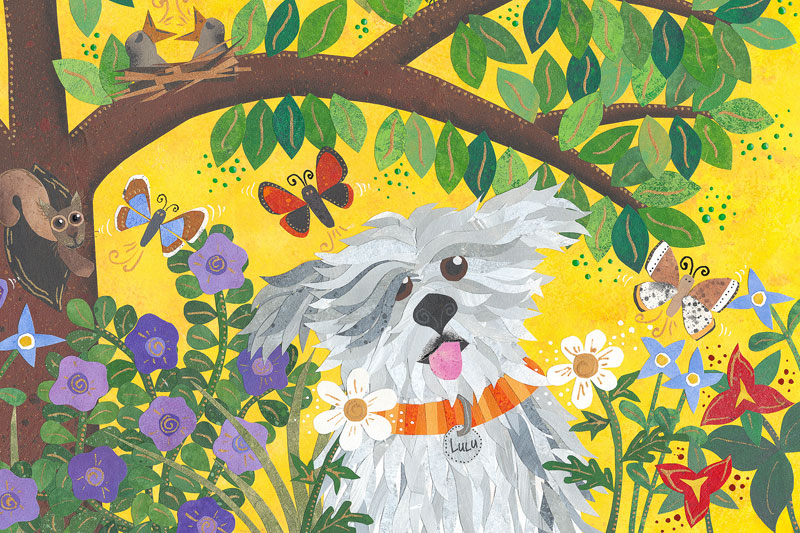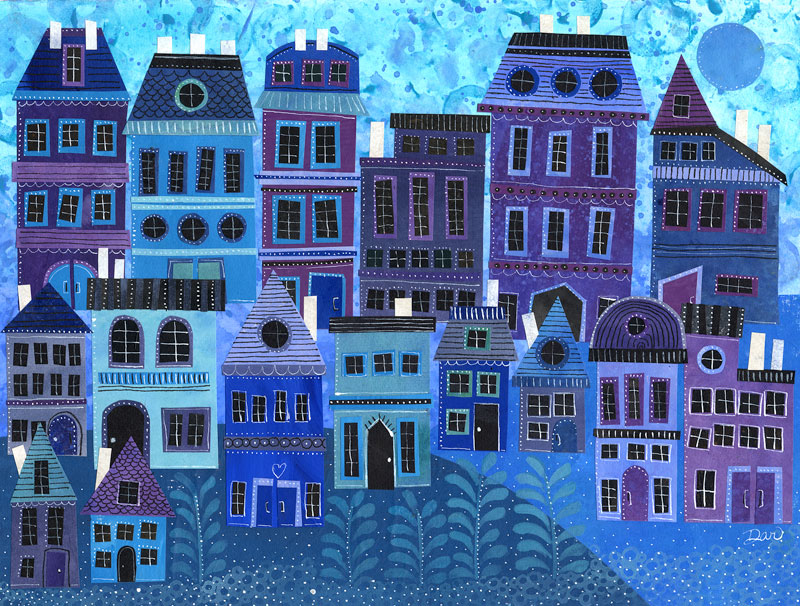 __________________________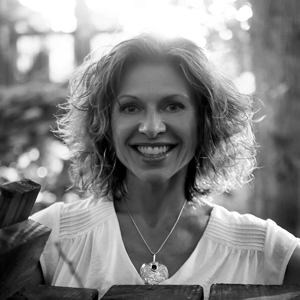 Dar Hosta James is a collage artist, a painter of trees, a writer/illustrator of children's books, a teacher of both children and adults, a public speaker, and a life coach.
She is the daughter of an artist with a BA in creative writing from the University of Missouri and a secondary education certification in Language Arts. After a brief stint as a high school teacher, she became a stay-at-home mom in rural Ohio where she discovered a love of collage while spending days at home with her two young sons. She continued working in education through writing and art as a visiting author, an artist-in-residence and a national speaker on creativity in education. In 2003, after a move to central New Jersey, Dar started an independent publishing company. Of her life as an artist, she says, "Art has become a metaphor for my life… my life has become a metaphor for my art… in both areas, I try to look for what is working and how to make it all more fun. The two feed each other."
She is the mother of two grown sons and lives in New Hope, PA. When she is not busy creating art, Dar is an avid runner, a regular yoga practitioner and an amateur student of tarot. She recently became a Certified GOLDEN Artist Educator. See her work, calendar and shop at www.darsworld.com.
– – – – – – – – – – – – – – – – – – – – – – – – – – – – – – – – – – –
NUTS & BOLTS
Here's how this online class works:
• During the weeks of class, you will receive an email each Tu-W-F from Dar with a reminder to visit the class blog for that day's lesson.
• A password-protected blog dedicated to each class will serve as our clubhouse and where you will find all the class materials as they are uploaded.
• A facebook group will be created for you to (optionally) share your paintings, and enjoy and learn from the artwork of others. (However, if you are shy about posting your art, Dar is always available to look at your work via email.)
• The class materials will be up and available for download indefinitely, if for some reason you need to miss a day (or a couple of weeks).
• Upon registration, you will receive an email within 48 hours confirming your sign-up. On the Friday before your session begins, you will receive your class codes.
• Class fee is good for participants living in a single household.
QUESTIONS? carla@carlasonheim.com
FAQs – If you've never taken an online class before and would like to know more about our online classes, click HERE.
___________________
---