"Spring Watercolors" with Fred Lisaius
---
Fred promo1VDHD720 from Silly U on Vimeo.
"Spring Watercolors" with Fred Lisaius
Watercolor
6 Lessons Total
Now available as a self-study class.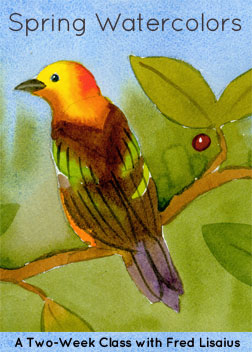 Painting should be fun. Relax and enjoy step-by-step instruction on how to begin, create and finish a watercolor painting! Pour yourself a cup of tea, put some Vivaldi on in the background and let's get painting!
Fred, who is both an accomplished painter ( www.fredlisaius.com) and an inspiring teacher, will dispel the myths of watercolor technique and give you some solid, practical methods for improving your control, color, and balance. This class is great for beginners and advanced painters alike and will help open the door for more expressive and personal work.
Testimonials from Fred's first session:
"What a great, straightforward, informative class. The selection, narration, and recording were stellar. I hope that you will teach more classes, Fred. Thanks so much." — Christine
"Seriously?!! We are really going to get more awesome lessons from Fred?!!! Fred, you rock! My fellow classmates, you all rock!!" — Jackie
CLASS ITINERARY
Lesson #1: Beaded Washes
Lesson #2: Glazing and Wet-on Wet
Lesson #3:  Painting a Magnolia Flower from Photo
Lesson #4: Painting a Daffodil from Life
Lesson #5: Inventing a Spring Bird
Lesson #6: Sky with Bee
SUPPLY LIST
Here's the scoop for this class:
• Each M-W-F you will receive an email from Fred with a reminder to visit the class blog for that day's lesson.
• A password-protected blog dedicated to each class will serve as our clubhouse.
• A facebook group will be created for you to (optionally) share your paintings, and enjoy and learn from the artwork of others. (However, if you are shy about posting your art, Fred is always available to look at your work via email.)
• The class materials will be up and available for download until "forever," if for some reason you need to miss a day (or a couple of weeks).
• Upon registration, you will receive an email within 48 hours confirming your sign-up. On the Wednesday before your session begins, you will receive a "test" email to make sure you can receive/view everything.
• What you will need: You will be able to read acrobat pdf files and view videos.
• Class fee is good for participants living in a single household.
QUESTIONS? carla@carlasonheim.com
___________________________
SIGN UP TODAY!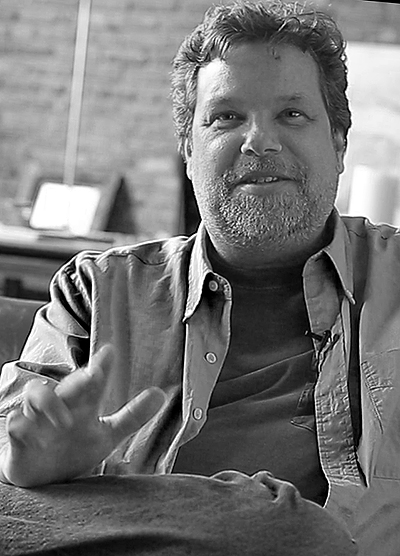 Fred Lisaius is a painter, sculptor, and a popular art teacher at Bellevue College, WA  ("Fred is perfect!"). Fred is represented by the Patricia Rovzar Gallery in Seattle, and his work is in many private and corporate collections. From his statement:
The deeper I go into the forest the closer I feel to the truth. Off of the trail, there is a quiet calm where ideas can be contemplated and refined. In my paintings and my sculptures, I utilize the forum of nature to explore our relationship to the natural world and to each other.
---