Stained Glass Trees
---
Stained-Glass Trees
Instructor: Dar Hosta James
8-Lesson, 3-Week Class
Class Dates: April 18 – May 4, 2017
Note: Even though class has started, you are welcome to join in anytime!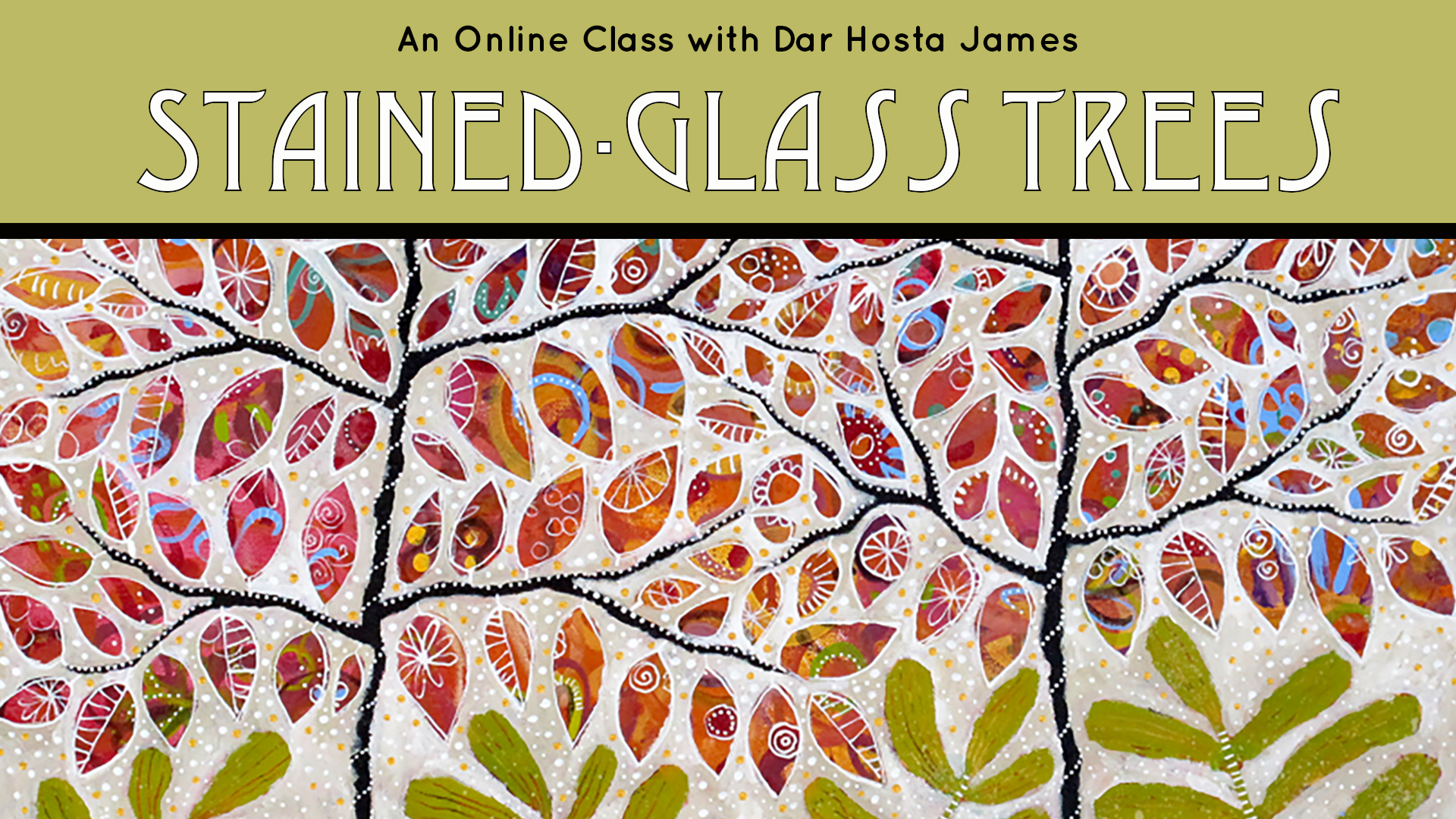 The simple and universal beauty of a tree meets the decorative grandeur of stained glass in this three week acrylic painting course with Dar Hosta James. Come along for a creative journey that gives you the recipe and the ingredients for your own fantastic, magical forest. You will begin with simple shapes and lines and continue with doodling, negative space, dots and more dots, and embellishment that truly proves more IS more!
We will put lots of emphasis on color harmony and pretty details. By the end of this course, you will have four gorgeous canvas paintings in various sizes and dimensions.
This is a course for ALL skill and artistic levels and you will surprise yourself with how you'll take this recipe and turn it into your own expression of trees, so come along for this new and fun artistic adventure!
Click HERE for supply list.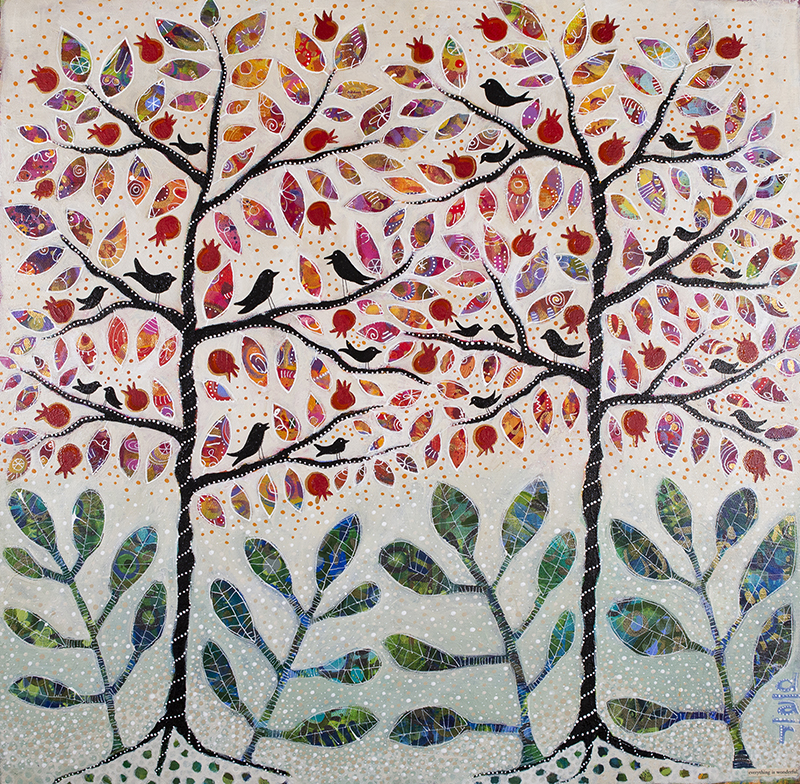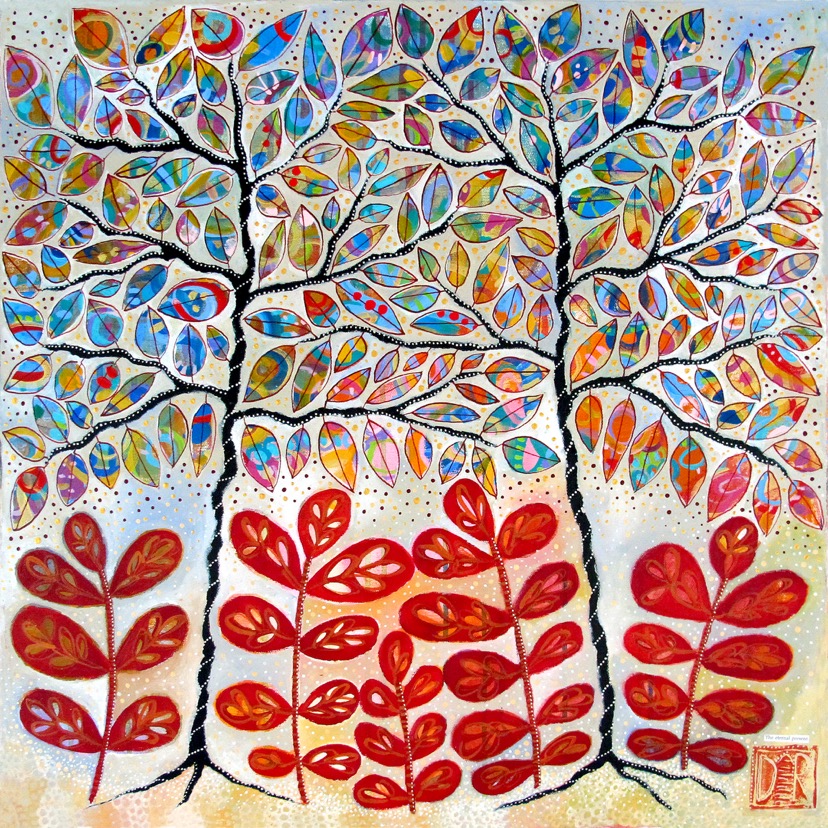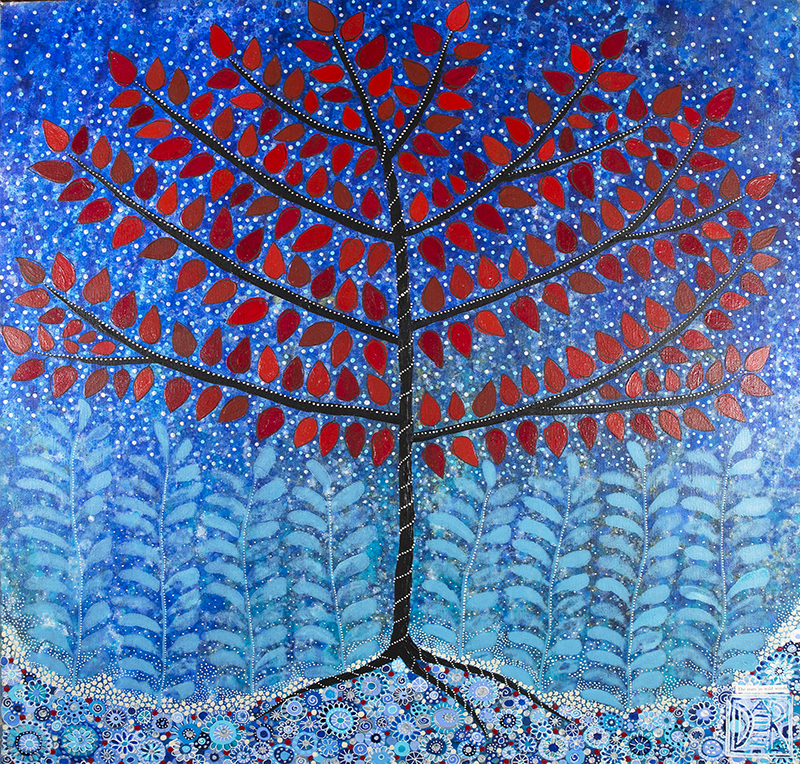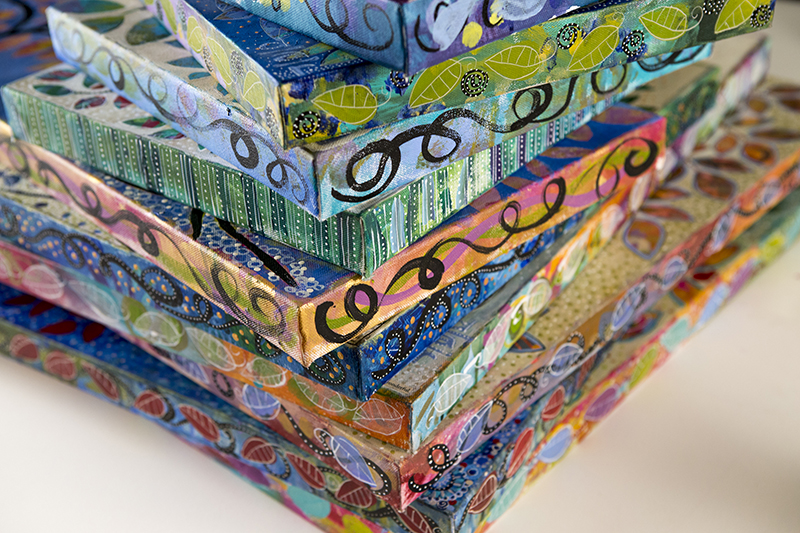 _________________________
Class Itinerary
Week 1
Lesson 1
We are going to begin by forgetting about trees and focusing on color, color, color! Our first lesson is all about exploring the color combinations that we love and laying down the first layer of this process oriented technique on two smaller canvases.
Lesson 2
Because this technique requires that we distill our ideas of trees down to a simple interpretation of what they look like, we are going to practice stylization of trees. There are so many ways to represent a tree and we are going to really brainstorm on this. We are also going to do a little non-precious practice of negative space which is the cornerstone of our beautiful leaves.
Lesson 3
We are going to add a little more color to our canvases and then we are going bring our favorite tree shapes to life and reveal the beautiful, stained glass leaves that are waiting on our canvases.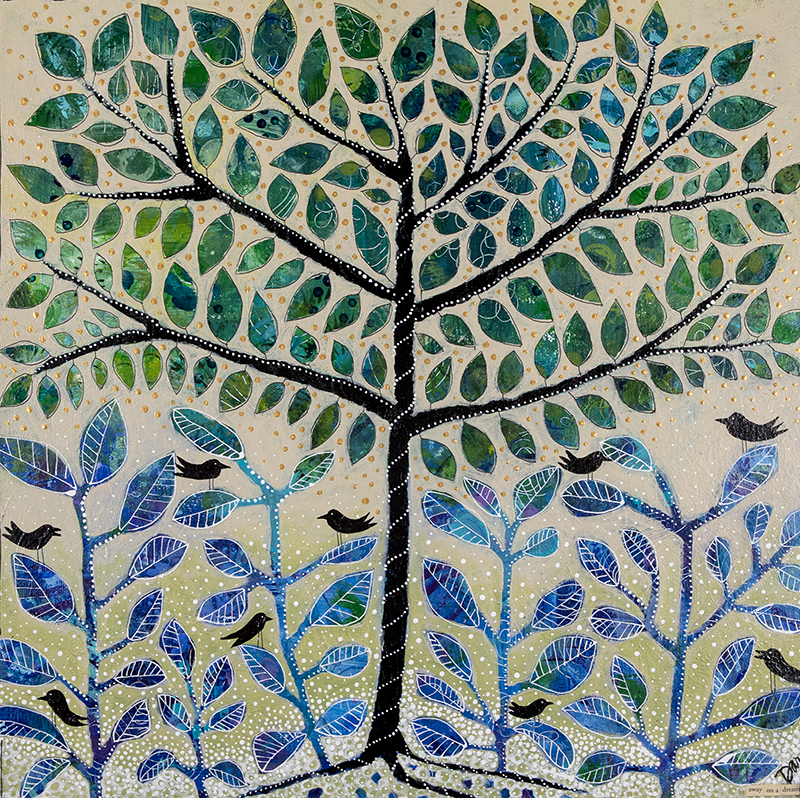 Week 2
Lesson 4
In this lesson, we are going to build on what we know. We are going to add another tree, some fun shiny paints, and move into a new, darker color palette. One of my favorite things to portray in my art is the NIGHT! So, let's do some magical NIGHT SKIES!
Lesson 5
We began with very simplified and stylized tree forms and then created leaf "windows," and today we are going to start decorating everything around our paintings and embellish, embellish, embellish.  This is where our paintings are really going to come alive and completely light up. If you like more-is-more, like I do, get ready to let it fly today.
Lesson 6
More is more! Lesson 6 brings more embellishment to our night sky paintings and two decorative techniques to share with you.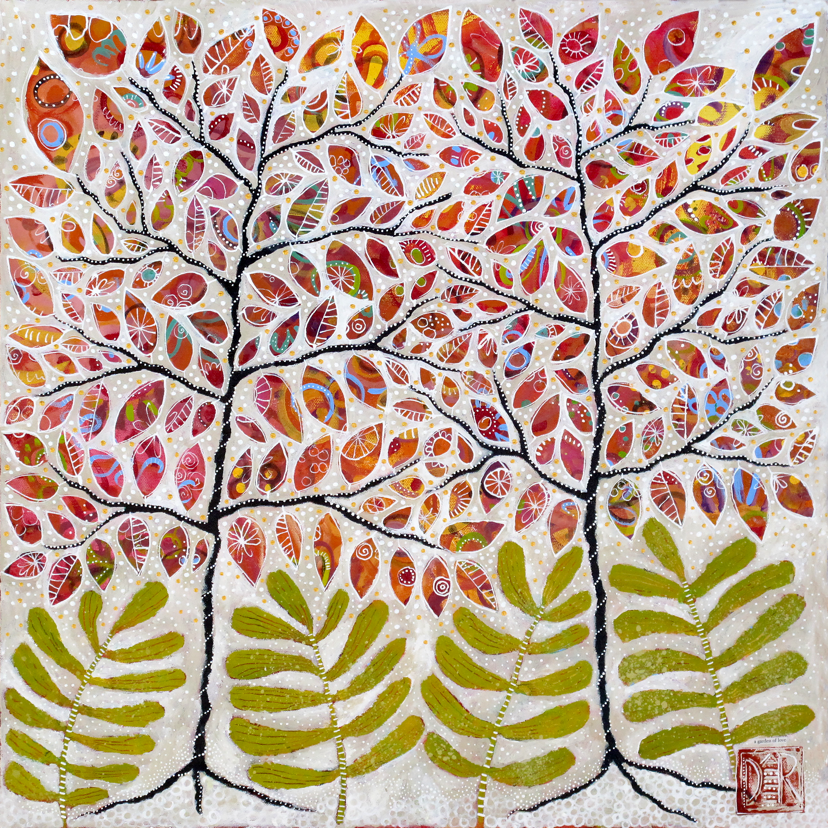 Week 3
Lesson 7
For our fourth painting, we are going to go for a larger, 24×24" tree painting and apply all of our tree-mendous skills to it! We are going to bring more complexity to this one and you are going to get to add more design elements, choose new tree shapes and new colors.
Lesson 8
One of the ways that a painting can begin to tell a personal story is by adding in small details that are meaningful to you. Let's begin to think about what those details might be… plants, animals, flowers, fruits, water, fishes, insects, houses, people… there are so many ways that we can push the more-is-more and really tell the story of our trees.
__________________________
 Class begins April 18th. Sign up today!
__________________________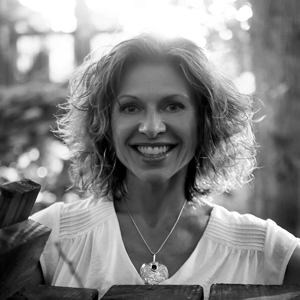 Dar Hosta James is a collage artist, a painter of trees, a writer/illustrator of children's books, a teacher of both children and adults, a public speaker, and a life coach.
She is the daughter of an artist with a BA in creative writing from the University of Missouri and a secondary education certification in Language Arts. After a brief stint as a high school teacher, she became a stay-at-home mom in rural Ohio where she discovered a love of collage while spending days at home with her two young sons. She continued working in education through writing and art as a visiting author, an artist-in-residence and a national speaker on creativity in education. In 2003, after a move to central New Jersey, Dar started an independent publishing company. Of her life as an artist, she says, "Art has become a metaphor for my life… my life has become a metaphor for my art… in both areas, I try to look for what is working and how to make it all more fun. The two feed each other."
She is the mother of two grown sons and lives in New Hope, PA. When she is not busy creating art, Dar is an avid runner, a regular yoga practitioner and an amateur student of tarot. She recently became a Certified GOLDEN Artist Educator. See her work, calendar and shop at www.darsworld.com.
– – – – – – – – – – – – – – – – – – – – – – – – – – – – – – – – – – –
NUTS & BOLTS
Here's how this online class works:
• During the first two weeks of class, you will receive an email each Tu-W-F with a reminder to visit the class blog for that day's lesson. (On Week 3, the emails will come on Tu-Thur.)
• A password-protected blog dedicated to each class will serve as our clubhouse and where you will find all the class materials as they are uploaded.
• A facebook group will be created for you to (optionally) share your paintings, and enjoy and learn from the artwork of others. (However, if you are shy about posting your art, Dar is always available to look at your work via email.)
• The class materials will be up and available for download indefinitely, if for some reason you need to miss a day (or a couple of weeks).
• Upon registration, you will receive an email within 48 hours confirming your sign-up. On the Friday before your session begins, you will receive your class codes.
• Class fee is good for participants living in a single household.
QUESTIONS? carla@carlasonheim.com
FAQs – If you've never taken an online class before and would like to know more about our online classes, click HERE.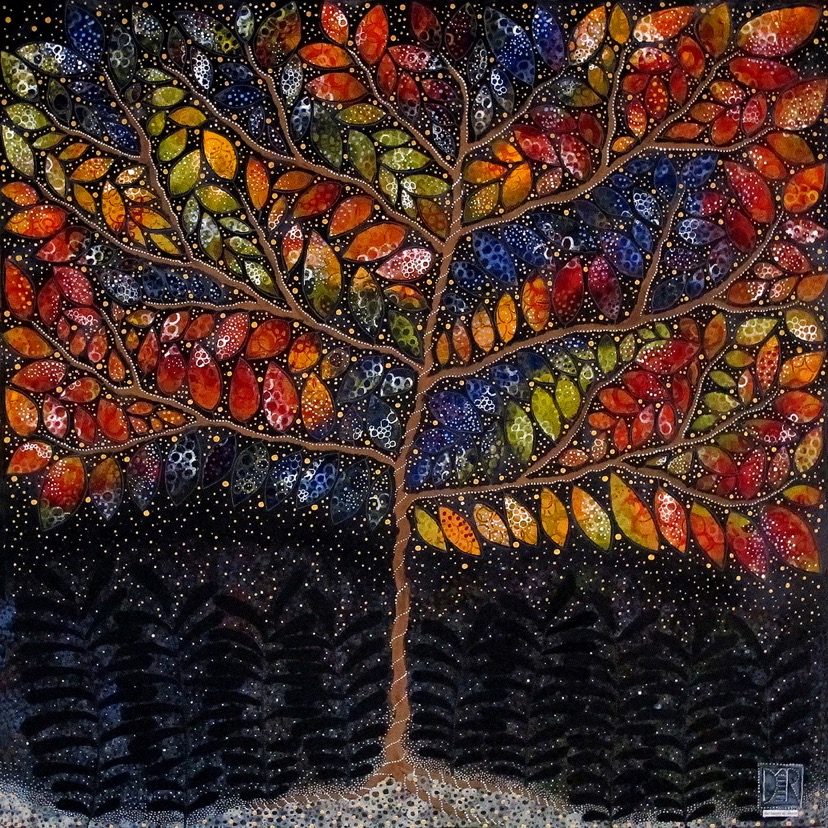 ---