Hi everyone
My name is Carla Sonheim and I am the author of Drawing Lab for Mixed-Media Artists: 52 Creative Exercises to Make Drawing Fun! (Quarry Books, 2010). This book has sold over 100,000 copies, and for this I am very grateful!
When my boys were young I taught art in their elementary school classrooms. There I was tasked (happily!) with keeping the lessons both fun AND instructional, and when I began teaching adults a few years later, I continued this approach as I found that many people felt nervous about drawing especially… it helped to keep it FUN! From those two teaching experiences Drawing Lab was born.
This "serious and silly" approach sums up what we do with our online classes, too. We currently partner with 15 artist-teachers, and all of us love to draw, paint and create… and we love to share what we know, too!
Steve, my partner and husband, and I both feel grateful to work with creators from all over the world.
We live in Seattle, Washington, just 10 minutes away from our three beautiful grandchildren.
Carla
---
"Carla just shines and is so gentle and generous that you will work hard all day and come out energised and inspired. Most importantly though, [her] class was a touchstone in my artistic journey, giving me the courage to stop resisting, and open myself to my creative voice." — Kelly H.
Read more about what our students are saying.
---
Mission for Our Online Classes
TECHNIQUE & CREATIVITY
We strive to make sure that every class includes both innovative techniques and the opportunity for personal growth and self expression.
COMMUNITY
Because of our "live" format, each class becomes an online community where students can share their work, their thoughts and can encourage each other.
INSTRUCTOR FEEDBACK
In addition, every class member has the opportunity to have their work commented on by the instructor, who is also available by email for the duration of the class.
---
---
Steve is a commercial photographer, director, and author of Creative Photography Lab. Like Carla, he believes that making art involves equal parts of heart and hand, seriousness and silliness.
email: carla[at]carlasonheim.com
---
Kids, Art & Giving Back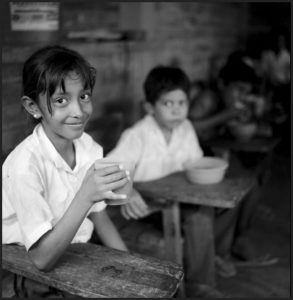 We contribute to The Rainbow Network, a NGO based in Nicaragua. This amazing organization empowers people in remote villages by working with them to provide healthcare, housing, education and economic development.
We selected The Rainbow Network because this organization believes in the people they are helping. All of the permanent staff working in Nicaragua are native Nicaraguans.
The Rainbow Network provides materials and guidance so that families can build their own homes, start businesses and send their kids to school.  Our donation supports this mission by providing school and art supplies for elementary schools and scholarships for high school students.
Carla and Steve have both been involved with Rainbow for over ten years. Carla visited in 2005 and taught art lessons; Steve has worked on various projects including photography for: Meet Me in Managua (Kregel Publications, 2005), and now serves on the Rainbow Network Board of Directors.
Learn more about The Rainbow Network.