Intro to Encaustic Painting
---
Intro to Encaustic Painting
Instructor: Stephanie Hargrave
4-week, 12-lesson class
Encaustic Painting
Now available as a self-study class.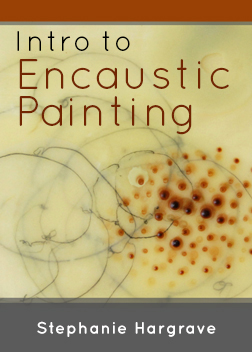 Encaustic painting is using melted and pigmented beeswax to create exciting, luminous paintings. If you have ever been curious about encaustics, you're in for a treat! This 12-lesson online workshop covers a brief history of this ancient medium, what equipment is needed, setting up your work space, mixing colors, adding other media like paper and thread, safety… everything you need to know to start making your own encaustic paintings.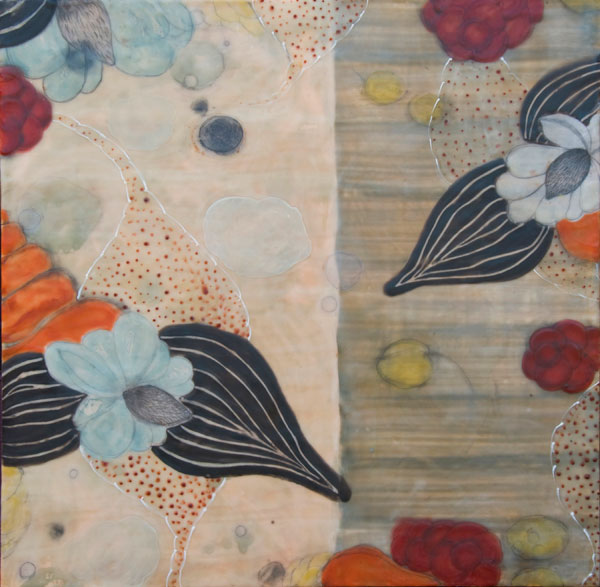 Olivia I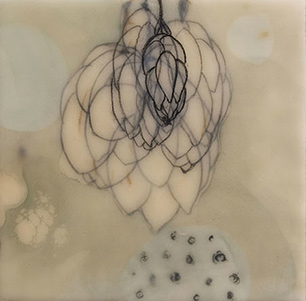 April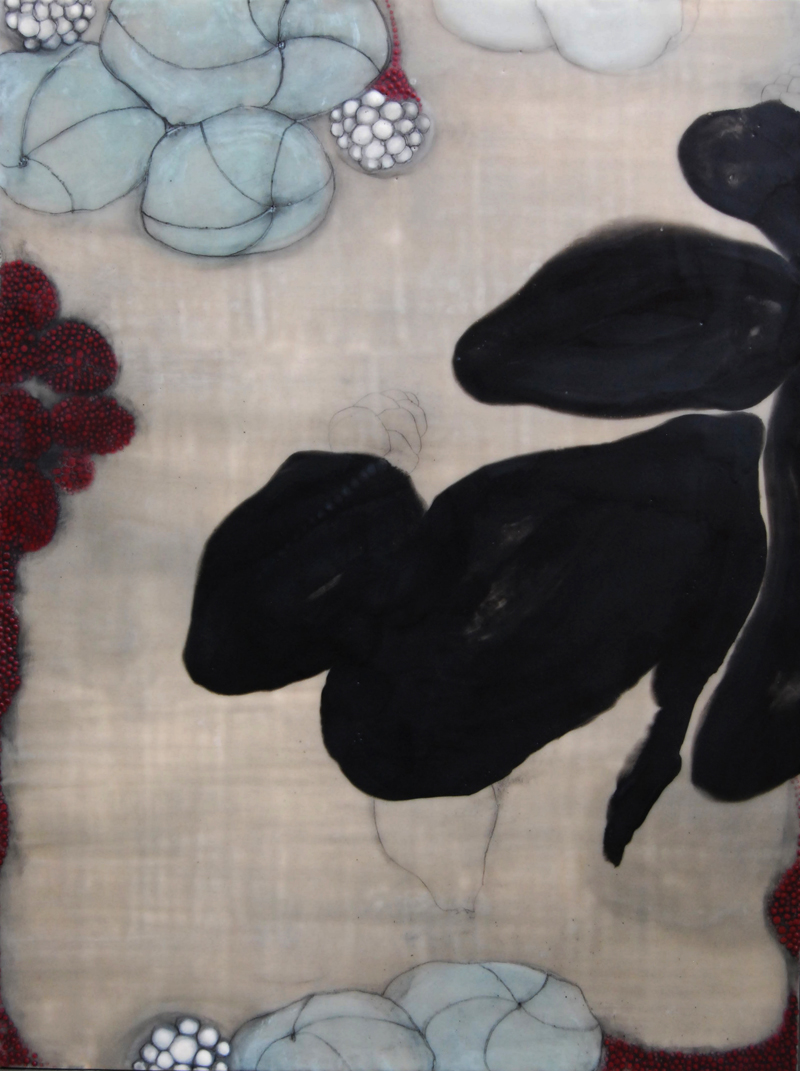 Capra Hircus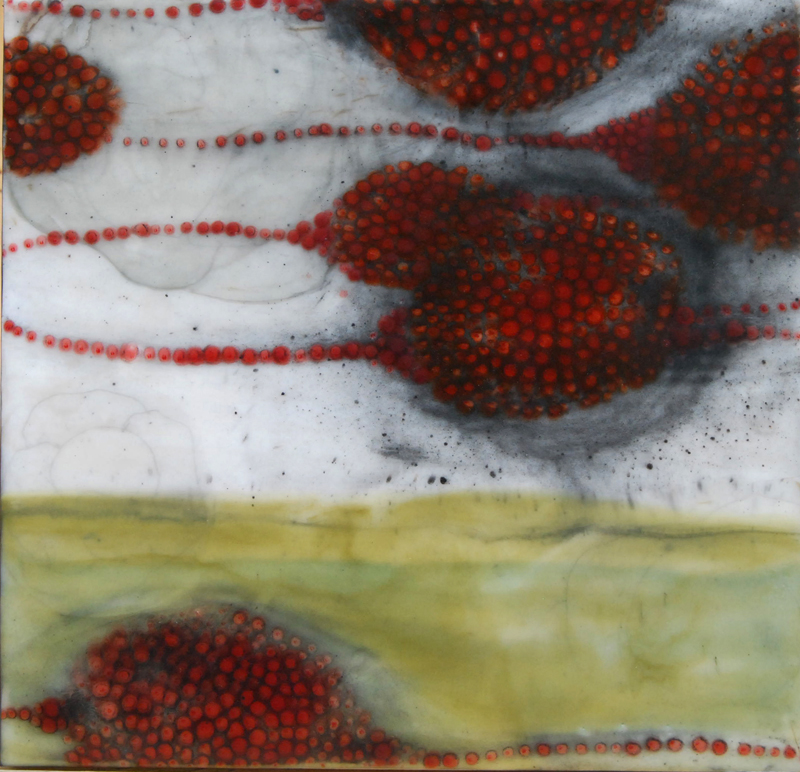 Immix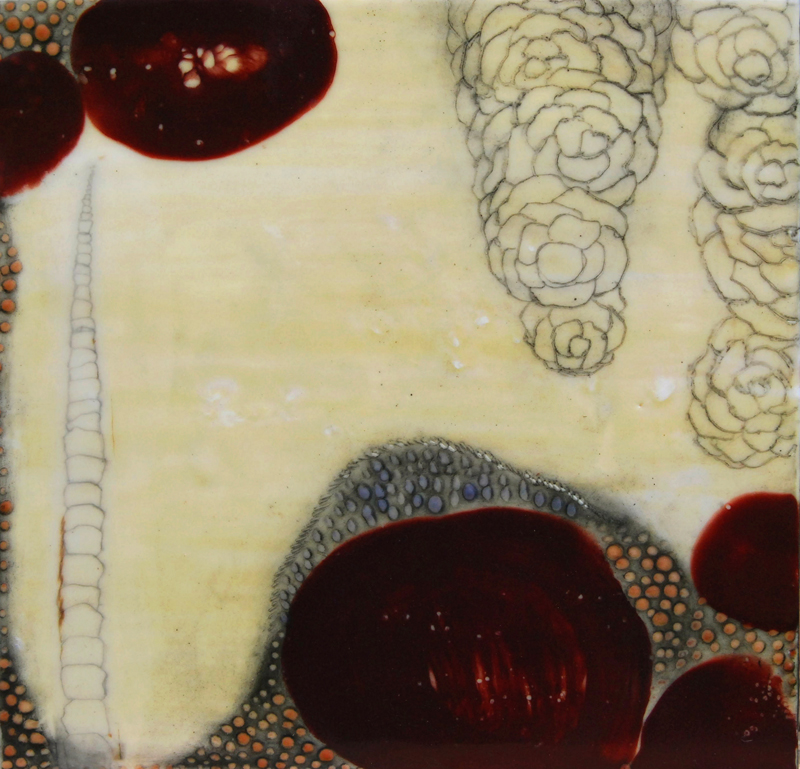 Organella
_____________
Class Itinerary
Week 1:
   Tuesday: Set-up and Safety
   Wednesday: Brief History and Fusing Clear Wax
   Friday: Adding One Color
Week 2: 
   Tuesday: Working with Opaque Colors
   Wednesday: Working with Transparent Colors
   Friday: Mixing Colors
Week 3:
   Tuesday: Burnishing Tissue Paper
   Wednesday: Japanese Paper with Drawings
   Friday: Charcoal Transfer
Week 4:
   Tuesday: Carving and Inlaying Line
   Wednesday: Thread and Linen Paper
   Friday: Finishing/Polishing your Paintings
Note: Materials used in this class may contain ingredients that are harmful to your health. We want you to be safe so follow manufacturer's instructions carefully and work in well-ventilated areas.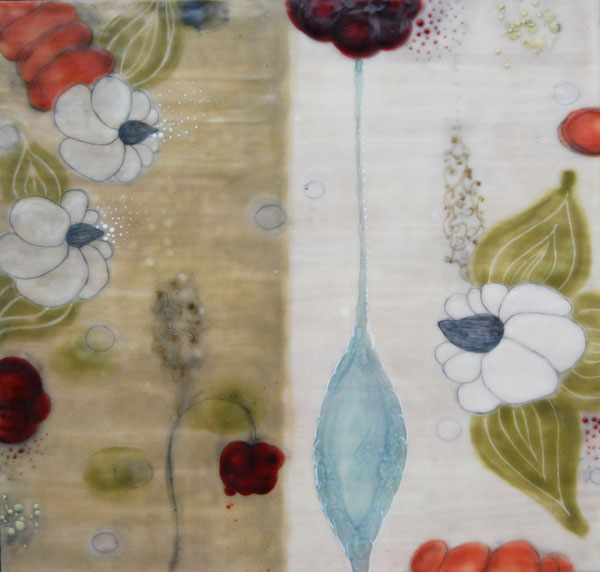 Petalous 3 — 28″x28″

How the Class Works
On Tuesday-Wednesday-Friday of each session you will receive an email reminding you to visit the class blog for your new assignment and video lesson. Videos are professionally produced and instructor feedback will be given via a private facebook page (or via email with Stephanie, if you prefer). If you need to miss a week, don't worry! The class material will be up and available to you indefinitely.
_____________________________________________
Sign up today!
_____________________________________________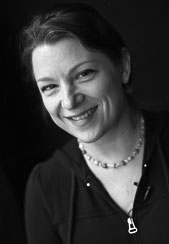 Stephanie Hargrave has been painting and/or working in clay since college, where she studied color theory, ceramics, sculpture, drawing & painting, as well as creative writing. She started a line of functional ceramics as a small business in 1997 after studying with Carol Gouthro, and has worked with metal, oil paint, watercolor and acrylics over the years, but her medium of choice is beeswax. She learned a great deal studying with Jef Gunn and Larry Caulkins at Pratt Fine Arts Center, and later began co-teaching at Pratt (using wax as an element in sculptural collage) with Rickie Wolfe.  She also teaches at NW Encaustic, various other venues, and from her studio.
She has shown her work in Seattle, Minneapolis, New York and Atlanta.   Her work is in several corporate collections, including Swedish Hospital, University of Washington Medical Center, Barclays International in Texas, Abri Hotel in San Francisco, the Woodmark Hotel in Kirkland, and Kaiser Permanente in Baltimore.  In 2014 she was a panelist for the Inside Art program at Town Hall on the topic of Imagery and Art (curated by Juan Alonso-Rodriquez), and her collaborative work with RobRoy Chalmers was on the cover of Art Voices Magazine (Fall Issue), with accompanying article/interview.  She was the juror for the Mercer Island Art Council's Yearly Art Show in 2015, and was recently published in Jennifer Margell's book Encaustic Art.  Her 3' square work entitled Capra Hircus 3 was juried into the Encaustic Art Institute's permanent collection in October 2015.
Hargrave donates to a variety of auctions each year.  Most recently she was asked to donate for Bellevue Art Museum's live auction, which featured Allele 1.  She is currently a member of Shift, an artist run gallery in Seattle, and maintains memberships with Artist Trust, Pratt Fine Arts Center, and the Center on Contemporary Art.
Encaustic has been her focus for the last 16 years – it is the one medium that affords all the other materials she has worked in to overlap and inform one another.
See more wonderful art at Stephanie's website: www.stephaniehargrave.com
_____________________________________________
Materials Needed
— Two 24"x24" Drywall Panels (to protect your tabletop)
— Pancake Griddle (with temperature gage)
— Heat Gun or Propane Torch
— Encaustic Medium – 1 Brick (Recommended: R&F Encaustic Medium, 333 ml. OR you can buy handmade "StephiWax." Click below for details.)
— Encaustic Colors: 1 small brick each of Red, Yellow, Blue, Black, White (R&F, or you can buy handmade "StephiWax." See below for details.)
— metal tins – several (to hold melted wax)
— Several 1″ – 1  1/2" Bristle Brushes
— Smaller bristle brushes for detail work
— Small Birch Panels (5"x7" and 6"x6") – 3 each
— Two 9"x12" Cradled Birch Panels
— Painter's tape (blue tape)
— Rags
— Fan
— Fire Extinguisher
_____________________________________________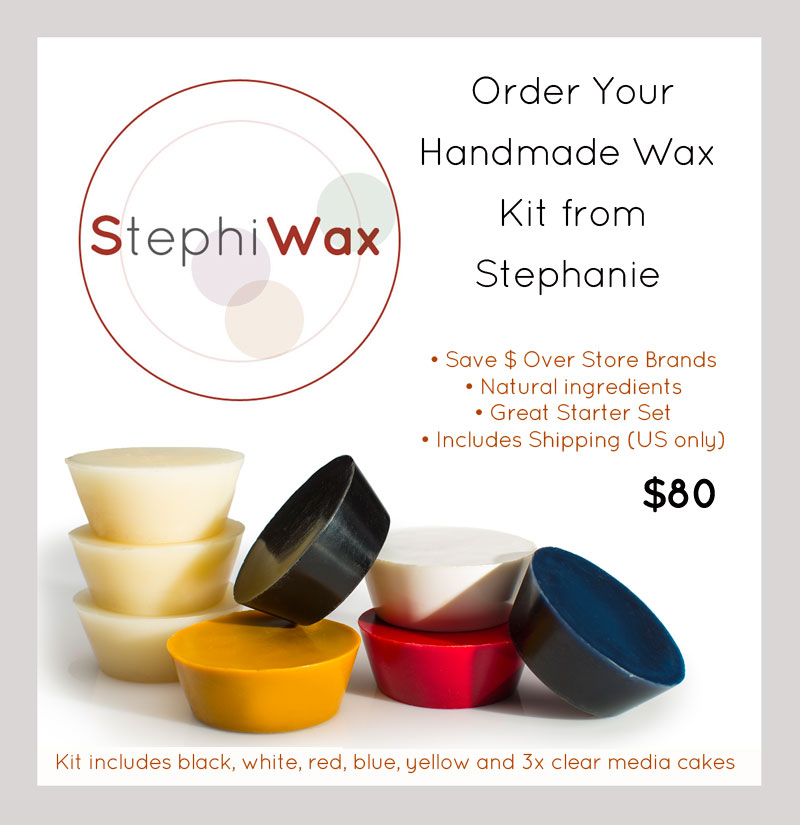 "StephiWax" will ship via USPS Priority Mail within two days after purchase. US orders only (so sorry!).
---