Big Bold Bloom Wild Painting!
---
_____________
Big Bold Bloom Wild Painting!
A 5-Week Course with Lynn Whipple
10 Lessons
Now available as a self-study class.
(For a 2-payment plan option, click HERE!)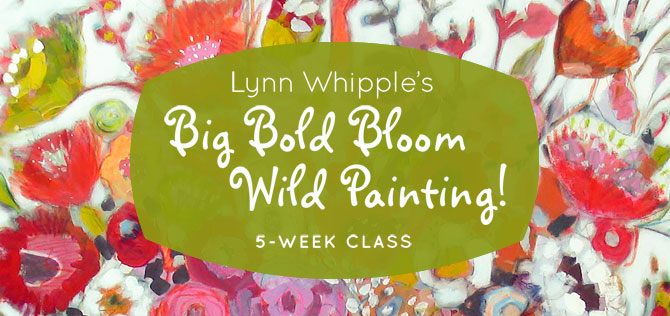 Paint Big! Paint Vibrantly! Paint Loose! Paint Blooms!
Are you ready to work large and loose with lots freedom and color?? I am thrilled to share with you a playful, layered approach to painting and drawing that embraces your wild side!
Using acrylic paint, charcoal and colorful chalk pastel, I will walk you through exercises, methods and techniques that will allow you to push your work towards abstraction. We will explore together a fresh, painterly interpretation of a traditional subject matter… FLOWERS!
What to look forward to in this class:
We will begin our Big Bold Bloom Wild Painting journey on 11″x14″ paper with an exercise called  "Mark-Making to Music." These timed, pastel floral drawings will encourage loose line work, energized shapes, bold marks, unexpected color combinations, fun and freedom!
Next we will take the energy of our pastel drawings and scale it up! Working on three 24″x30" canvases we will prepare each canvas with a different ground color, then add a very special charcoal technique, followed by a loose and greyed-down under painting. Now, more paint! More mark making! More color! Each layer leads to the next as we create our Big Bold Bloom Wild Paintings!
LETS GO BIG!!! Using the best of our previous work as a guide and as inspiration, we will work BIG and BOLD on one large 36″x48" canvas. Lots of painting and dancing with color, layering, drawing, designing, spinning the canvas, energized mark making, composition and more! I can't wait!!!!
I hope you will join me!
All my very best,
xoxo
Lynn
What Big Bold Bloom Students are saying!
"From the bottom of my heart, YOU, dear Lynn, are just the best art teacher I've ever had. You challenged my senses and encouraged me to play and have fun; something I've forgotten to do. Now surrounded by the many blooms in my paintings, I'm dancing, feeling the joy of being free, and waiting for the next adventure with you. Thank You!" — Tina
"Life changer for me. Finally took the leap to set myself up and be painting again!! And painting large flowers…always my dream! Looking forward to how this evolves.  Thank you for everything, Lynn and amazing, kind and hugely talented artists!!" — Cindy
"Lynn, THANK YOU! This has been such a great workshop (I refer to you, the content and the other members of the class). Really, this ranks as one of the best workshops I've ever taken and I'm soooo grateful!" — Stacey
"Hi Lynn, Finally I have finished my first BIG and BOLD. It really was a labor of love LOL and your wonderful lessons carried me to the end with big smiles on my face!! Love your teaching style and encouragement. I have never attempted anything this big before and now I can't wait to start another. Thank you so much for helping me through my fear of the BIG blank canvas!!" — Sharon
__________________________
CLASS ITINERARY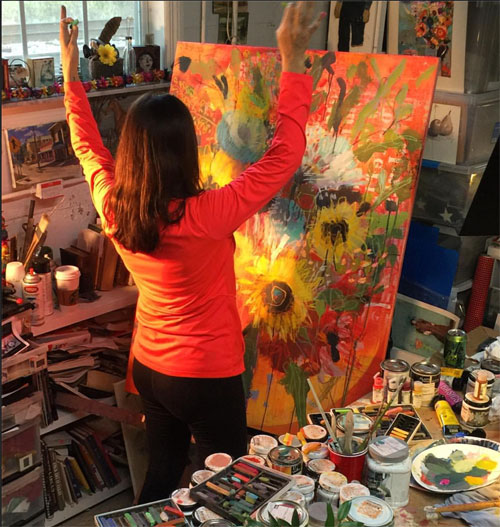 Week 1
Lesson 1 – Mark Making to Music
Working with pastel on paper 11″x14″ paper, you will turn your studio into a blaze of mark making and vibrant color! Using timed drawing exercises, you will translate flowers into simple, energized, abstracted shapes and planes, while exploring the different ways to describe and design vibrant blooms. Next you will create your first flower arrangement with your fresh and free floral drawings 🙂
Lesson 2 – Growing Flowers. Working larger, working layers 
Moving to 24″x30″ canvas, we will begin by preparing each of our three canvases with a different ground color: One orange, one medium blue gray and one thickly painted with gesso.
Time to draw! We will do a 3-part "spin-drawing" on each canvas with charcoal, using flowers as our muse. A final criss-cross pattern on top will set us up for our next layer of paint. Very exciting!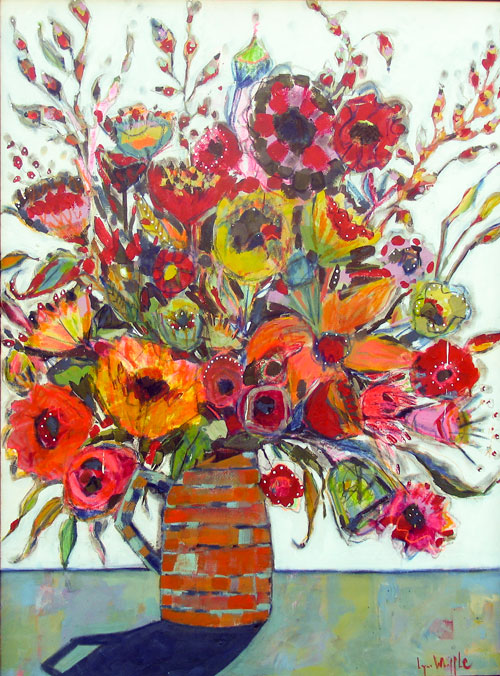 Week 2
Lesson 3 – Painting in neutrals. Finding design. 
We will look for all of the abstracted shapes that came from our floral charcoal "spin-drawings" and fill our canvas's with blocks of neutral tones to create a lovely under-painting. These warm and cool colors, our grey blues and grey greens will set us up to show off our next layer of vibrant color. You will fall in love with this layer!
Lesson 4 – Painting Flowers from Life
Fill your studio with a big, fresh, new batch of blooms! Enjoy choosing the flowers that you like best! Go for a variety of colors, shapes, sizes with a nice mix of leafy greens (darks) mixed in. Create a large wild bouquet that makes you happy! (You might add a few sunflowers into your bouquet as they are super fun to draw and paint.) Up next: Look for the perfect place on your canvas to lay down your "hero" floral drawing on top of your under painting. Using a light source on one side will help you see the forms of the flowers. Draw your flowers in loose and free! Use both hands! Go back and forth from quiet, close looking to taking lots of liberties!
It's time! Let's paint! Using acrylics, large brushes, a variety of brushstrokes, we will describe the pot of blooms one flower at a time with our more vibrant colors. Drips! Dancing! Spatters! We will build a composition, look for design and take time to add in our darks. This will take a few passes. Move forward with lots of freedom to try things. Layer, layer, layer and add color, color, color!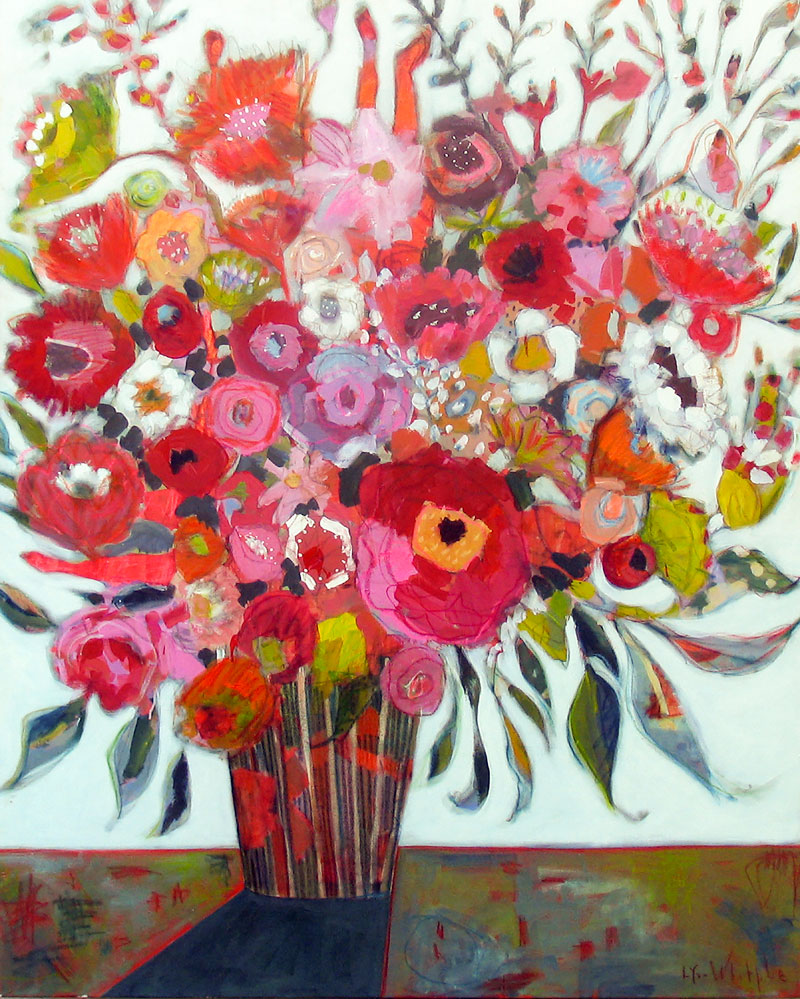 Week 3
Lesson 5 – Cut in the background. Push and pull
Now that we have our larger blooms in place and we will look again and begin to cut in around the flowers, bringing out the petal shapes, leaf shapes and more. This is a great exercise in "push and pull" which helps our painting have a forward "main event" and an understated background. We will work on the back layer (which helps describe the foreground) as well as the table top plane and the vase shape. This is an important part of the overall design and composition of our painting. Think proportion, large interesting shapes and ways to keep your eye moving around the entire painting.
Lesson 6 – Energizing with Pastels!
OH so MUCH FUN!! Now our big pot of blooms is painted! Everything is falling into place. Bravo!! It's time to draw on top! Using Mark Making to Music, as we did in our first lesson, let's plow energy into our work. Use your fresh line work inside and outside of your painted shapes. Play with vibrating color on top of color. Use your brights to describe your highlights. Let your personality jump on to the canvas! Play!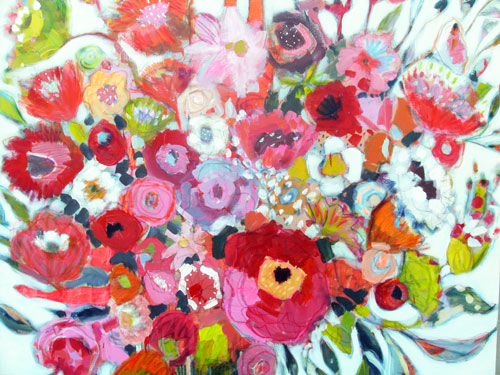 Week 4
Lesson 7 – Final Tweaks and Touches
We will back up and look over the entire painting now, squint, change small things, tweak the drawing on top, do another layer of paint on the background and smudge the edges of the drawing to give your flowers a halo effect. It's time to add the extra highlights with cream paint that will really make your piece pop. Finally, you will sign your name in the perfect spot. A dusting of spray fixative over the entire painting will seal the pastel so it won't smear. I suggest doing this outside if you can, as not to breathe the fumes. Your pastel color will shift a bit, but still look great!! This is very exciting stuff! As in each step, I can't wait to see what you have created!!
Lesson 8 – Painting Big and Bold pt. 1
Now that we have done the entire process in a medium sized format, LETS GO BIG!!
We will be working on one large canvas 36″x48″!  (Go smaller if you prefer.)
We begin by preparing the first layer of ground color. Choose your most successful of the smaller works as your guide. If you love the orange peeking through, start with orange, if you love the grey and the way it pops your top colors you will prepare your canvas with a grey background. Once that is dry, you will do your 3-part spin-drawing!! Add the extra 5-6 criss cross lines to help form your abstracted sections.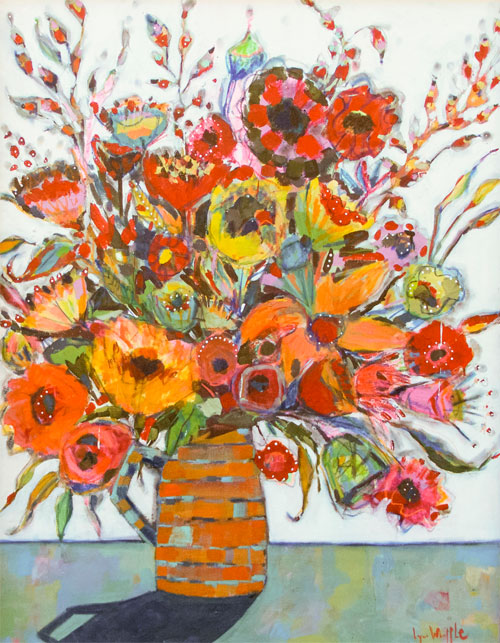 Week 5
Lesson 9 – Painting Big and Bold pt. 2
Let's lay in the color for our underpainting using the most successful of the earlier paintings. This is to create an interesting layer that will help our final painting and create interest that we would not get otherwise. These under paintings are usually very fun to paint and very free! There is no wrong way!!
Next lets spin the canvas as we look for the perfect place to draw in our final giant pot of blooms. Squint your eyes! Try not to center your pot of flowers, but sketch it in a little to the left or right. Take your time and enjoy looking deeply at the shapes.
Now paint your flowers with the first pass of vibrant color. Play with drips, and darks! Let that dry and add another pass of color when you are ready! Dance! Have fun!
Lesson 10 – Painting Big and Bold pt. 3
As our layers are building, we will consider the best way to handle the background and the table top plane. Using our eye for the push and pull, this is a very exciting time to finalize your larger design. You may choose to leave more of your underpainting showing or to cover it up with a slightly more solid color, either light or dark. Once your background and floral layer are working, let's add your colorful, loose pastel drawing and mark making! Tweak your final design by adding painted cream highlights, smudging your edges and finding a great spot for your signature. Behold!! Your Big Bold Beautiful Blooms!! Free, fresh and very YOU!!
Kudos to you for your bravery and willingness!
With loads of love, Lynn
P.S. Click HERE for the SUPPLY LIST for this class.
__________________________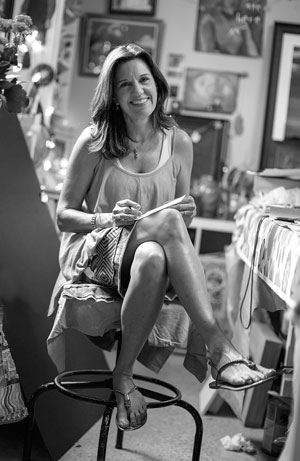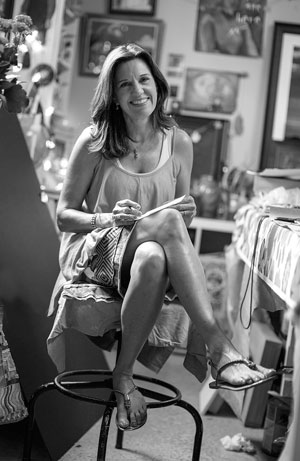 Lynn Whipple writes, "I am deeply grateful to live my life as an artist. Play and discovery are my dearest and most constant companions. There are a zillion tiny challenges in each art making experience, and so often I find, just as many small, sweet victories. Without a doubt, living creatively is the most enjoyable and satisfying game I know."
Lynn shares a warehouse studio with her husband, John Whipple, in Winter Park, Florida. Lynn's work includes found-object mixed-media assemblages; found images altered with a combination of drawing, painting, sewing and more; and her well-known Ninny Boxes, collages combined with found objects, and assembled within a box format. Her unique pieces have a playful, quirky, and often absurd, charm.
Lynn explains: "I allow myself to play and let my pieces reveal themselves to me…I have been fascinated by old books, history, and odd bits of memorabilia. I find the things that interest me the most are slightly absurd…My hope is to create something real and somehow poetic but not commonplace. My goal is to keep communicating in my language."
Lynn's work has been exhibited extensively throughout the United States. Visit Lynn's website at www.lynnwhipple.com and her etsy shop at www.etsy.com/shop/lynnwhipple
– – – – – – – – – – – – – – – – – – – – – – – – – – – – – – – – – – –
NUTS & BOLTS
Here's how this online class works:
• During the five weeks of class, you will receive an email each Tu-Th from Lynn with a reminder to visit the class blog for that day's lesson.
• A password-protected blog dedicated to each class will serve as our clubhouse and where you will find all the class materials as they are uploaded.
• A facebook group will be created for you to (optionally) share your paintings, and enjoy and learn from the artwork of others. (However, if you are shy about posting your art, Lynn is always available to look at your work via email.)
• The class materials will be up and available for download indefinitely, if for some reason you need to miss a day (or a couple of weeks).
• Upon registration, you will receive an email within 48 hours confirming your sign-up. On the Friday before your session begins, you will receive your class codes and a "test" video to make sure you can receive/view everything (if you can view the above video, you should be able to view the class videos).
• Class fee is good for participants living in a single household.
QUESTIONS? carla@carlasonheim.com
FAQs – If you've never taken an online class before and would like to know more about our online classes, click HERE.
___________________
---