Class Description
This course gives you a unique opportunity to build upon the fundamental building blocks of painting.
Have you ever wanted to take a course learn the basics of painting?
Are you curious, but don't have a Studio Art background?
Do you need a refresher on how artists approach painting?
What are the elements that make a painting come to life?
Over the next five weeks Karine Swenson will walk you through the basics of:
Line, Shape, Form, Depth, Color, Value, & Composition
A professional artist for over 10 years, Karine has lots of experience using color and abstract expression to evoke light, movement and emotion. If you take the time to learn how to use these tools, and put them in your own tool belt, you'll look at painting differently by the end of five weeks.
And if you're interested in trying oils for the first time, this class is a fun way to begin! (And although Karine will be using her oil paint, you can absolutely use acrylics.)
Most importantly, you will get personal feedback: You can share your work in the class Facebook group, or if you're feeling shy, you can email it to Karine directly for feedback.
The weeks will go like this:
Week 1: The Line (and all its variations!)
Week 2: The differences between Shape and Form
Week 3: Exploring Depth, Color and Value
Week 4: Value and Composition
Week 5: Composition
Lessons will be geared towards abstract painting; however, the topics will be beneficial to any artist – even those pursuing more representational subject matter. (This class is meant to be a continuation of Karine's first abstract painting class, although you do not need to have taken Intro to Abstract Painting to benefit from this class.)
Class Itinerary
Lesson 1: Line
Lesson 2: Painting with Line
Lesson 3: Shape
Lesson 4: Shape & Form
Lesson 5: Color & Value Part 1
Lesson 6: Color & Value Part 2
Lesson 7: Color & Value Part 3
Lesson 8: Composition Part 1
Lesson 9: Composition Part 2
Lesson 10: Composition Part 3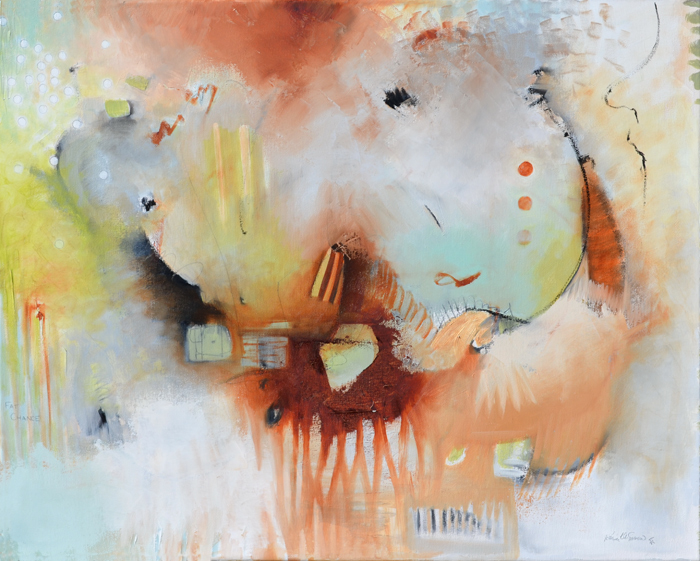 "Mental Meanderings." Oil on canvas, 24 x 30 inches.