One-Week Intensive Class • $35
Drawing, Painting, Mixed Media
This class is now available as a self-study class.

*************


Mixed-media painting and drawing, artist's book, fun
This is a mixed-media-junkie's dream project! Junk mail combined with gesso, watercolor, a little swirly technique here, some packing tape there, creates beautiful and complicated textures that you can use as backgrounds for any mixed media projects you currently have going.
In this class we'll use our pages to create an irregularly shaped book. Then, we'll DRAW! You will begin a drawing on one spread, with the goal of having each image connect to and work with the images from other spreads. The drawing exercises throughout the week will build up to you being able to see more creatively and embrace the "puzzle" nature of this beautiful artist's book.
Take this class if you love textures, layers, and everything mixed media. This one is just FUN!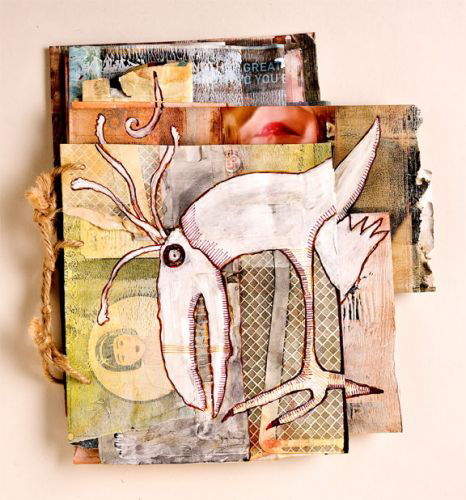 Here's the scoop for this class:
• Be ready for a week jam-packed with creativity! (Update: If you do all the assignments each day, I estimate it will take about 1 – 1.5 hours each day… but more if you want to settle into it!)
• Each day you'll wake up to a morning peptalk email with links to your daily schedule, warm-up PDF worksheet, drawing assignment, demonstration videos and painting assignment. (Five days; five warm-up worksheets; five drawing assignments; nine videos; five painting assignments.)
• A password-protected blog dedicated to each class will serve as our clubhouse and will be our meeting place for all of the above, as well as special goodie bag materials and other surprises (including bug spray).
• A flickr group will be created for each session so you can (optionally) share your worksheets, drawings, paintings, and enjoy and learn from the artwork of others. (However, if you are shy about posting your art, I am always available to look at your work via email.)
• Prizes? Of course!!
• A perfect activity to do with your kids, either this week or over the holiday break.
• The class materials will be up and available for download until "forever," if for some reason you need to miss a day (or a couple of weeks).

• Upon registration, you will receive an email within 48 hours confirming your sign-up. On the Wednesday before your session begins, you will receive a "test" email to make sure you can receive/view everything.
• What you will need: You will be able to read acrobat pdf files and view videos.
• Class fee is good for participants living in a single household.
QUESTIONS? [email protected]
========================
Register today!

========================
Thank you for your interest!
Back to ONLINE CLASSES.