For the Love of a Tree – Diane Culhane
---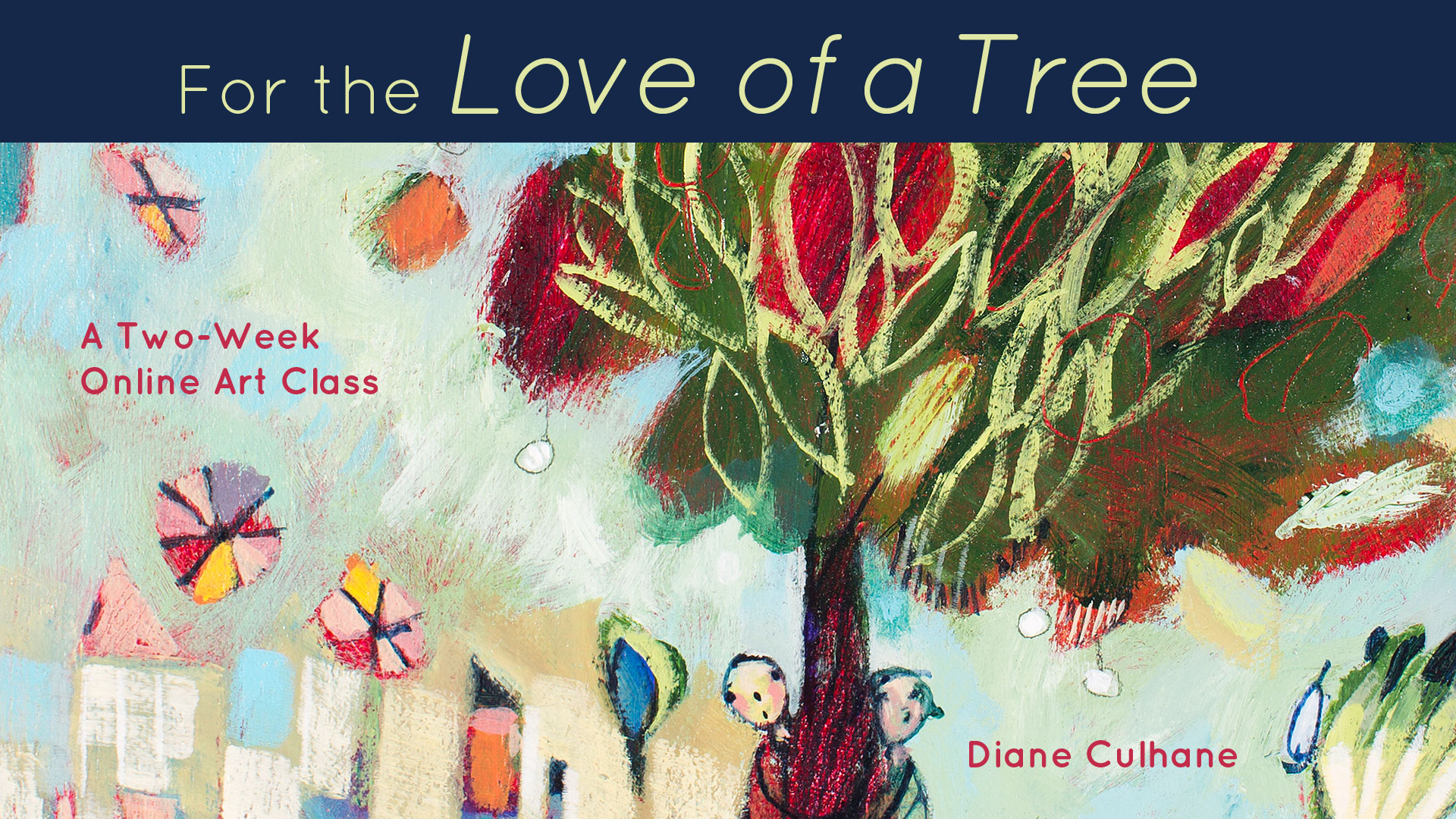 For the Love of a Tree
Instructor: Diane Culhane
Drawing, Painting, Mixed-Media • $85 
Now available as a self-study class.
_________________________________________
"For the Love of a Tree" is dedicated to celebrating the glory of a tree; the beauty and the magnificence of the blessings they bestow — from oxygen, shelter, shade, nutritious food, and a home to many creatures.
Trees are a source of design and composition for the artist: leaves, seeds, branches, to fruits, nuts, etc. . . .  Trees give us a bountiful visual vocabulary from which to create paintings. It's a set up for success.
We will begin by exploring — Seeing- Looking – Feeling – and just being in the presence of trees.
From there we will begin addressing forms with line, color and value, with value being the most important component; pushing and pulling color. Exercises are guides to develop skill for the next steps in creating a 18"x18" or 20"x 20" completed painting. We will also have conversations about problem solving and how to face the struggles we all encounter as artists.
As a tree reach and stretches for the sunlight, reach into your open blue sky of creativity . . .
Learn, Grow, Explore
Nurture your Art & Your Life.
Sign up today !
Much Love to you all,
Diane Culhane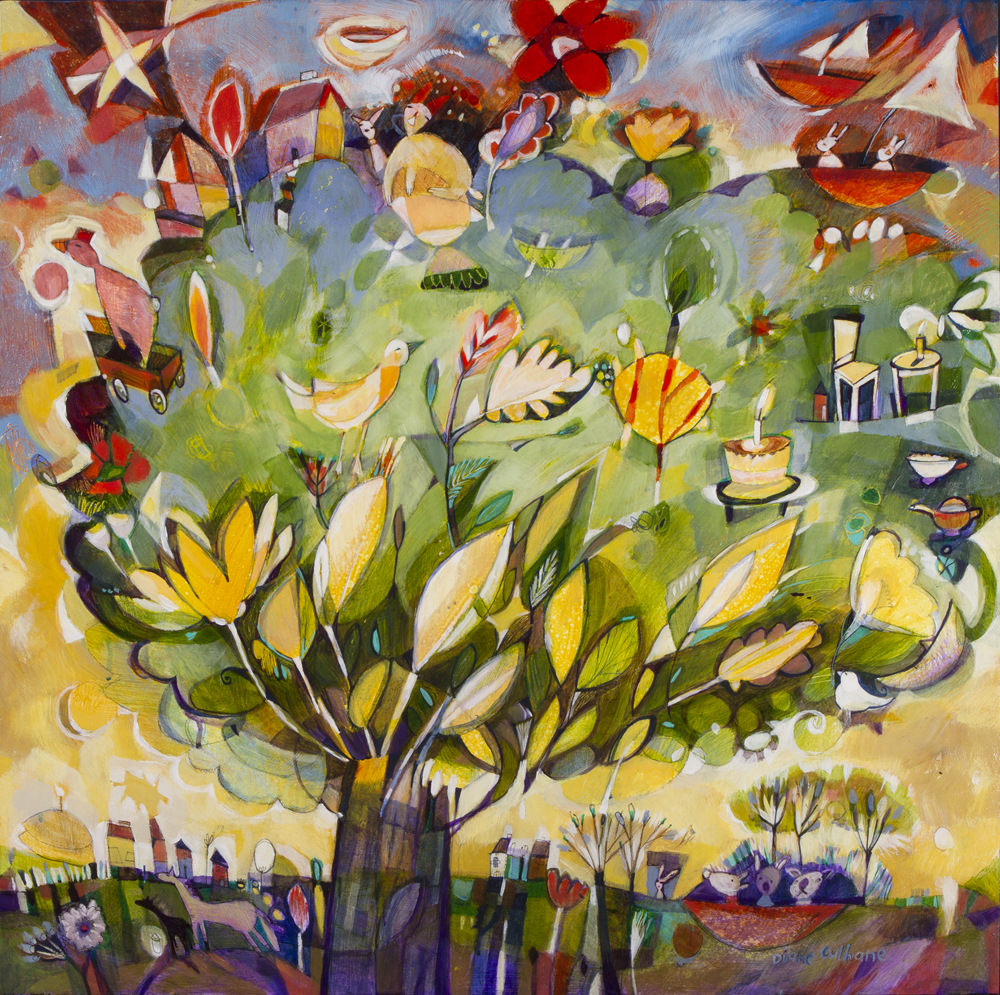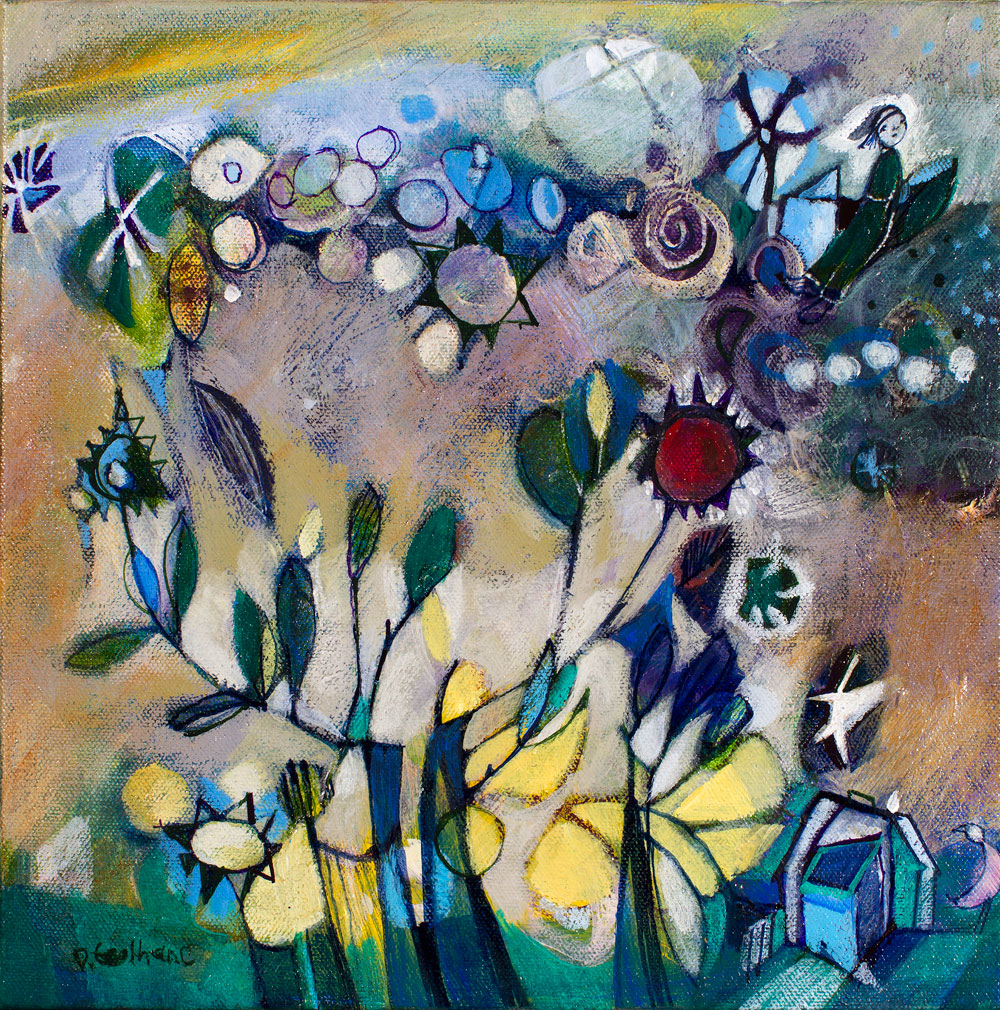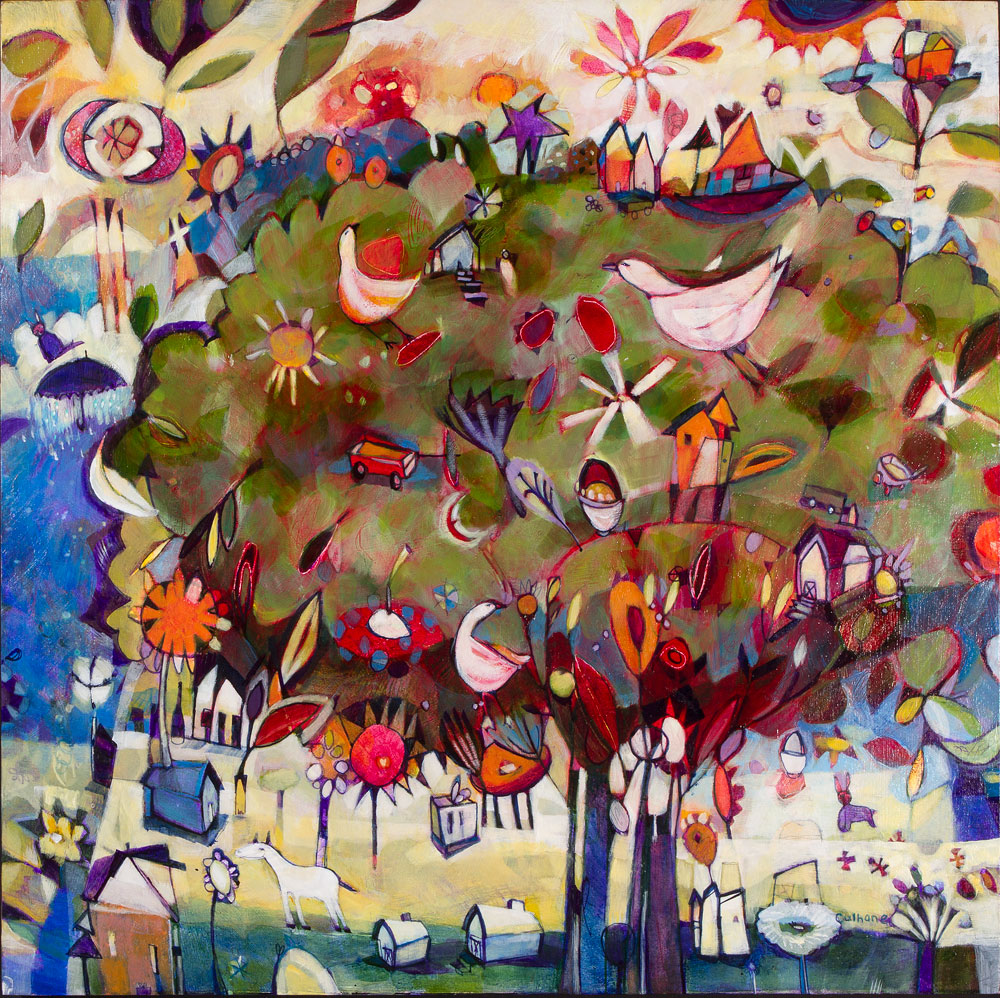 Class Itinerary:
Lesson 1
Looking and synthesizing forms through drawing and creating inventive shapes.
Lesson 2
Begin work on our large painting. Cover large cradle board, layering with color and line.
Lesson 3
Use collage to explore a variety of forms, concentrating on size and value contrast, then translating these discoveries into small practice paintings on paper.
Lesson 4
Work with value: practice pushing and pulling space using warm and cool colors and compliments by painting on small cradle boards and then taking these concepts to our larger painting.
Lesson 5
Focus on our larger painting: add layers of paint, building volume, troubleshooting.
Lesson 6
Add details; from blurry into focus.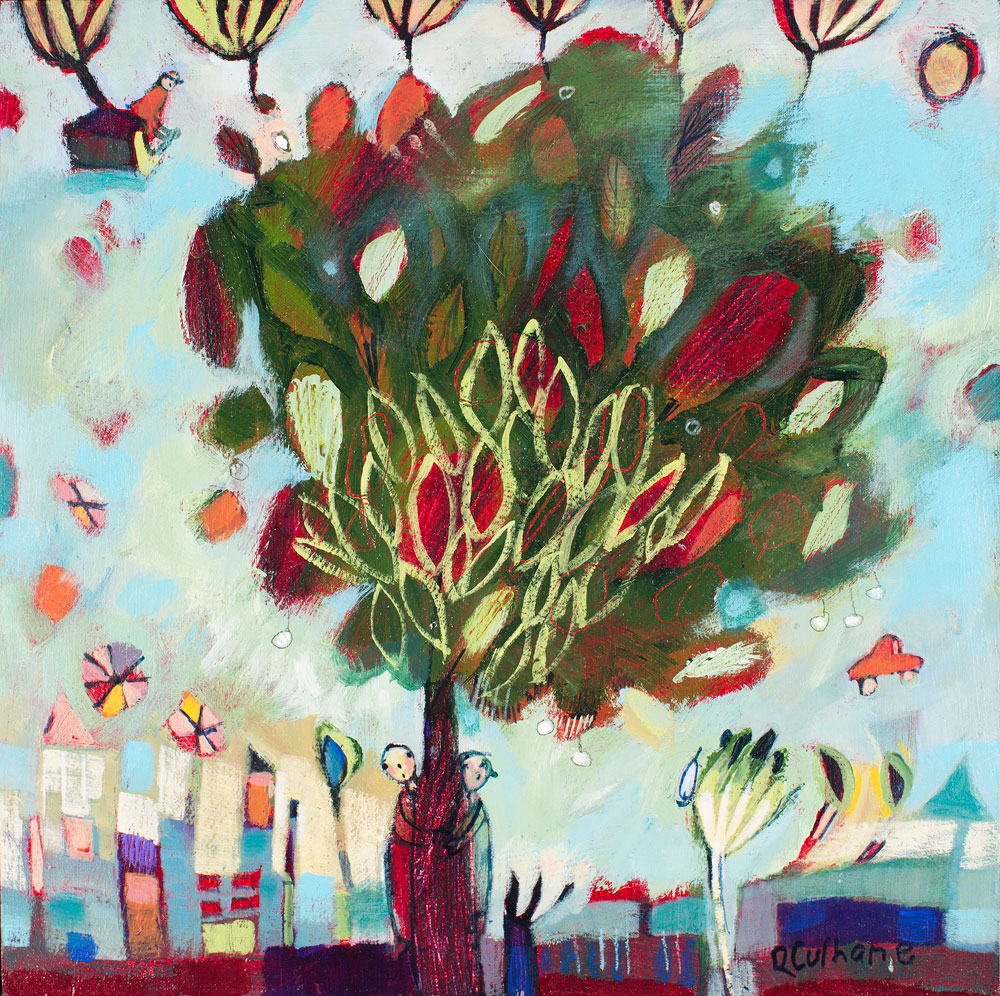 _ _ _ _ _ _ _
SUPPLIES NEEDED FOR THIS CLASS: For the Supply List, click HERE.
_ _ _ _ _ _ _
Here's the scoop for this class:
• On Tuesday, Thursday, and Friday of each week you will receive an email from Diane with a reminder to visit the class blog for that day's lesson.
• A password-protected blog dedicated to each class will serve as our clubhouse.
• A facebook group will be created for you to (optionally) share your paintings, and enjoy and learn from the artwork of others. (However, if you are shy about posting your art, Diane is always available to look at your work via email.)
• The class materials will be up and available for download until "forever," if for some reason you need to miss a day (or a couple of weeks).
• Upon registration, you will receive an email within 48 hours confirming your sign-up. On the Wednesday before your session begins, you will receive a "test" email to make sure you can receive/view everything.
• What you will need: You will be able to read acrobat pdf files and view videos.
• Class fee is good for participants living in a single household.
QUESTIONS? carla@carlasonheim.com
_ _ _ _ _ _ _
SIGN UP TODAY!
_ _ _ _ _ _ _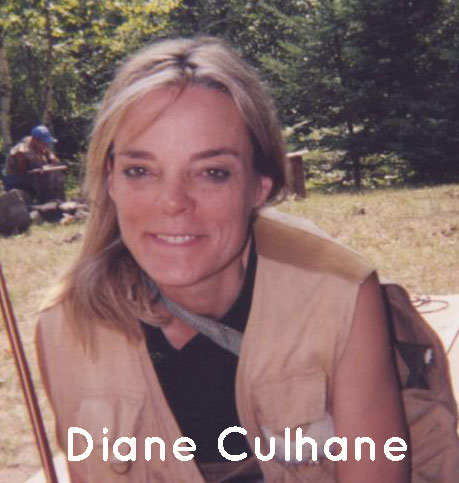 Diane Culhane is a professional artist and art educator who lives West Seattle in a 1910 home, and works out of her studio in Ballard Building C. She received her BFA from the University of Utah and Master's Degree from Seattle University.
Diane has taught for The Bellevue School District, Seattle Pacific University, Kirkland Arts Center, Bellevue Arts Museum and currently directs and owns Kelsey Creek Fine Art School for children in the summer.
Visit her website at: www.dianeculhaneart.com
---