Improv Collage
---
_____________
Improv Collage
Instructor: Kara Kramer
Two-Week Class • 6 Lessons

Now available as a self-study class.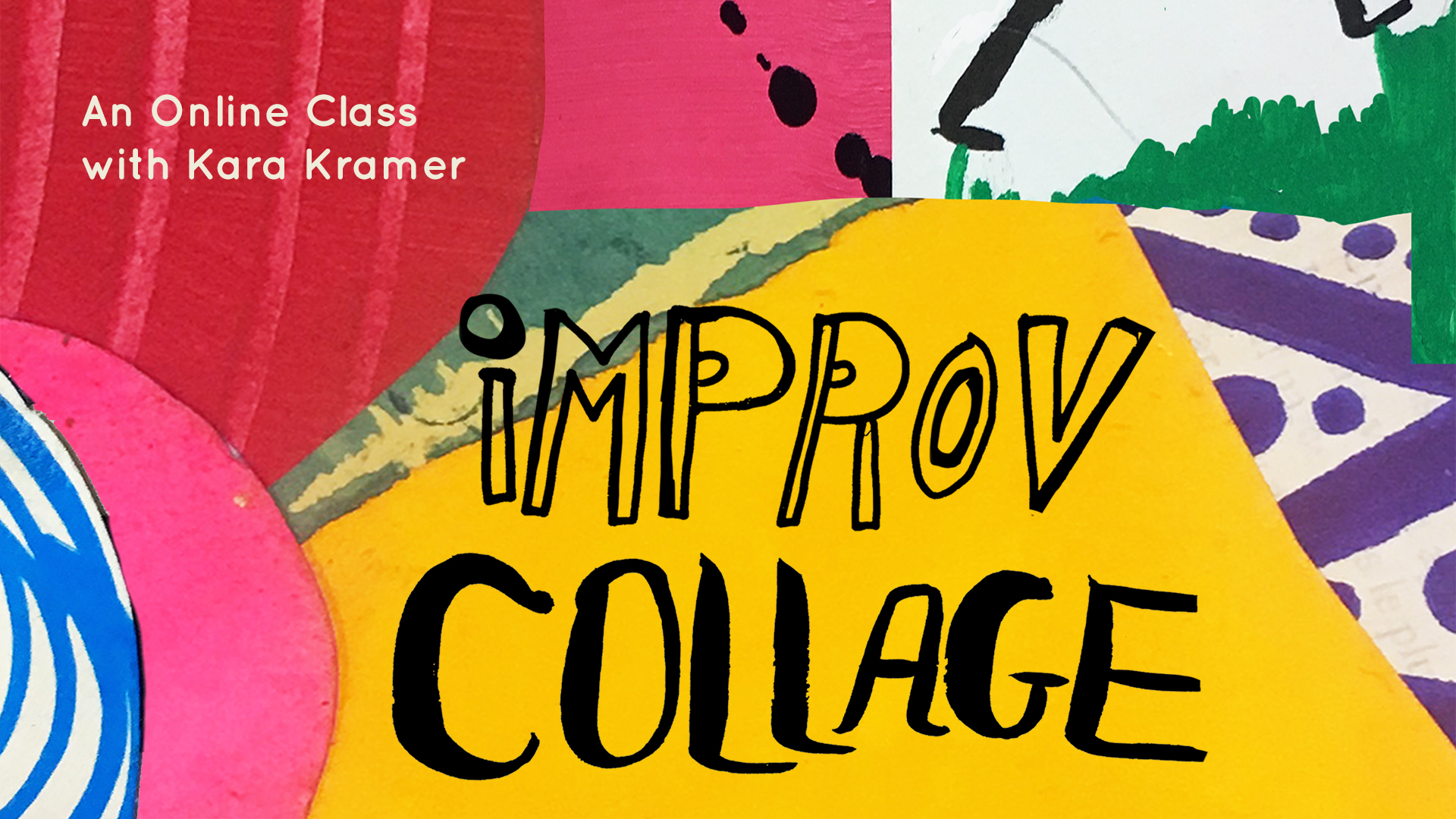 Make quick decisions, trust your hand, be spontaneous… that is Improv Collage!
In this class we will explore lots of techniques for creating your main collage ingredient: PAPER!  We will make all different kinds of textures, patterns, colors, words, found imagery, hand-drawn imagery and more!
We will make small, medium-sized and really large collages.
And borrowing from the tradition of improv theatre, we will have fun and stretch ourselves by applying limitations and constraints (such as timed collages or single color compositions).
So if you're looking for a fresh approach to collage, I hope you can join me to paint, draw, write, cut, glue, and go until you discover what wants to be made through your own collage making.
Kara Kramer
For a list of supplies needed, click HERE.
___________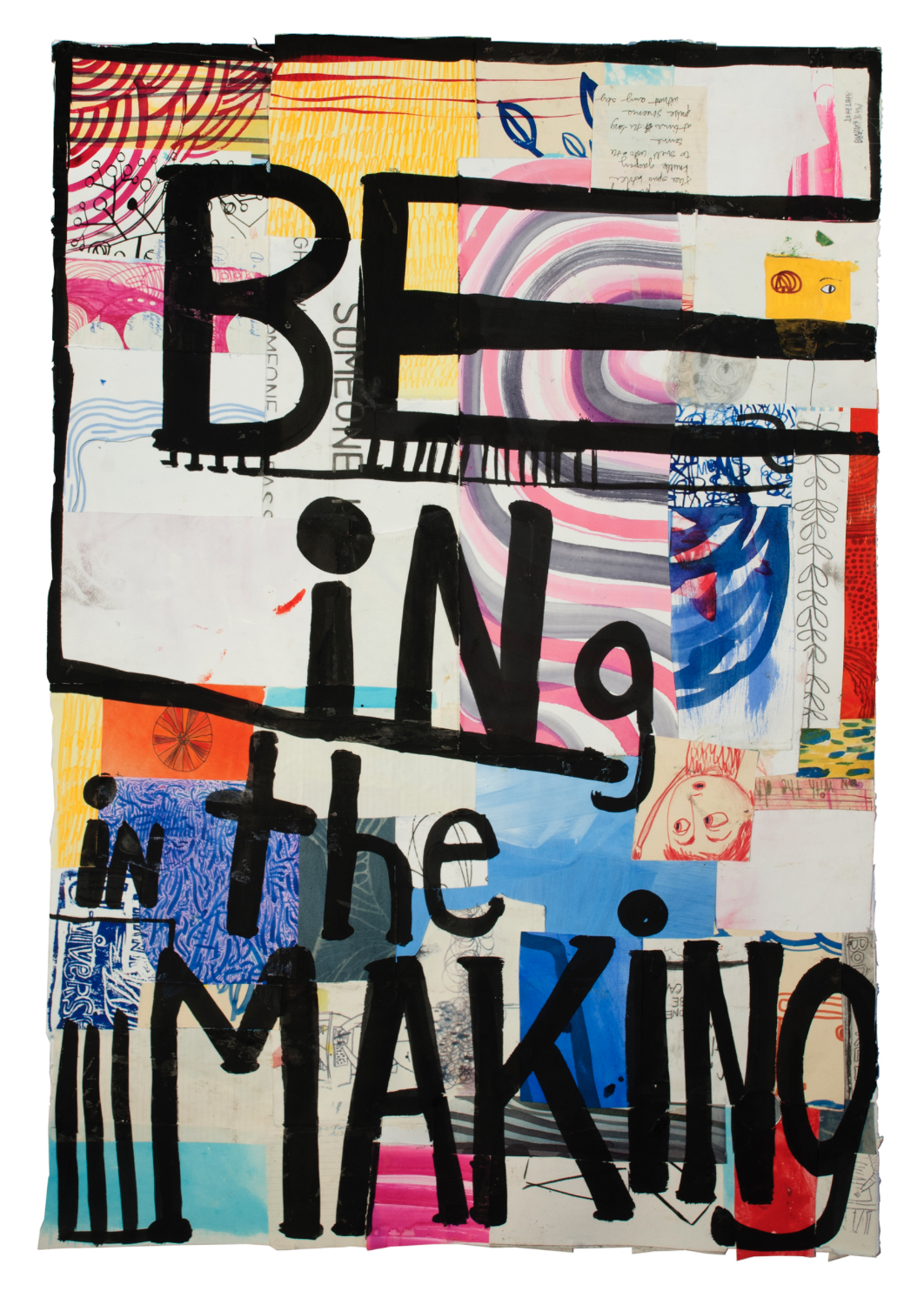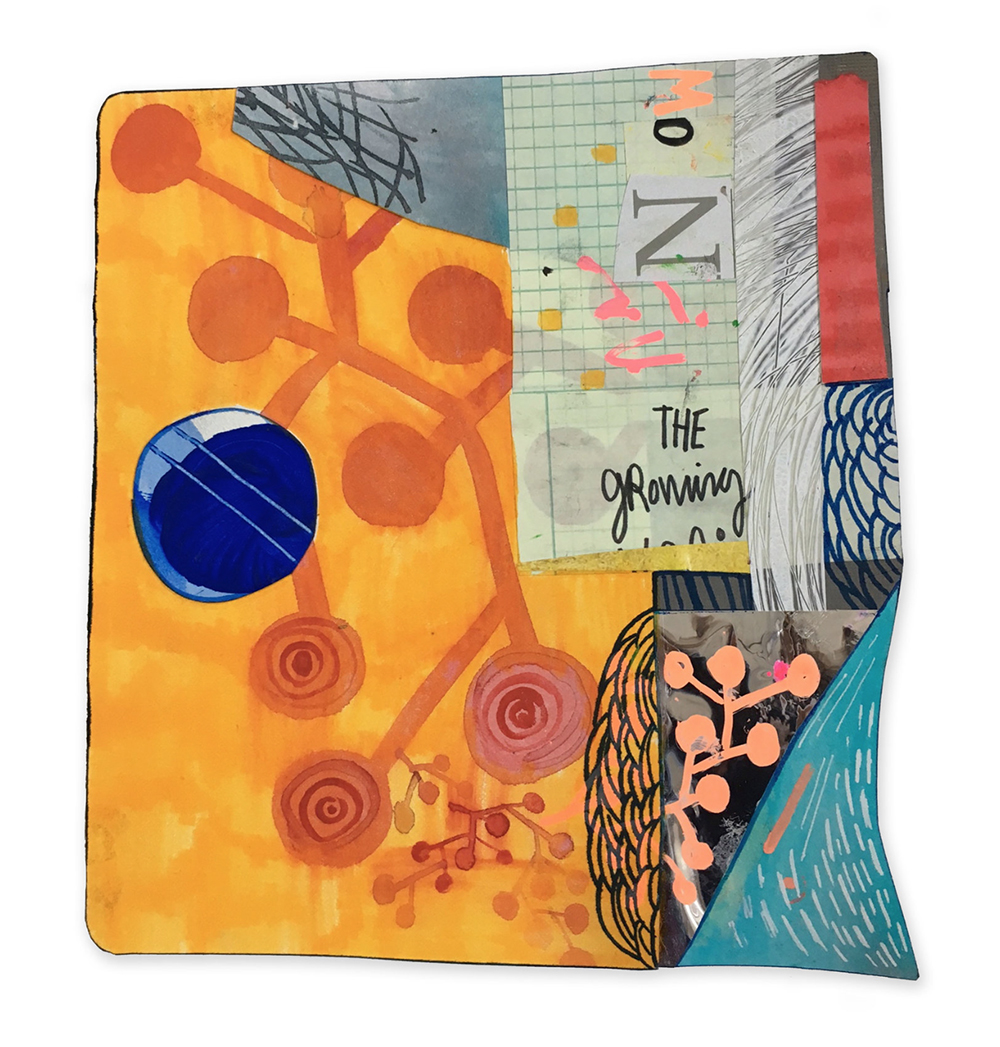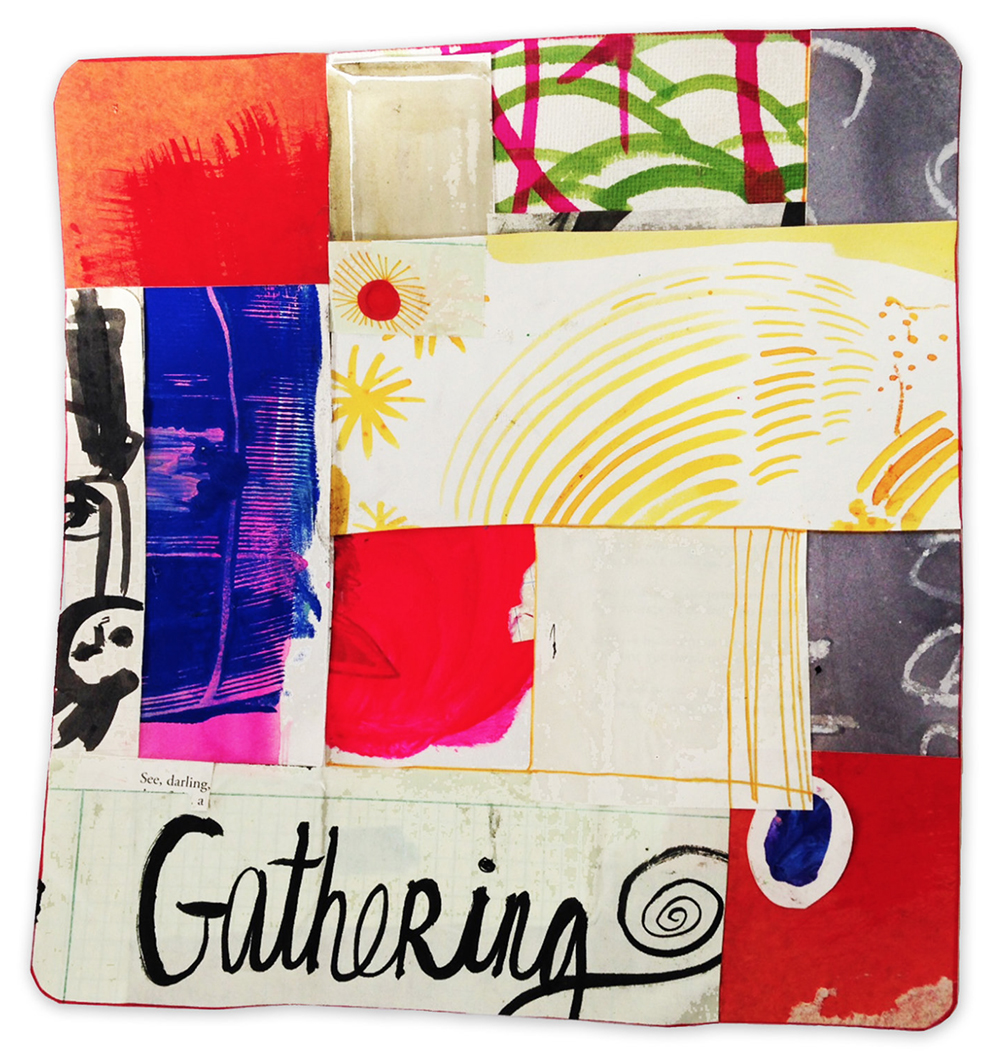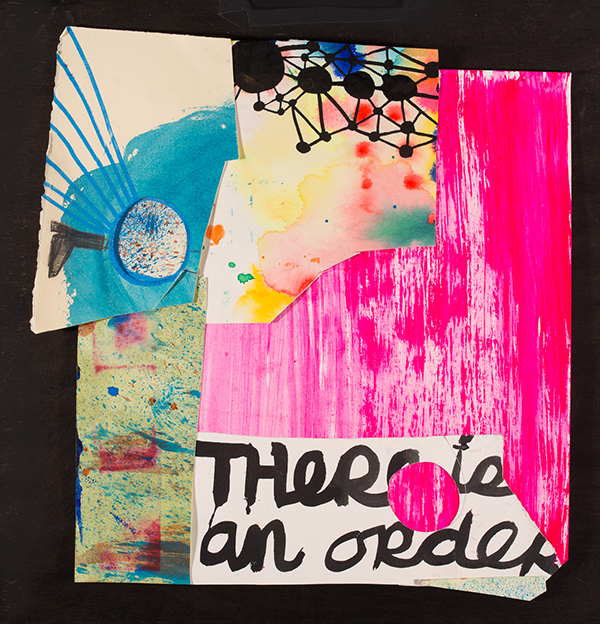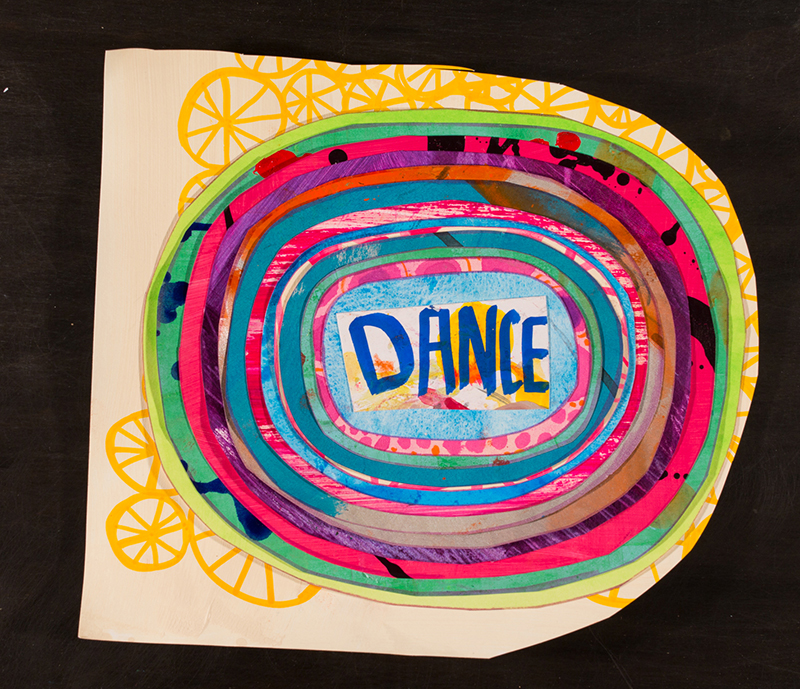 Class Itinerary:
Week 1
Lesson 1 – Make Collage Papers
Today we are gathering are main ingredient, collage PAPER. Lots and Lots of yummy patterned, painted, mark-made papers. We will explore making solids and patterns to grow your personal collage paper collection. You can use any paper that you have at home: Copy paper, drawing pad paper, even old envelopes would work. Enjoy this time as an experience; infuse PLAY into your collage paper making time.
Lesson 2 – Messy Paper Making
It may seem like you have enough paper, but I like to have a lot of variety. Today we will get a bit messier and explore texture through some improvised printmaking techniques. Words are also a form of texture that can be used to add another layer in your collage. Gather some cut out words either from your journal/sketchbook or from magazines.
Lesson 3 – Timed Collages: 3 minutes
Today we are going to explore timed collages. These 3-minute index-card collages connect you to your intuition and create results that are often unexpected and spontaneous.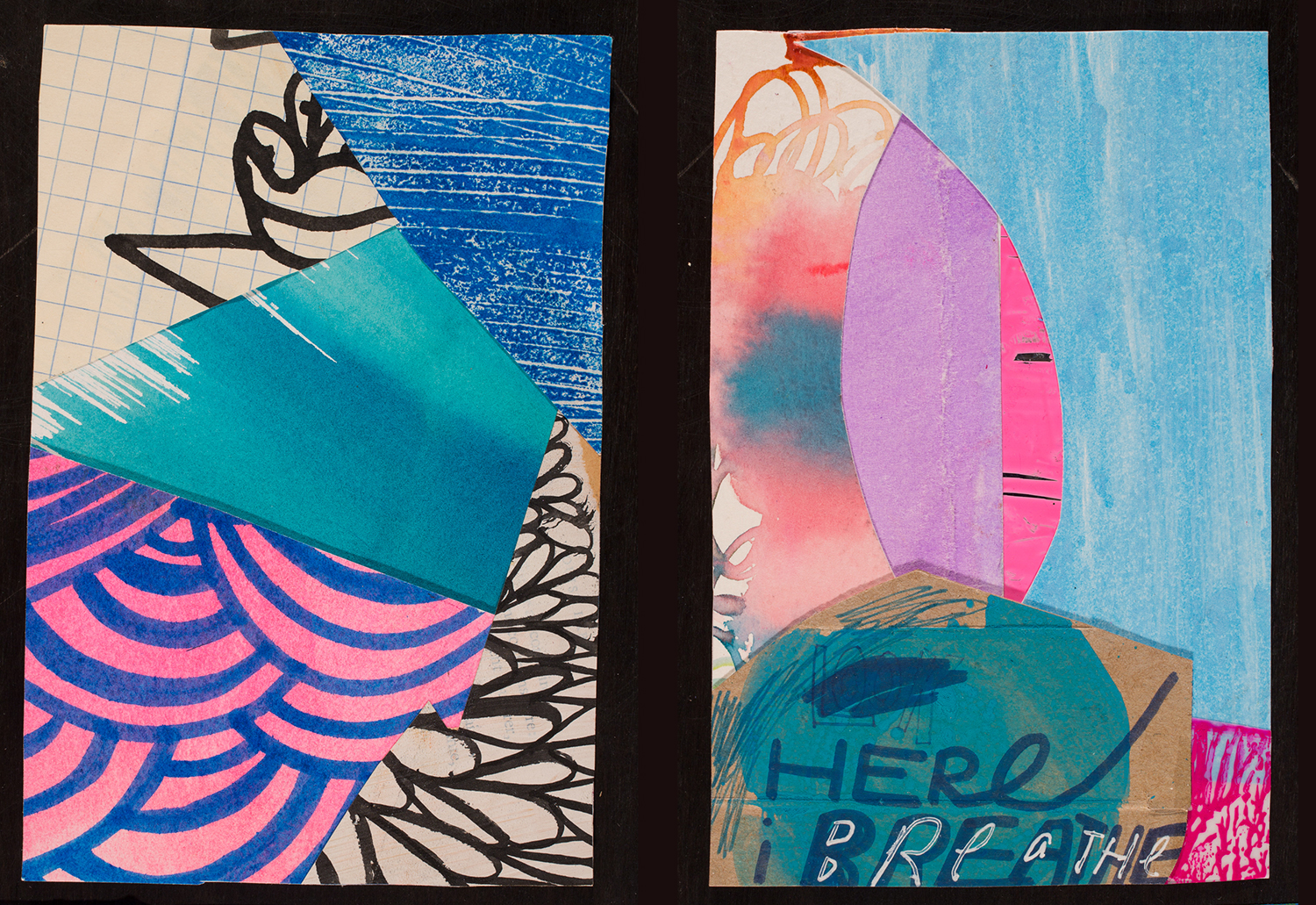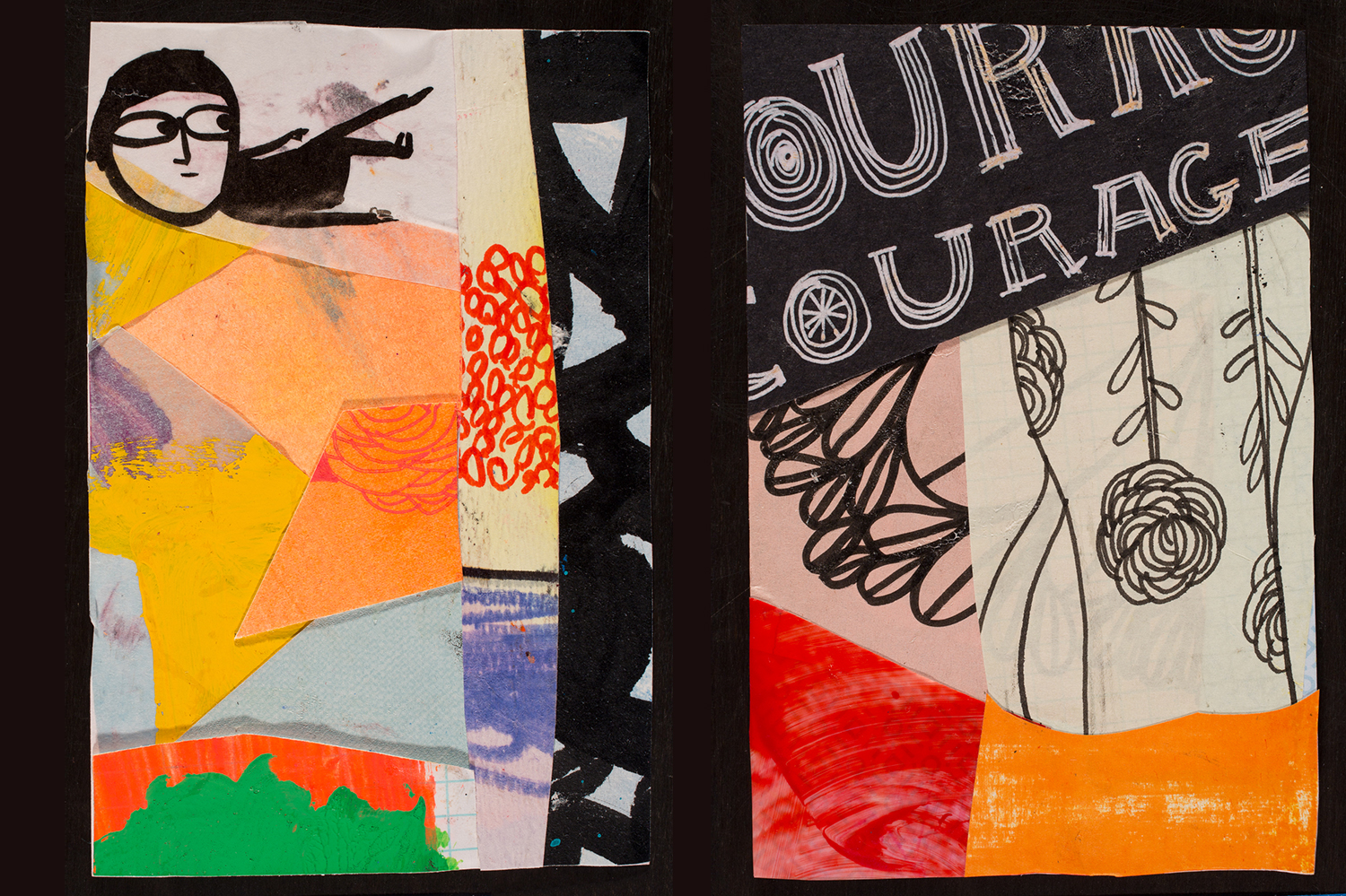 Week 2
Lesson 4 – 18-Minute Collages
Today we are going to continue exploring timed collages but these are a little different in approach and size. They will be 18 minutes and instead of working on an index cards we are going to directly glue the pieces together to build a single piece of paper. Each collage will be a different size and shape depending on your pieces and process.
Lesson 5 – Go Bigger!
Today we will paint, draw and print bigger collage papers to add to our collection. Going bigger requires moving your body differently. This can be both challenging and exciting.
Lesson 6 – Big Collage
We've made some bigger collage paper to do you guessed it, a bigger collage! Working larger challenges you to move the body differently and expand your process deeper into the unknown.  It can be scary but remember it's only paper!
Sign up today!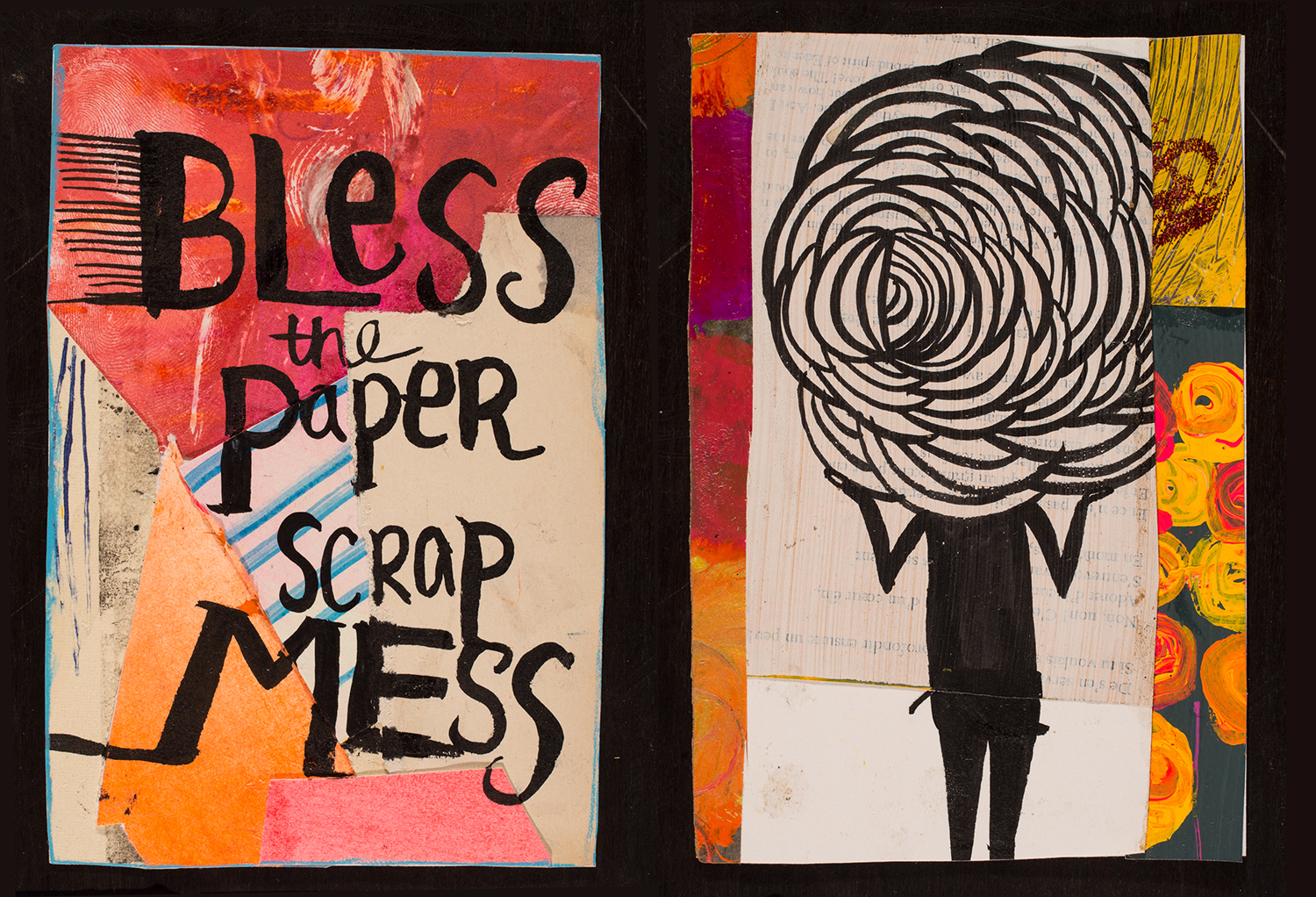 __________________________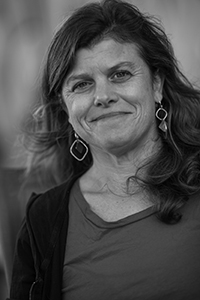 Kara Kramer
 is an artist and illustrator from Brooklyn, NY. She writes:
"Something happens when I spend hours exploring and working with color, line,  paper, markers, ink, paint, pencils. It is my favorite way to be. I can breathe. Completely. Calmly. Minutes dissolve. I'm fully immersed and focused on what my hands are simultaneously creating and discovering. The time spent making is what drives me to come back day after day. The art is a result of this time, a kind of memory, print, connection to some formless flow that continues to search and develop shape to hold it, have it, know it for a moment. The art shown on this sight and in my studio and in the sidelines waiting to be made is about the joy of creating."
Kara studied illustration at Washington University as an undergraduate in St. Louis, Mo. A few years later she moved to New York and got an MFA at the School of Visual Arts. See more of her work at www.karakramer.com or www.karakramerillustration.com.
– – – – – – – – – – – – – – – – – – – – – – – – – – – – – – – – – – –
NUTS & BOLTS
Here's how this online class works:
• During the two weeks of class, you will receive an email each Tuesday, Wednesday and Friday from Kara with a reminder to visit the class blog for that day's lesson.
• A password-protected blog dedicated to each class will serve as our clubhouse and where you will find all the class materials as they are uploaded.
• A Facebook group will be created for you to (optionally) share your work and enjoy and learn from the artwork of others. (However, if you are shy about posting your art, Kara is always available to look at your work via email.)
• The class materials will be up and available for download indefinitely, if for some reason you need to miss a day (or a couple of weeks).
• Upon registration, you will receive an email within 48 hours confirming your sign-up. On the Friday before your session begins, you will receive an email with your class codes.
• Class fee is good for participants living in a single household.
QUESTIONS? carla@carlasonheim.com
FAQs – If you've never taken an online class before and would like to know more about our online classes, click HERE.
___________________
---