Making Faces
---
_____________
Making Faces
Instructor: Lynn Whipple
Two-Week Class • 6 Lessons
Now available as a self-study class.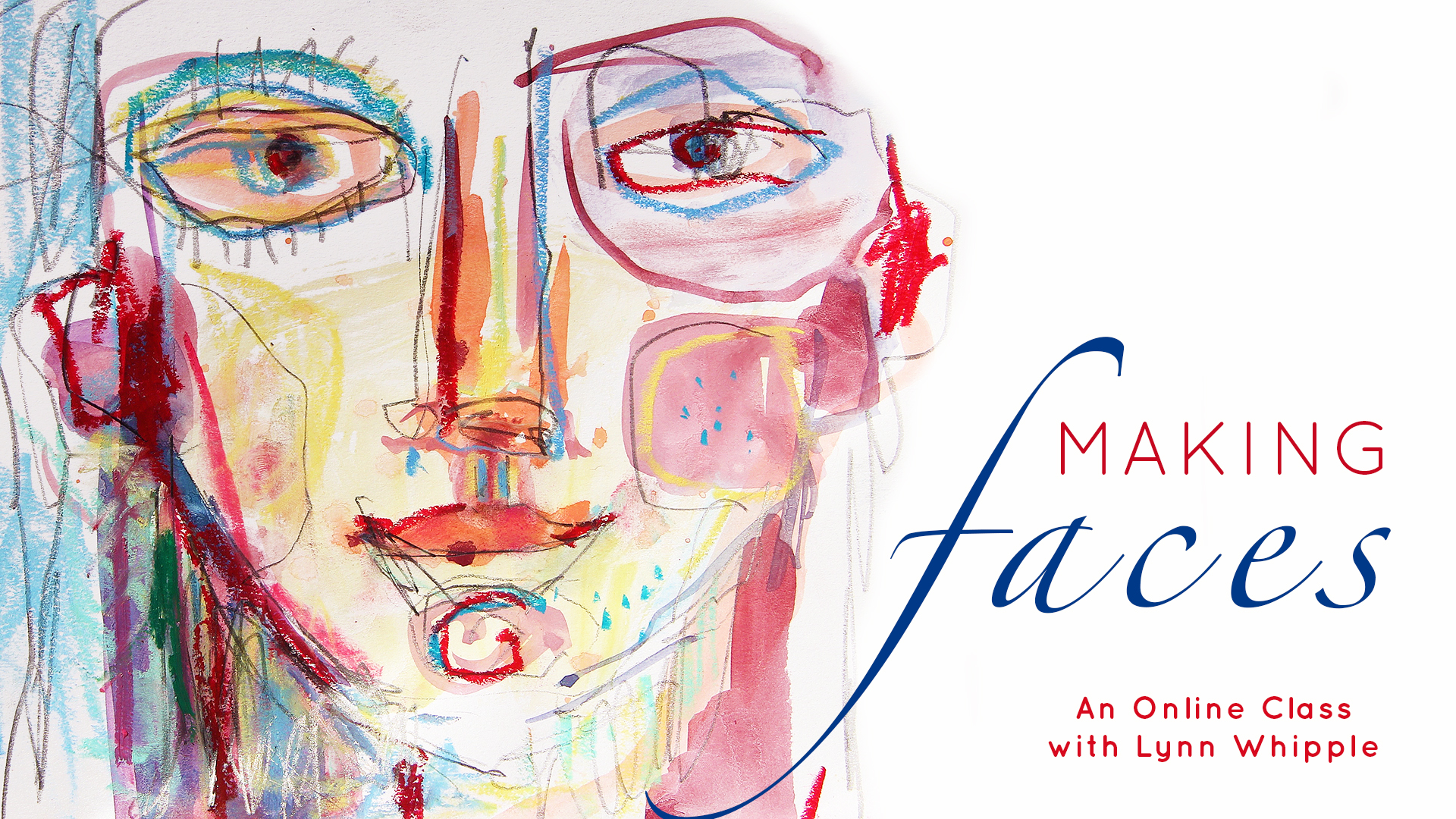 Let's make faces!
Ever-fascinating faces are chock full of artful possibilities. Faces are how we communicate and, in a sense, faces are who we are.
In this class you will create dozens and dozens of different types of faces. You will draw, paint and collage, play with line, shape, color and mark and you'll come away with an approach to keep your art practice fresh and full of new ideas.
Let's turn our studios into a laboratory of face making as we explore, experiment and enjoy this exciting and astounding subject matter.
And as always, let's have fun!!
xoxo
All my best,
Lynn
For a list of supplies needed, click
HERE
.
___________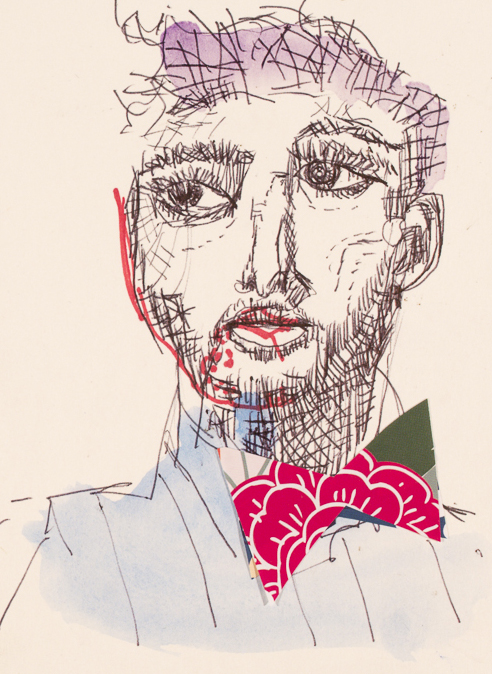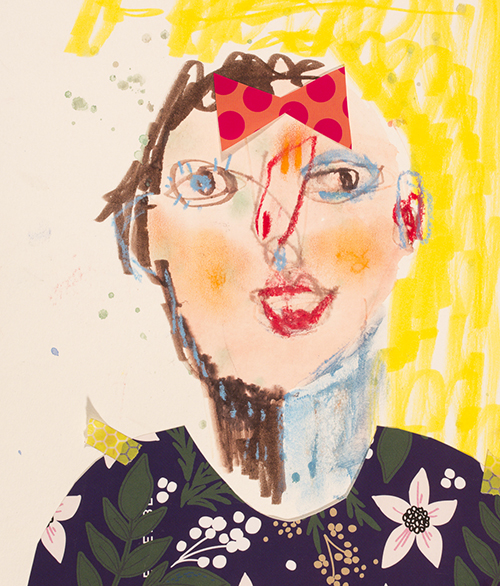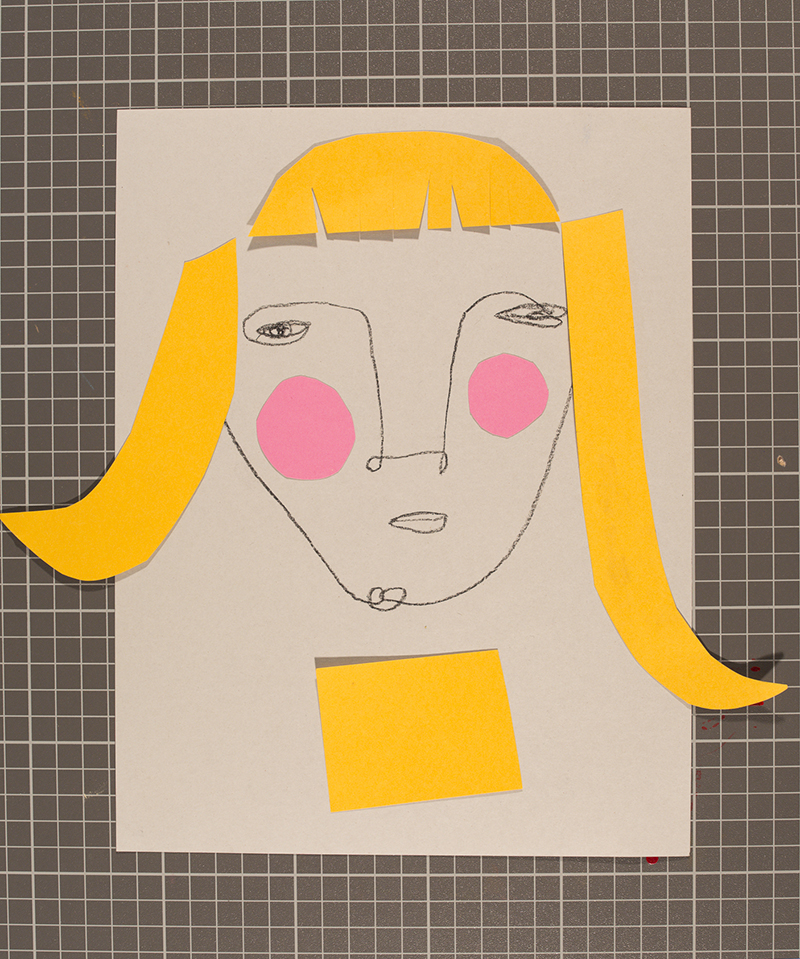 Class Itinerary:
Week 1
Lesson 1 – About Face
In this lesson we will go over some simple basics about drawing the form of the face that will inform your drawings to come. Let's start with a quick and playful exercise with ovals and make fast and free faces. Next we will look further into the face, discussing proportion and use of shadow to find form. And finally, some tips about connecting with line the features of the face to create more interesting drawings.
Lesson 2 – Crazy Face Trace
We'll start with an eyes-closed, touch-and-continuous-line drawing exercise of our own faces to gather more information about the face and it's form and structure. Next we will blaze forward with photo references, color and crazy mark making for wild and unexpected results. Be fast, energetic and playful. Finally, we'll cut these up and rearrange!
Lesson 3 – Facing Backwards
Today is about working on the background first. We will start with watercolor patterning, shape-making and stencils. Remember to spatter, because everything is better with a little spatter! Now it is time to play and make faces as you draw on top of the patterns you have created. Some of these will turn out, some maybe won't, the big idea is to keep your hands moving and your brain engaged as you push towards new ways to explore and communicate with the face.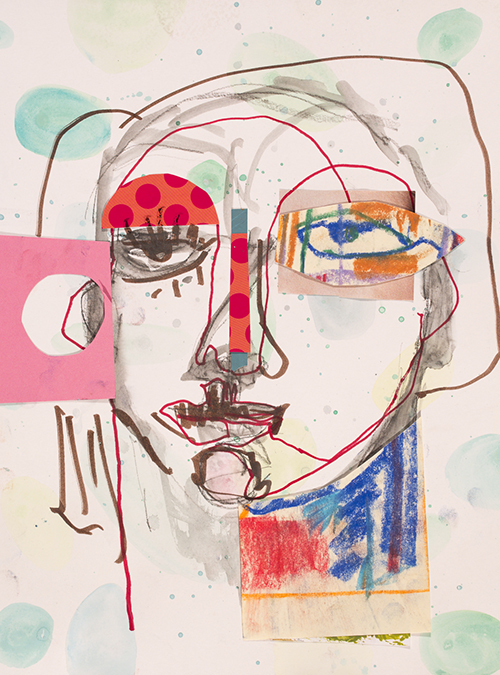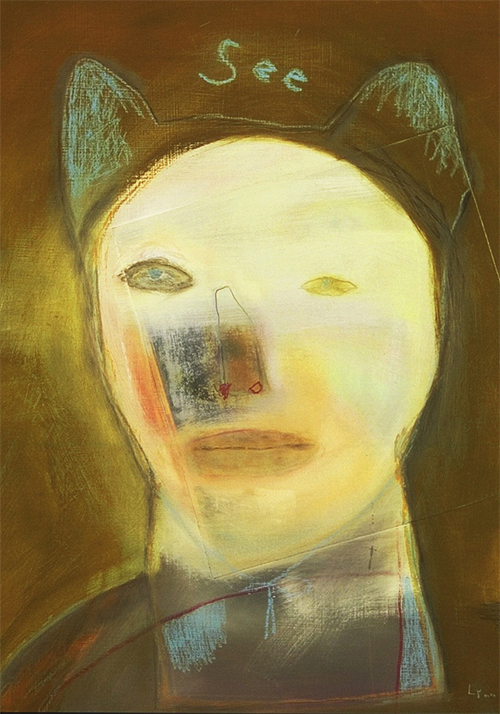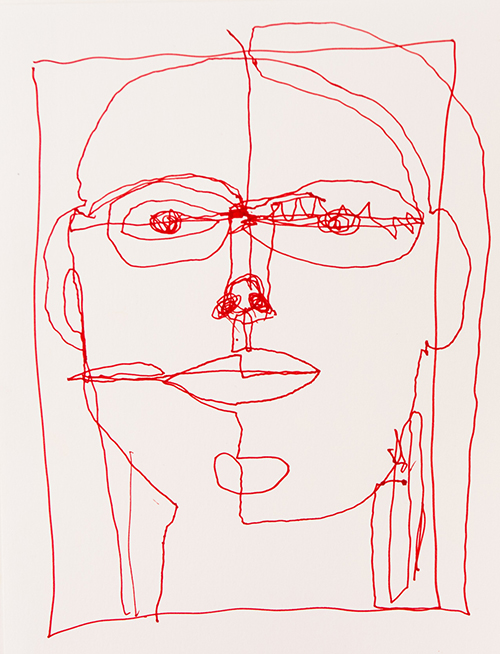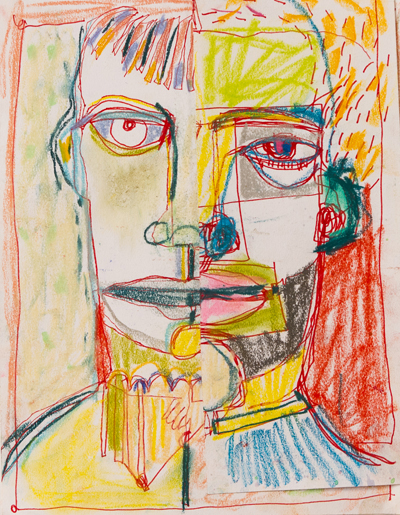 Week 2
Lesson 4 – Collage Day! Making Faces!
Play with colored and patterned paper shapes for hair, eyes, nose, mouth, neck and shoulders and backgrounds. Adding even one piece of patterned collage to your faces can open up design opportunities and bring unexpected brain surprises for you and for your viewer.
Lesson 5 – Mixed-Media Day!
Once again we are on the lookout for brain surprises! Start by playing the magazine swap game and then move on to all of your media. You can incorporate words into your faces, add your faces last, or start with a photo reference and layer on top with paint, pencil and markers. Cover much of the face, but leave traces of the features showing through. Build mystery and emotion as you take liberties with line, shape and mark, creating a more moody tone and character. Remember this is all experimental and the bigger idea is to push you towards new art making and face-making possibilities.
Lesson 6 – Elevate Your Face
Now it's time to take all the starts and explorations and see how they might become more finished pieces. You will look at each face separately by putting it inside a frame or background and see if it can stand on its own. Perhaps it will need a little tweaking by adding more darks or line work… perhaps a new series will be born… perhaps a direction will come into focus that will keep your hands moving for years to come.
Sign up today!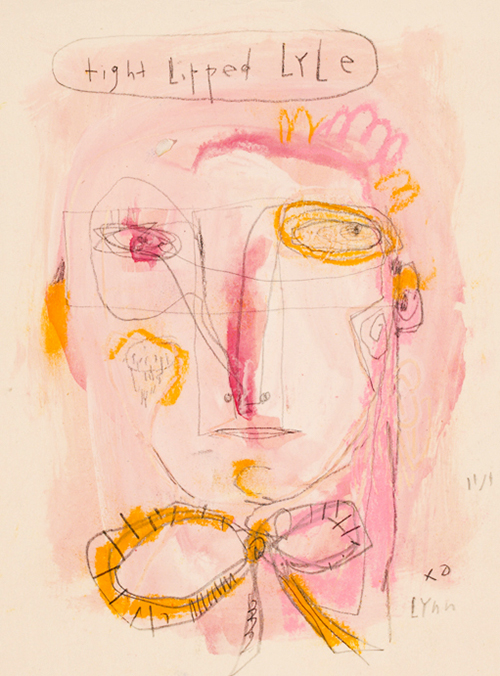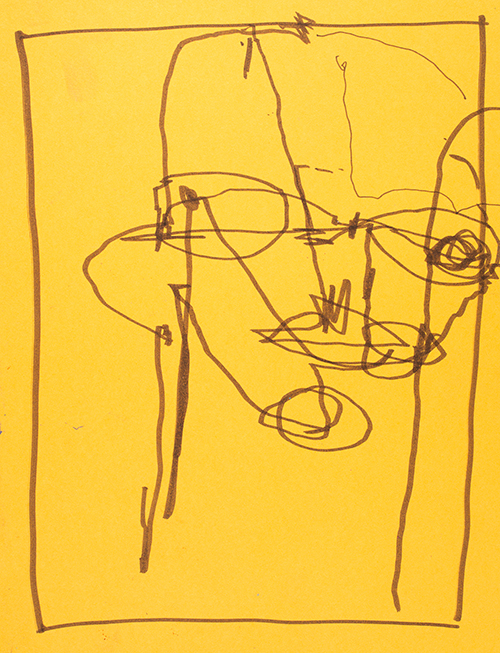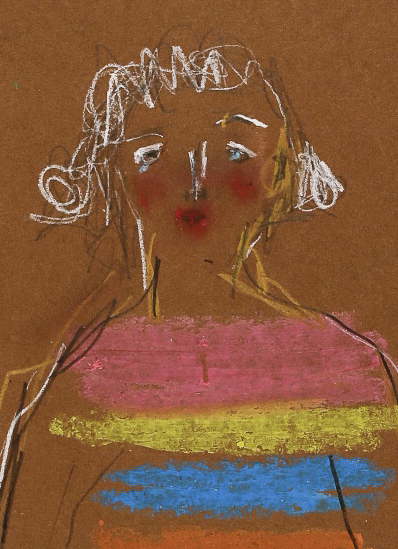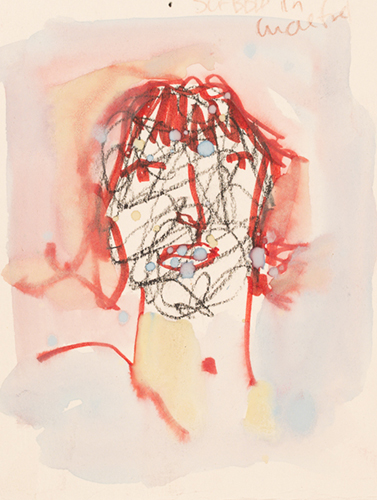 __________________________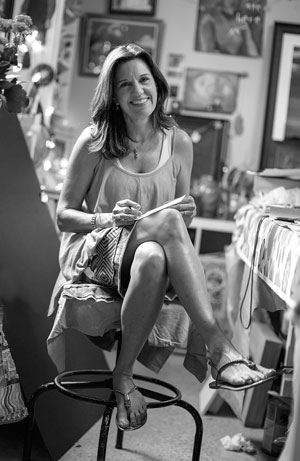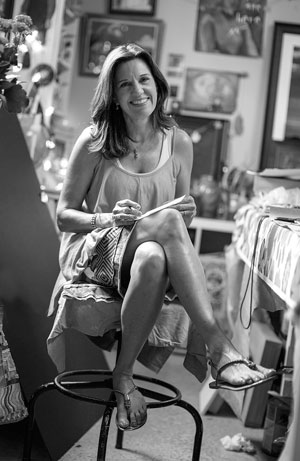 Lynn Whipple writes, "I am deeply grateful to live my life as an artist. Play and discovery are my dearest and most constant companions. There are a zillion tiny challenges in each art making experience, and so often I find, just as many small, sweet victories. Without a doubt, living creatively is the most enjoyable and satisfying game I know."
Lynn shares a warehouse studio with her husband, John Whipple, in Winter Park, Florida. Lynn's work includes found-object mixed-media assemblages; found images altered with a combination of drawing, painting, sewing and more; and her well-known Ninny Boxes, collages combined with found objects, and assembled within a box format. Her unique pieces have a playful, quirky, and often absurd, charm.
Lynn explains: "I allow myself to play and let my pieces reveal themselves to me…I have been fascinated by old books, history, and odd bits of memorabilia. I find the things that interest me the most are slightly absurd…My hope is to create something real and somehow poetic but not commonplace. My goal is to keep communicating in my language."
Lynn's work has been exhibited extensively throughout the United States and her new book, Expressive Flower Painting, was published July 2017. Visit Lynn's website at www.lynnwhipple.com.
– – – – – – – – – – – – – – – – – – – – – – – – – – – – – – – – – – –
NUTS & BOLTS
Here's how this online class works:
• During the two weeks of class, you will receive an email each Tu-Wed-Fr from Lynn with a reminder to visit the class blog for that day's lesson.
• A password-protected blog dedicated to each class will serve as our clubhouse and where you will find all the class materials as they are uploaded.
• A facebook group will be created for you to (optionally) share your paintings, and enjoy and learn from the artwork of others. (However, if you are shy about posting your art, Lynn is always available to look at your work via email.)
• The class materials will be up and available for download indefinitely, if for some reason you need to miss a day (or a couple of weeks).
• Upon registration, you will receive an email within 48 hours confirming your sign-up. On the Friday before your session begins, you will receive your class codes and a "test" video to make sure you can receive/view everything (if you can view the above video, you should be able to view the class videos).
• Class fee is good for participants living in a single household.
QUESTIONS? carla@carlasonheim.com
FAQs – If you've never taken an online class before and would like to know more about our online classes, click HERE.
___________________
---