Class Description
The Essence of Still Life
Instructor: Lynn Whipple
Quirky is okay!
In "The Essence of Still Life," we'll enjoy playing with new ways to depict a traditional subject matter, the still life, as we create fresh and contemporary paintings and drawings that are infused with the core essential qualities of our favorite objects. We will surround ourselves the with wonderful things that we have collected throughout the years and the simple things that add a special spark to our everyday.
In this artful exploration, we will create three 12″x12″ paintings and one 16″x16″ painting on wood panel, starting each lesson with with a quick drawing exercise. Charming line, interesting shapes, new ways to create, cover and uncover color, abstraction, mark making and poetic editing are a few of the key elements we will explore in this class.
The best part is that we will have fun as we share our discoveries together in our special "Essence" community! I hope you will join us! I can't wait to see what you will create!!
All my best!
xoxo
Lynn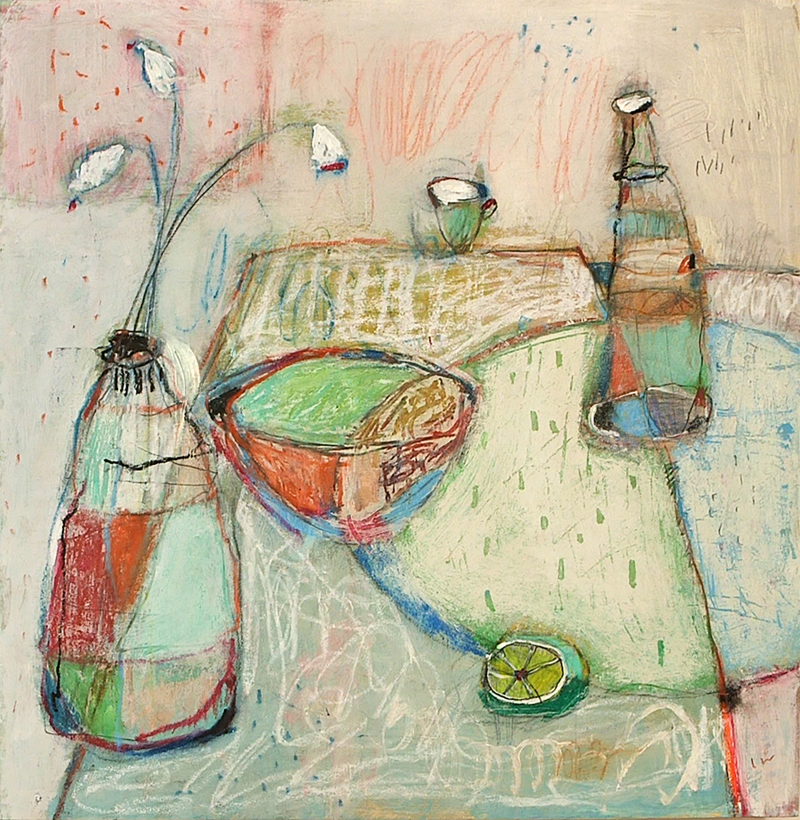 ---
Class Itinerary
Lesson 1: Fresh Look at Favorite Things
Settle in and surround yourself with several of your favorite things! We will focus on looking at and drawing our objects today, seeing their shapes with new eyes. This collection of drawings will set the tone for our painting to come!
Lesson 2: Ten Things on my Table
We will begin with a quick drawing exercise: using a tender, quirky line, create a simplified version of your ten things on colored paper. Go for the essence of the item, describe the special quality, see if you can capture the simple characteristics. Next it's time to create our first non traditional still life painting, by creating an under layer of color and drawing into wet paint.
Lesson 3: See-through, Peek-a-boo and Pentimento Shape Making
Today we will begin with a drawing exercise focusing on overlapping line, then move to a 12″x12″ wood panel and create a quick underpainting. On top place a pleasing collection of drawings with a variety from small to large. Next fill in some of the overlapping shapes with color using your pencils and crayons. Notice a little of the color from underneath. Make marks, add some white and sign your name with it feels just right!
Lesson 4: Favorite Cup
We will start with a drawing exercise called Ten Cups. Your favorite cup will serve as your muse. Draw your cup ten different times using at least 4 different pencils, markers or crayons on a piece of colored paper. For our third 12″x12″ painting, we will start with the background and create an abstract, energized, field painting as the perfect backdrop for our favorite cup.
Lesson 5: Composition and Color: Setting your table
Look at your previous drawings from class and choose at least 5 drawings of your items, with an eye for charming shapes. Next, sketch a few thumbnails or seed drawings using a different shaped table plane and a circle shape. Place items on the page, some super close to you, mid ground, and one far away and smaller. On your 16″x16″ panel, create a variety of color sections, use your scraper tool and brayer, add areas of energy and marks, some darks, thick and thin line. Draw in your table plane, items and circle shapes. Make overlaps and create a large background shape with white paint.
Lesson 6: Setting your Table, Final Finishing Touches
Today you will your bring our 16″x16″ painting to a finish. Cover up as much color with white as you like and continue to scrape it back to reveal the underlying color. Add some white drawing on top as well as bright white paint in certain small areas to create a pop. Add some small dark areas to pull the eye as well. Continue to activate energy areas with thick and thin line. Add some pencil drawing. Stand back and look at your painting, continue to be in dialog, noticing what small additions or erasers you can make to bring it to a finish!