Class Description
Weaving! with Mandy Greer
Self -Paced, Start Anytime
Whether you are a beginner or have fiber experience, don't miss this chance to learn from fiber-based installation artist Mandy Greer and discover the possibilities of expressive tapestry weaving. Mandy's teaching style focuses on breaking down complex techniques into specific, easily learnable steps, while encouraging intuitive exploration and risk-taking.
In 22 lessons, she covers warping, layering shag tassels, shapes, deep texture, working with reclaimed and unusual fibers, creating complex patterns, how to create a sculptural quality with embellishments, how to mount and hang weavings in ways that will set your pieces apart, and more.
Weaving can be meditative, peaceful and freeing —  to help let go of preconceived ideas and observe what's happening in front of you in the loom without judgement. Be bold, take risks and make some beautiful stuff!
 Please see message from Mandy about Looms and Supplies in the Supplies Tab above.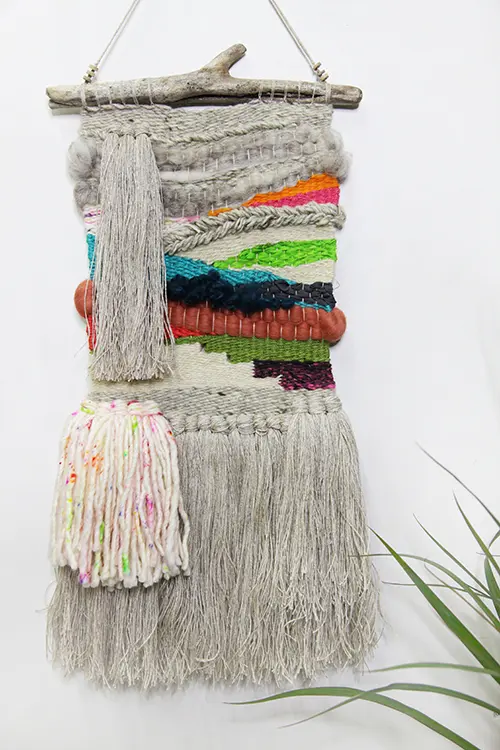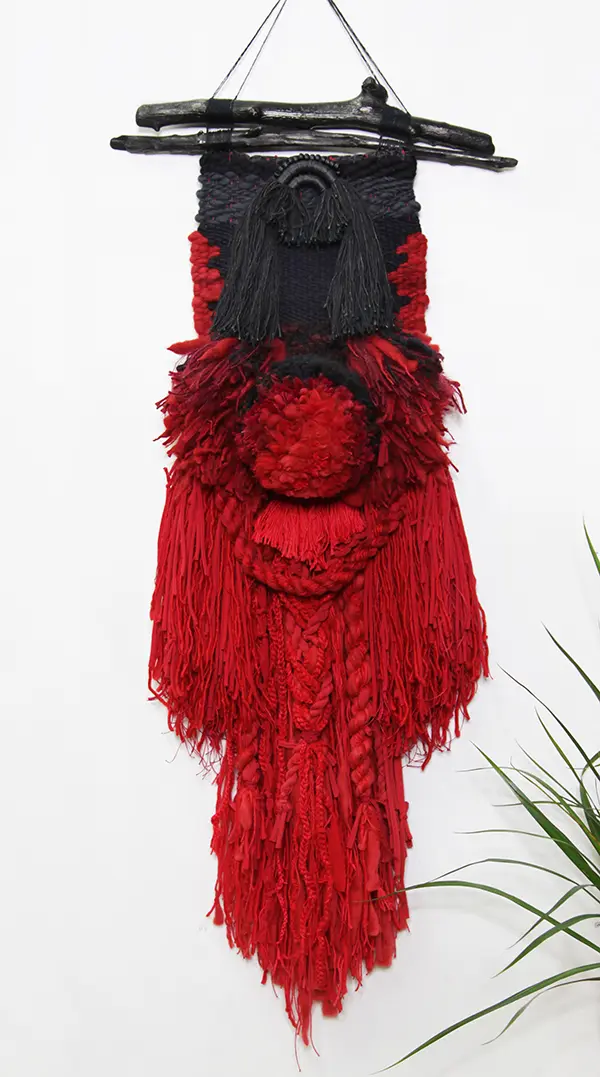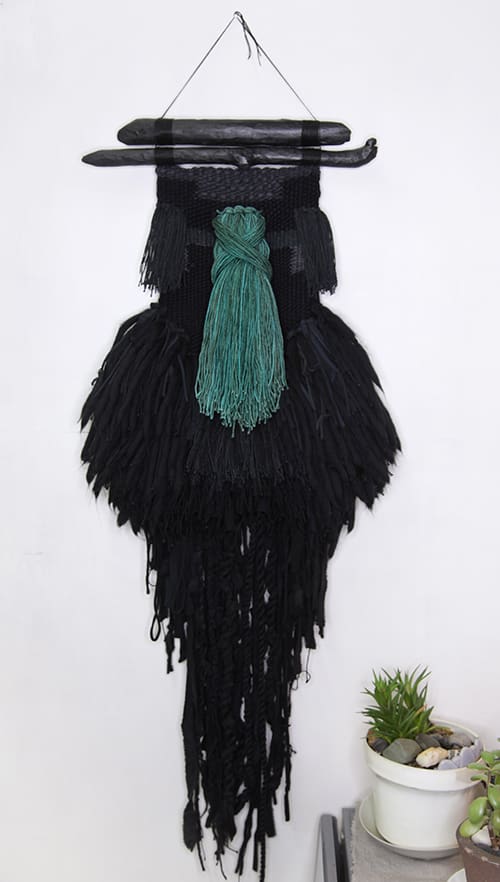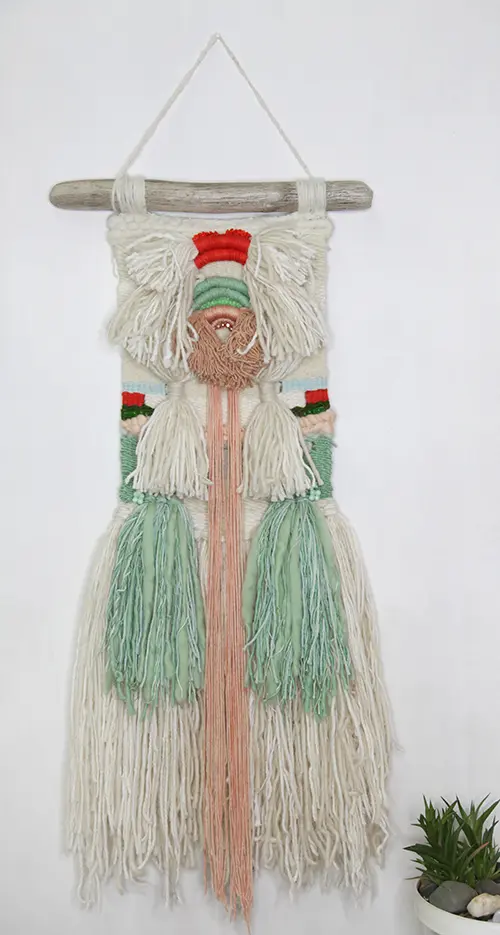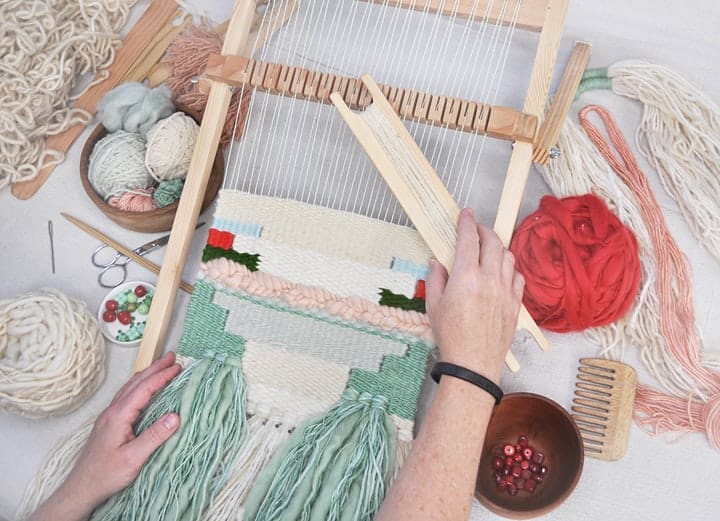 Photos courtesy of Mandy Greer.
______________________________________
Class Itinerary
Week 1 – Videos 1-10 will go up on Tuesday, 11/17/20
Introduction, Warping, Tassels, Begin Weaving
Mandy will share her guiding ethos for making art and weavings.  We'll learn to warp our frame looms, how to build our own textural tassel bundles and  several styles for shaping them, and how to get weaving right away, with many tips and tricks.
Color Blocking: Geometric and Organic
Learn to make most any forms and shapes you can imagine, and how to treat your weft like you are painting, moving your forms around with your brush, with options for working intuitively or with a plan.
Roving and Experiments with Recycled Fibers
Learn several ways to add thick wooly goodness to your weaving with un-spun wool roving.  Explore all the possibilities of recycling fabric into your loom, turning trash into deep texture and rich focal point.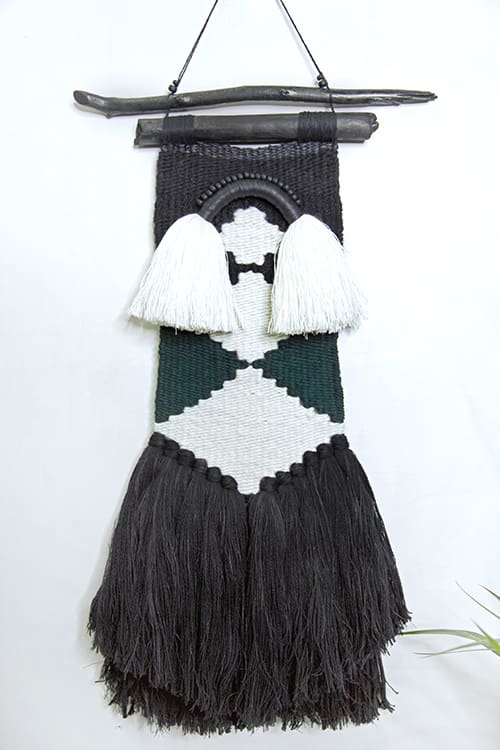 Week 2 – Videos 11-17 will go up on Tuesday, 11/24/20
All the BIG Chunky Fun Textures!
Learn a wide variety of juicy high-relief textures that make your weaving have multiple planes and unique depths.
Adventurous Stitches with More Complexity
Lean in and learn some complex stitch work to add some counterpoint to your more organic patterns.  Based on timeless weaving patterns broken down for New Tapestry.
Openings and Spacings
Add dimension and light into your weavings by learning several technique for creating openings in the plane of your weaving.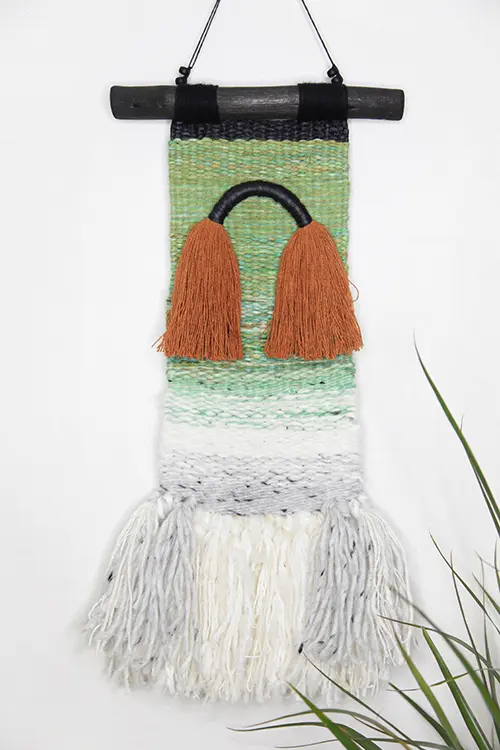 Week 3 – Videos 18-22 will go up on Tuesday, 12/1/20
Added Sculptural Forms and Embellishing Finished Weavings
Learn many of Mandy's favorite ways to transform a flat weaving into a more complex wall sculpture, how to fix parts you hate, how to never give up on a weaving.
Mounting and Finishing
Just say no to dowels! Being creative and innovative in how to hang your weaving is just as important as the fibers and stitches you choose. Mandy will share a wide variety of ideas how to see your weaving as a work of art that can continue to evolve off the loom.
_____________________________________
Scholarships are available. Click HERE.
_____________________________________
For a full list of the supplies you will need, see the tab titled "Supplies" located just under the video screen.