Spark Summer! Online Class
---
Spark Summer!
(Formally 2015: Year of the Spark)
Instructors: Lynn Whipple & Carla Sonheim
12 Lessons
Now available as a self-study class.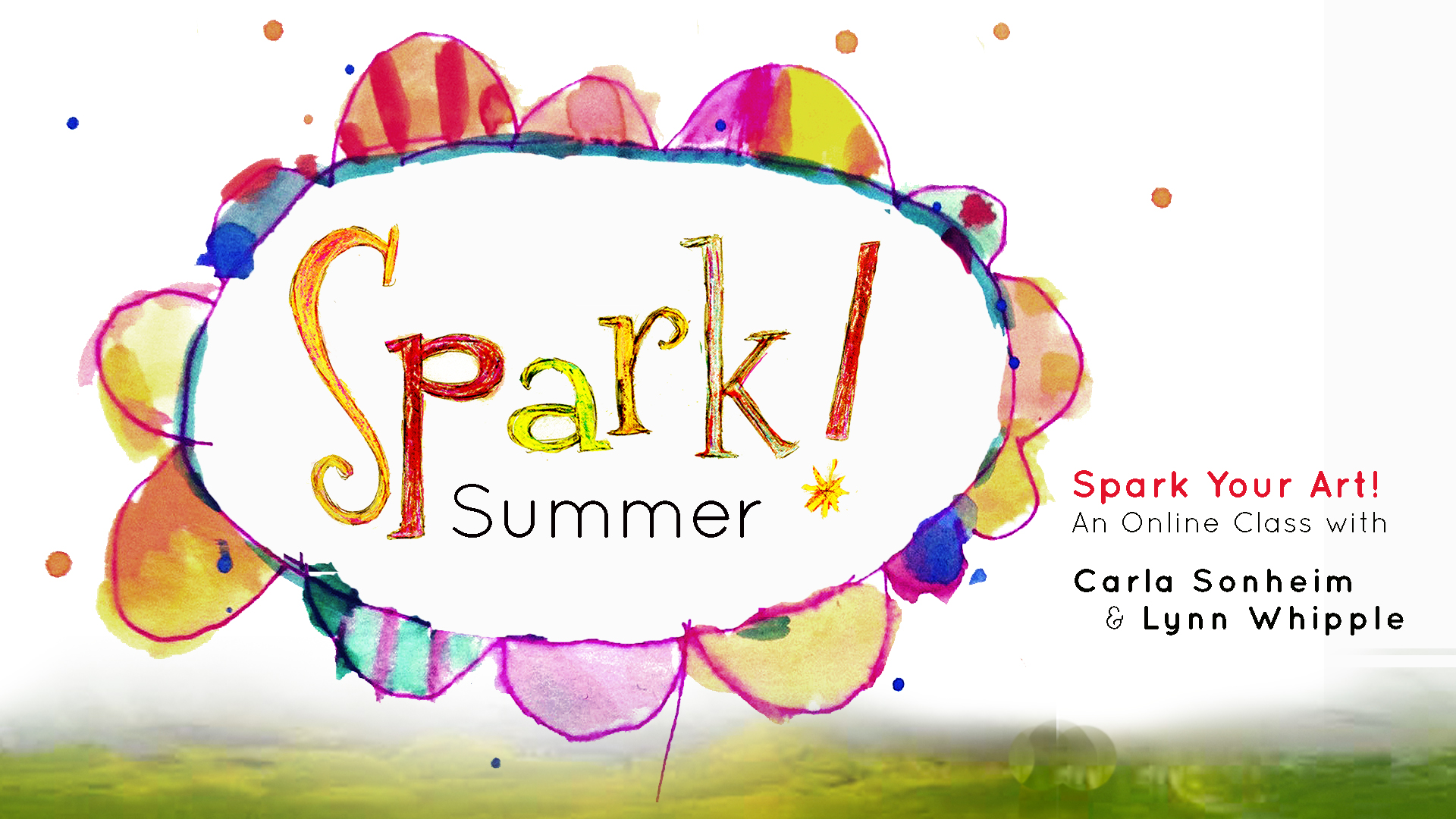 Note: This is a repeat (partial) of the 2015 year-long class, "Year of the Spark." If you were in the original class, you are welcome to join this summer at no additional cost. Email Carla at carla[at]carlasonheim.com and ask to be put on the list! Thanks!
Hello!
In 2015 we (Lynn Whipple & Carla Sonheim) taught a year-long online class together, 2015: Year of the Spark.
In this summer package we picked our favorite 12 lessons… join us!
This online class is about ART, and how we can infuse MORE of it into our lives…. More art, more creativity, more time, more inspiration, more motivation, and more FUN!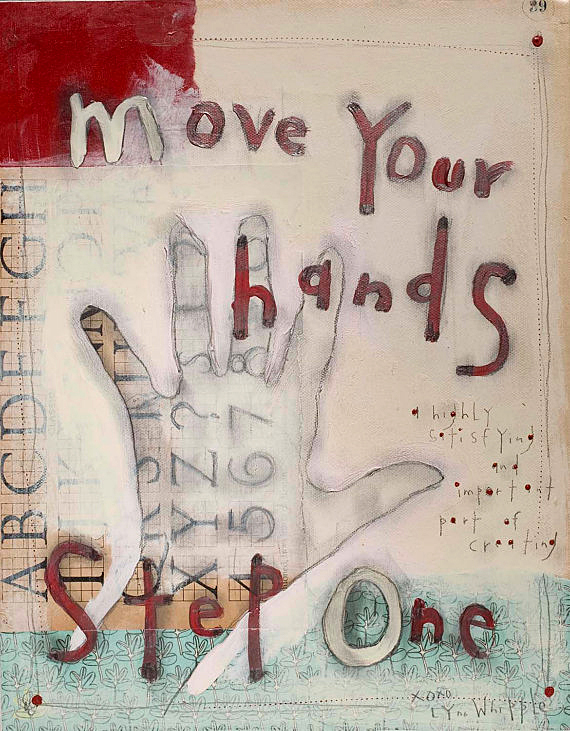 Lynn and I share a love of making art, moving our hands, and keeping things FUN. We believe that the more fun you have, the more open your mind is to creative solutions, which produces more authentic and imaginative art!
You will receive 12 video lessons + pdfs which will include a short spark-your-art exercise (how do we make the time for creativity? How do we start?), as well as a longer, technique-based mixed-media project.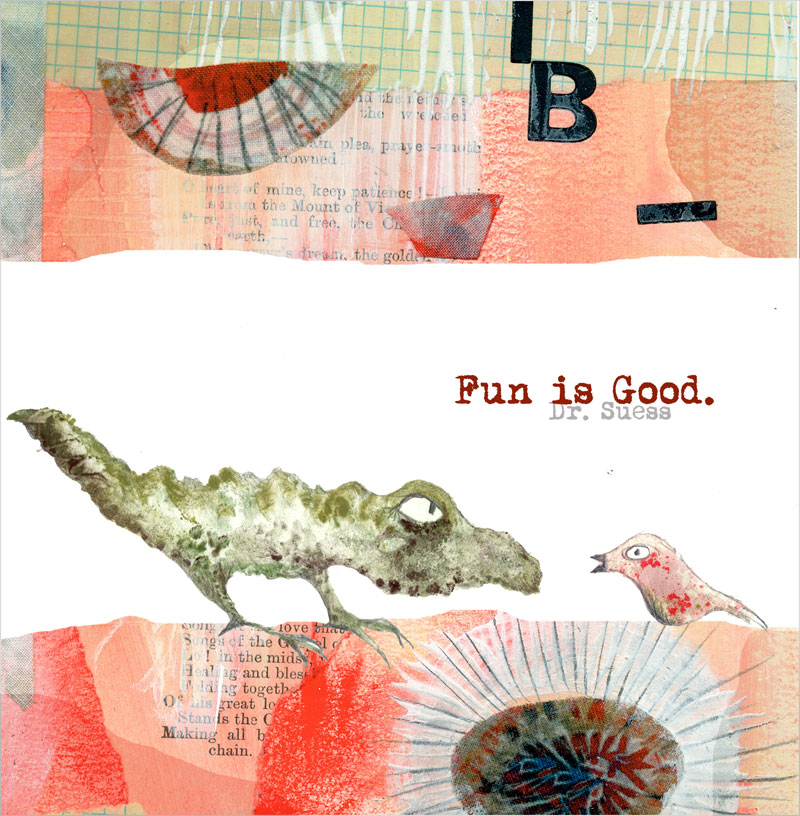 How will this work?
We want students to create art that is true to their own style (as opposed to expecting art look like ours). The techniques taught are just starting points and you will incorporate them into your own existing styles, and what will come out will be fresh and new!
Also, we strive to make sure that every online lesson includes both techniques and the opportunity for personal growth and self expression. "Spark Summer!" includes an online community where participants from all over the world share their work, their thoughts, and encourage each other. And of course, we are available to comment on all work uploaded throughout the class.
This class includes:
• 12 VIDEO LESSONS (6 from Lynn, 6 from Carla), each with a warm-up exercise and a main mixed-media lesson
• 12 accompanying PDFs with step-outs, written instructions, references, links, etc.
• Instructor FEEDBACK on uploaded or emailed work
• Private BLOG and closed FACEBOOK group.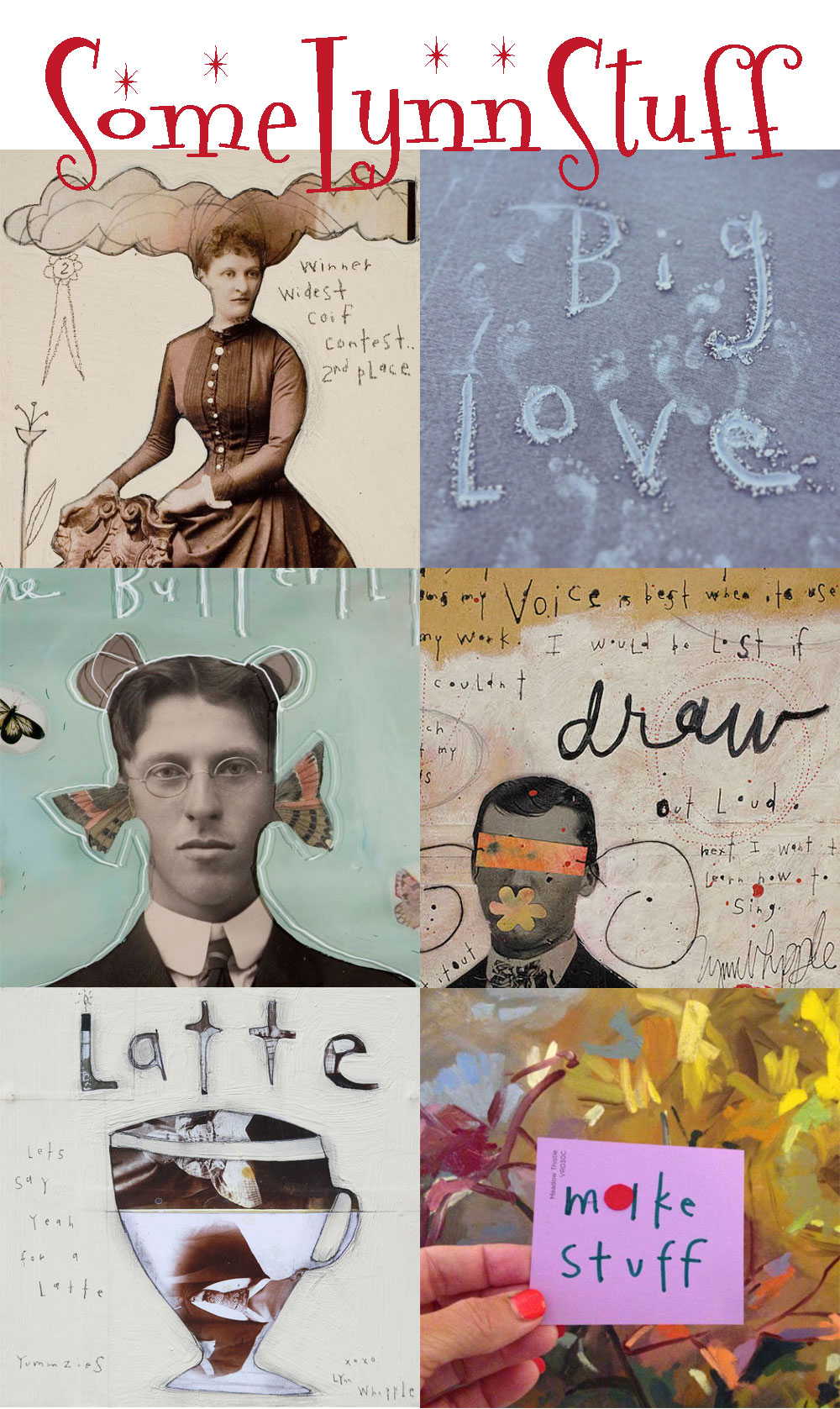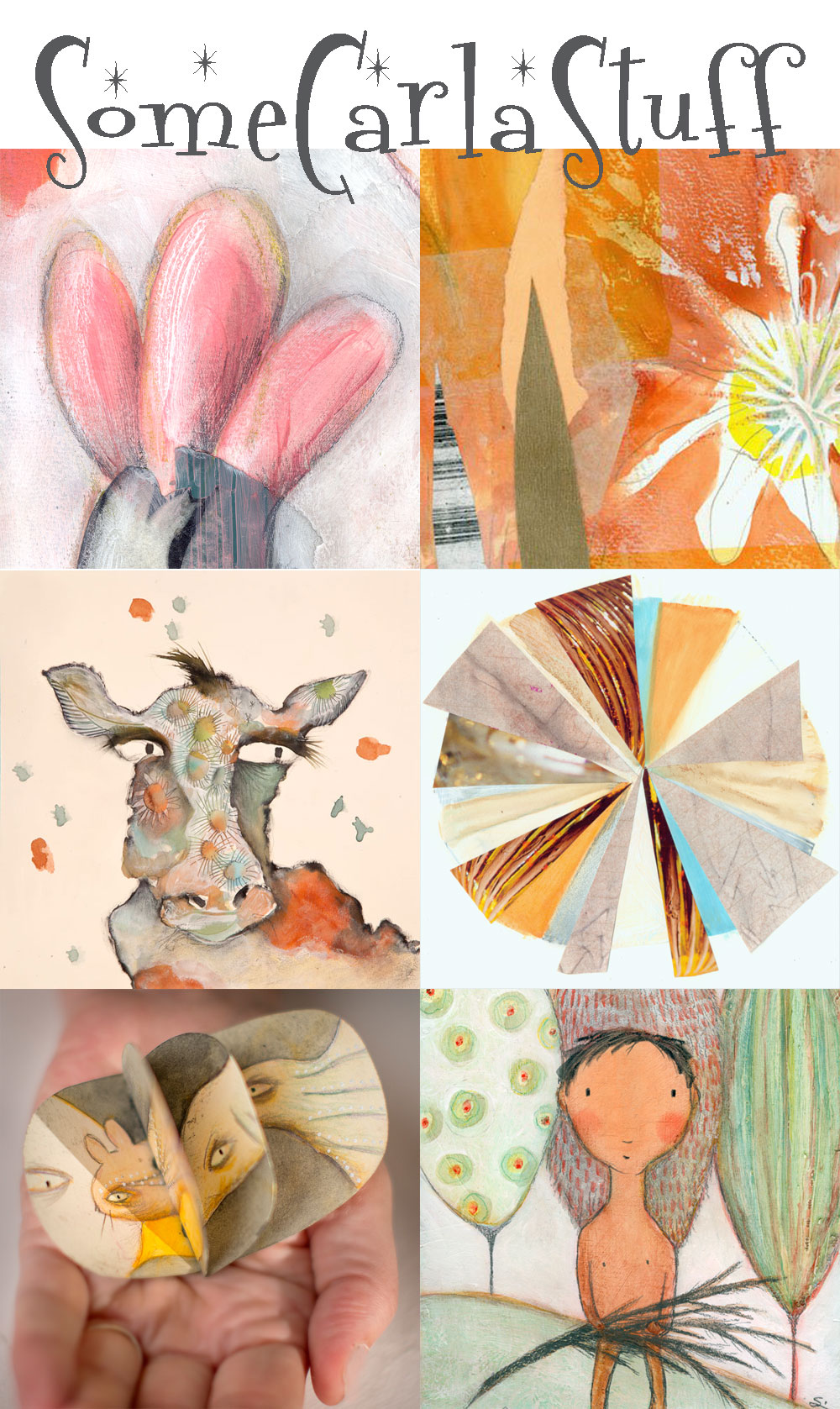 *    *    *
Class Lessons
Carla
Journal Pages & One-liners and Gestures! Exploring Line Quality
Lynn
Sketchbook Patterns and Brain Surprise: Shape Making
Carla
Automatic Writing and Thoughts are Things Mini Books
Lynn
Drawing to Music and Duo des Fleurs "Flower Duet" 
Carla
Warmup with Wes and Smartphone Monotype Collages
Lynn
Color Mixing and Color Making: Value Painting
Carla
Journal Diving and Carved Watercolor Paintings 
Lynn
Favorite Icons and Threading Thoughts
Carla
Daily Ritual and Draw-Through Face Grids
Lynn
Thumbnail Sketches and Directional Mark Making
Carla
Modern Artists & Kids and Painting Big: Thinking Small
Lynn
Free Patterned Paper and Not so Still Life


* * *
• All levels welcome and encouraged to join us!
• Registration fee is good for people living in a single household (a great class to do with your kiddos!)
• If you have any QUESTIONS, please email me at carla[at]carlasonheim.com or Lynn at lynniewhip[at]gmail.com.
• If you'd like a feel for the SUPPLIES you will need for this class, CLICK HERE.
• New to online classes? Check out the "Frequently Asked Questions" page.
*    *    *
SIGN UP TODAY!
_ _ _ _ _ _ _
Once you register, you will receive a confirmation email immediately. We will log you in to the class with your Paypal email address unless you indicate otherwise.
Thank you again and we hope you can join in!
Carla Sonheim & Lynn Whipple
– – – – – – – – – – – – – – – – – – – – – – – – – – – – – – – – – – –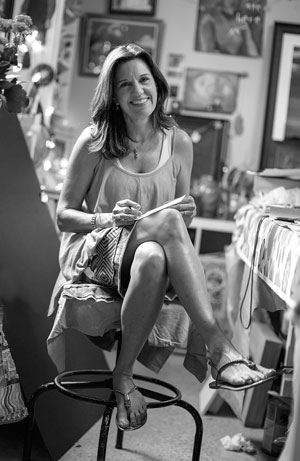 Lynn Whipple writes, "I am deeply grateful to live my life as an artist. Play and discovery are my dearest and most constant companions. There are a zillion tiny challenges in each art making experience, and so often I find, just as many small, sweet victories. Without a doubt, living creatively is the most enjoyable and satisfying game I know."
Lynn shares a warehouse studio with her husband, John Whipple, in Winter Park, Florida. Lynn's work includes found-object mixed-media assemblages; found images altered with a combination of drawing, painting, sewing and more; and her well-known Ninny Boxes, collages combined with found objects, and assembled within a box format. Her unique pieces have a playful, quirky, and often absurd, charm.
Lynn explains: "I allow myself to play and let my pieces reveal themselves to me…I have been fascinated by old books, history, and odd bits of memorabilia. I find the things that interest me the most are slightly absurd…My hope is to create something real and somehow poetic but not commonplace. My goal is to keep communicating in my language."
Lynn's work has been exhibited extensively throughout the United States and she is the author of the forthcoming book, "Expressive Flower Painting" (Quarry Books). Visit Lynn's website at www.lynnwhipple.com.
– – – – – – – – – – – – – – – – – – – – – – – – – – – – – – – – – – –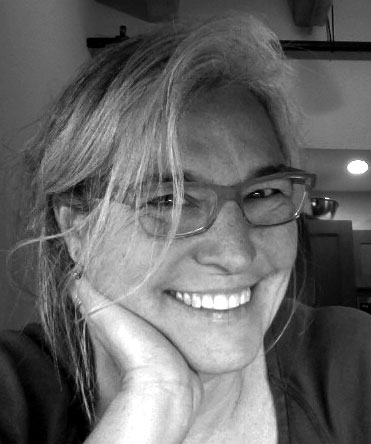 Carla Sonheim is a painter, illustrator, and creativity workshop instructor known for her fun and innovative projects and techniques designed to help adult students recover a more spontaneous, playful approach to creating. She is the author of Drawing Lab for Mixed Media Artists: 52 Creative Exercises to Make Drawing Fun, a bestselling book, having sold over 75,000 copies!
Two more books were released Fall 2012: Drawing and Painting Imaginary Animals: A Mixed-Media Workshop (Quarry Books) and The Art of Silliness: A Creativity Book for Everyone (Perigee Books), and in 2013 she co-authored Creative Photography Lab with her husband, Steve Sonheim.
One of her students writes, "Carla just shines and is so gentle and generous that you will work hard all day and come out energised and inspired. Most importantly though, [her] class was a touchstone in my artistic journey, giving me the courage to stop resisting, and open myself to my creative voice."
Carla lives in Seattle, Washington.
*    *    *
Testimonials:
For Carla:
"You are a gifted instructor, who actually makes art fun, and I look forward to learning more from you." — Jo
"What a wonderful world you have offered to me in The Year of the Fairy Tale! I am loving this course more than I can say, and I appreciate all the work and planning that you and your husband have put into this course. It's polished, professional, charming and easy-to-follow. Again, thank you so much for all that you have done — what a year!" — Sandy
For Lynn:
"You've done so much for me, you have no idea. Coming across your work, taking your workshop, receiving feedback from you… all of these things have kept me sane, motivated me, inspired me. That's huge – so I thank you so, so much for all of these things." — Deborah
"From the bottom of my heart, YOU, dear Lynn, are just the best art teacher I've ever had. You challenged my senses and encouraged me to play and have fun; something I've forgotten to do. Thank You!" — Tina
---