Year of the Giraffe
---
DRAW – PAINT – SCULPT – PHOTOGRAPH – WRITE – SEW
12 Months • 12 Projects
January – December, 2013
An experiment in creativity.
Registration is now closed, but stay tuned for ways you can
join the giraffe fun later in the year!
* * * 
As 21st-century internet-savvy people, we jump from one thing to another — at break-neck speed — and that has its place. But lately I've been longing to just FOCUS on one thing for awhile. I'm curious to find out what will happen if we stick with one subject.
So I am launching a project called "Year of the Giraffe," which is about making, researching, enjoying, and creating anything and everything with the theme of "Giraffe," and I want to gather a community of artists to take this year-long journey with me.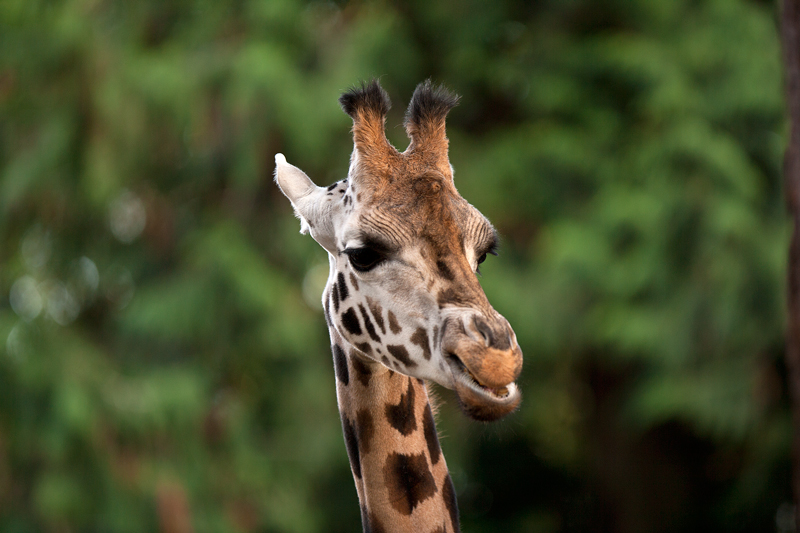 Necks, spots, horns, legs, ears, tails, stories, poems, legends, sculpture, drawings, paintings, and… ???
This will be an experimental class, more leisurely paced, and designed around creating an ongoing conversation about art, creativity, and the creative process in general.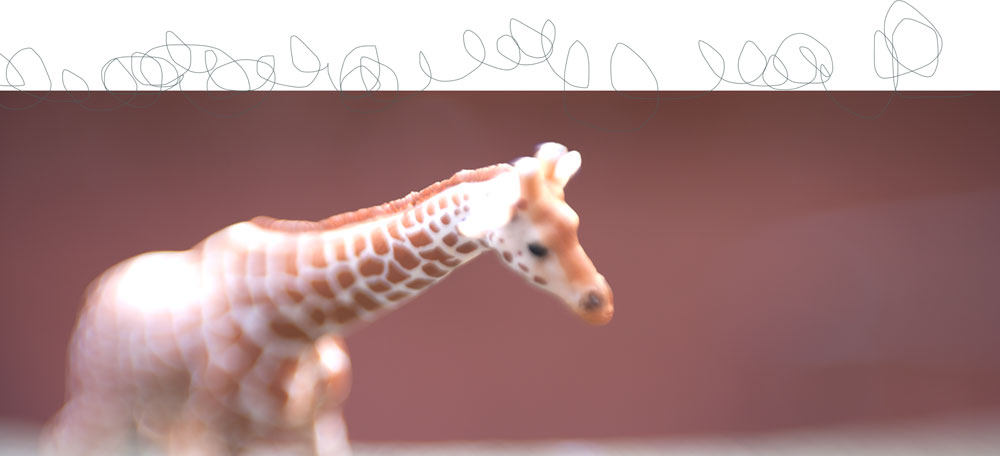 Why giraffes?
Giraffes have nothing to do with most of our daily lives. I'm gambling that when we concentrate on a fresh subject, innovative things can happen.
Besides, giraffes are a bit absurd looking and it's what popped into my head at three in the morning and wouldn't go away!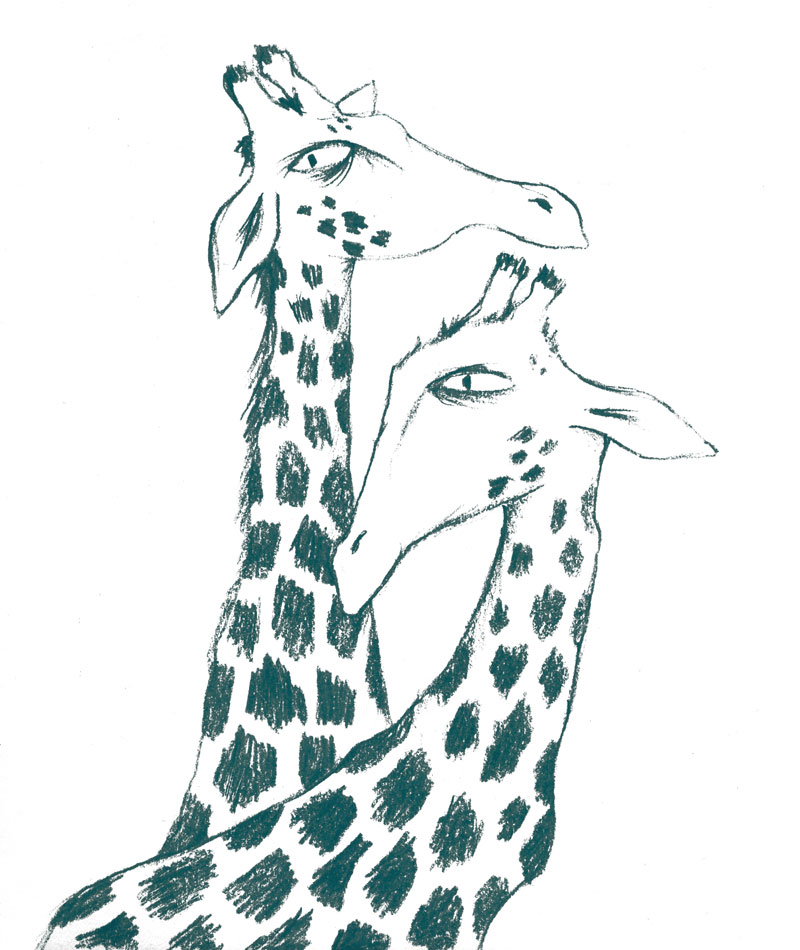 This class is about creation — the making of something that wasn't there before — and also about creativity in general. We will be asking ourselves the following questions:
• What does it mean to be creative?
• Can creativity be taught?
• Why is nurturing creativity an important aspect of our lives?
… and…
• How will we sustain interest and focus on a single thing for a YEAR?
We will all probably get tired of giraffes by December, but that is also part of our creative, problem-solving challenge!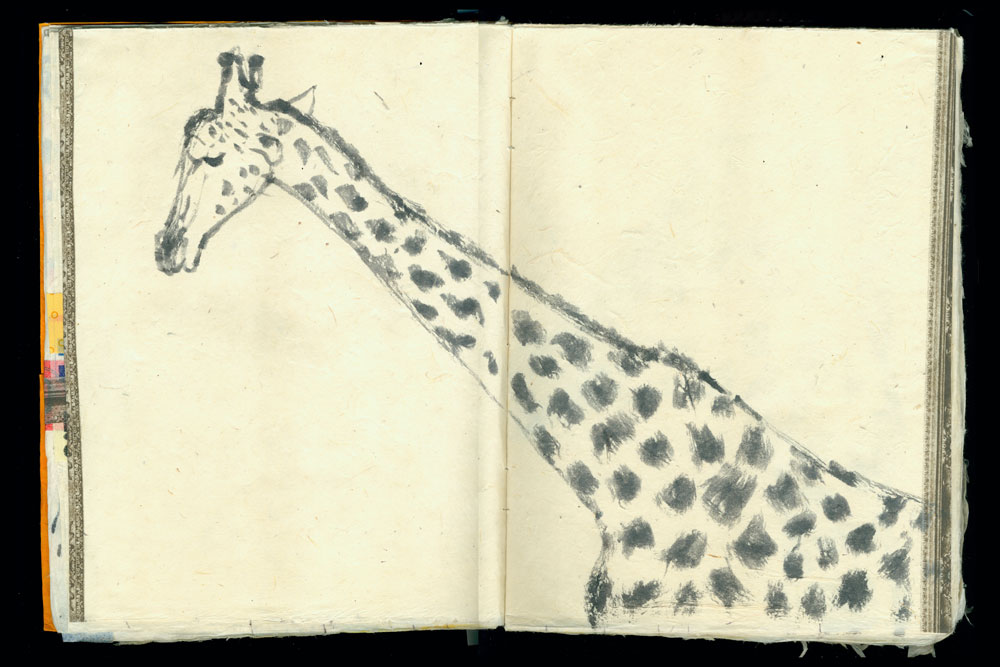 Class Format
Each month for 12 months you will get a challenge from me to create something "giraffe," either 2D (drawing, painting, photography) or 3D (sewing, sculpture). We'll also throw some writing in there to really cross-train!
You'll receive:
• A monthly assignment exploring a specific process and media.
• A monthly demonstration video or pdf to support the technique used in each assignment.
• A monthly hour-long conference call to talk about creativity, the assignments, and what a giraffe might have for breakfast — a group coaching session!
• "Year of the Giraffe" Blog for all the assignments, Flickr group to share your work, and Yahoo group to talk creativity, drawing, painting, technical questions….
• Weekly instructor feedback.
• Giraffe-related "goodies" throughout the year, including downloadable prints, fabric transfers, and inspiration pages.
• A copy of the "Year of the Giraffe" 'zine, documenting our year-long project.
• Inclusion in the 'zine. Each participant will be asked to submit their favorite work and a short statement about their experience.
Sign up today!
Class size will be limited, so we can have a more intimate group where we can really get to know one another.
• Cost: $250. Registration closes on January 31, 2013. Registration is now closed.
• First assignment drops January 1, 2013.
• All levels welcome and encouraged to join in.
********************************************************** 
 * * *
A Note on Materials: In all my classes I try to keep materials as cheap and simple as possible. You will most likely have most supplies already on hand. We'll keep it low key!
* * *
Carla Sonheim is a painter, illustrator, and creativity workshop instructor known for her fun and innovative projects and techniques designed to help adult students recover a more spontaneous, playful approach to creating. She is the author of three books on drawing and creativity.
---