Big Juicy Watercolor
---
Big Juicy Watercolor! from Carla Sonheim Presents on Vimeo.
Big Juicy Watercolor
Instructor: Fred Lisaius
3-week class, watercolor • $95 
Now available as a self-study class.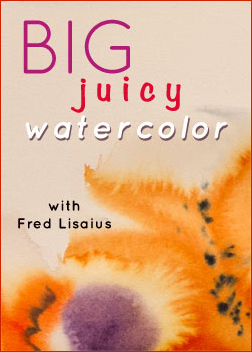 Watercolor is such a beautiful medium. In this class we will work wet in wet. This class will encourage you to experiment, loosen up and let the watercolor do some of the work! We will be using lots of water and color, big brushes and big sheets of watercolor paper to create paintings that celebrate both looseness and control.
Each week we will learn new techniques and then apply them to our paintings. We will be exploring subjects that will challenge you in fun and different ways. At the end of the class you will have at least 3 large paintings.
Let's have some fun experimenting with watercolor and better understanding its secrets. Give yourself permission to take risks, explore, make mistakes and make discoveries. I look forward to painting with you.
SUPPLIES NEEDED FOR THIS CLASS: For the Supply List, click HERE.
_ _ _ _ _ _ _
Class Itinerary: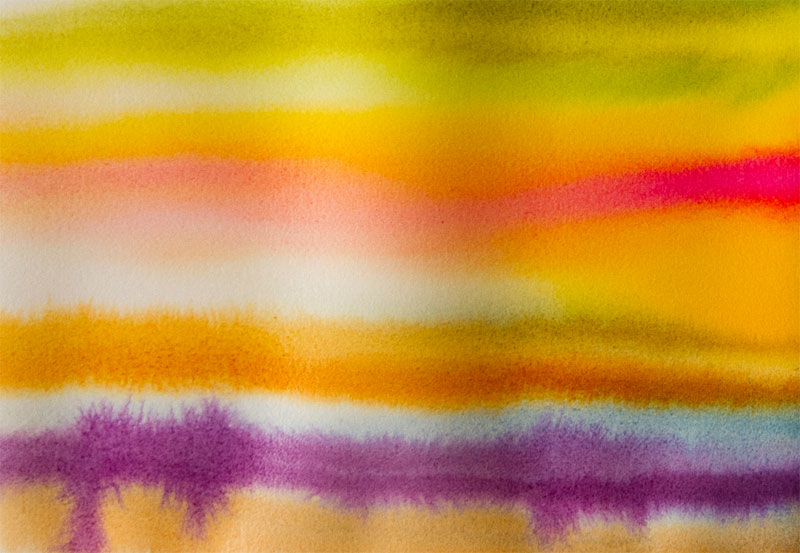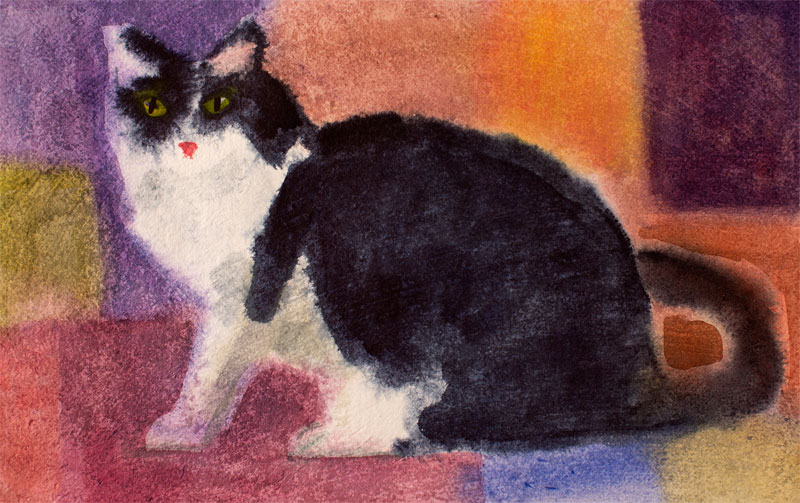 Week 1
Lesson 1. In this first class we will experiment, explore and discover. Create a double wetting flood wash and use lots of color to better understand the nature of watercolor. Get your supplies ready, put some music on and let's get started.
Lesson 2. Now we are ready to do our first painting. Let's use the wet into wet techniques we learned in our art lab (Lesson 1) to describe the soft fur of a cat or the hair of a dog. As with the experiments, allow yourself to take risks amd trust your instincts.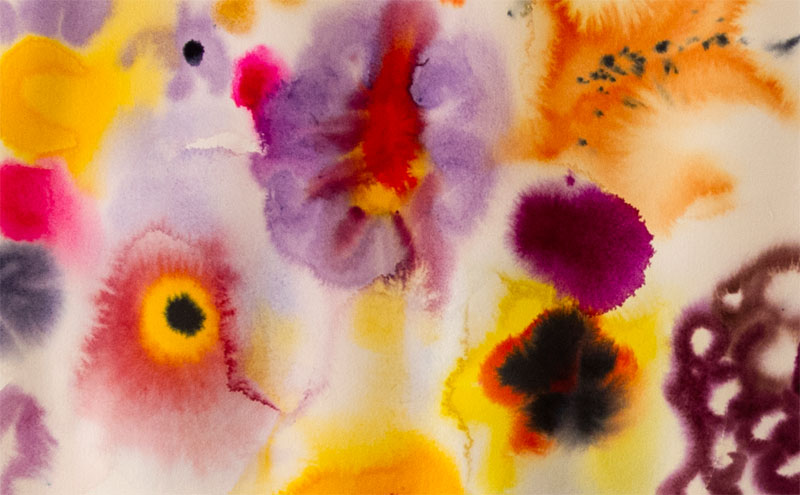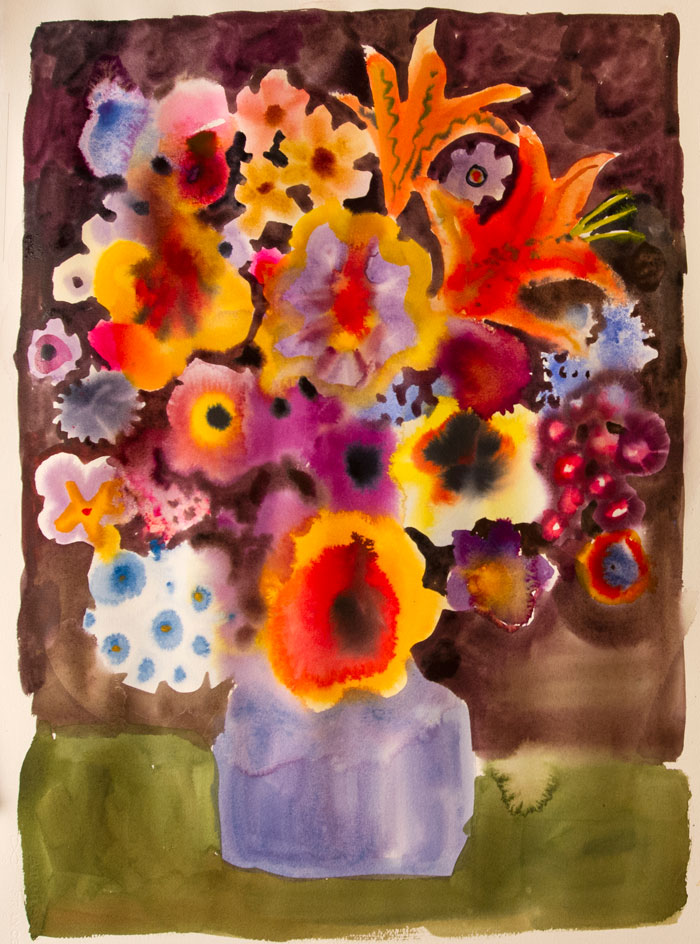 Week 2
Lesson 3. We are going to start the 3rd lesson by experimenting in new ways. Techniques for this lesson will include concentric washes, salt techniques and isolated flood washes. Throw a pinch of salt over your shoulder for good luck and another pinch on your painting for wonderful effects.
Lesson 4. How does your garden grow? Flowers always bring joy to our lives. Let's have fun using what we learned in our experiments to create a large bouquet of our own creation. Let the flowers in your arrangement be inspired by nature and by your imagination.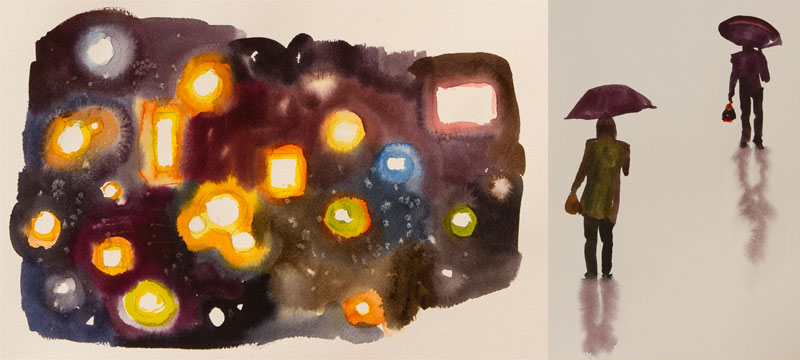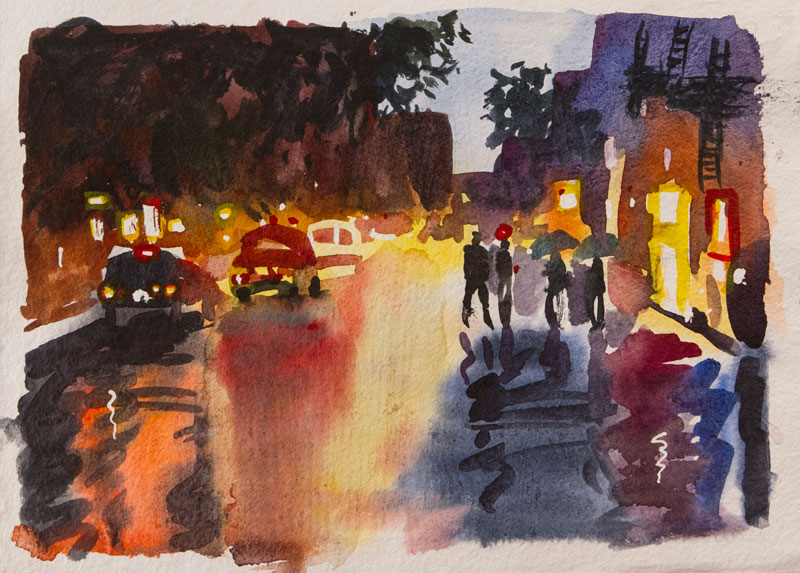 Week 3
Lesson 5. How can we utilize gravity to create beautiful watercolor paintings? Let's go back into the art laboratory and learn how masking fluid, contrast and gravity can make a painting more dynamic. We are also going to explore the "figure" in silhouette.
Lesson 6. The city, in the rain, at night is a wonderful thing. Let's paint it and while we are at it, let's make it big! Get your big brushes out, put some of your favorite music on and give yourself permission to think big, take chances and have fun.
_ _ _ _ _ _ _
Here's the scoop for this class:
• On Tuesday and Thursday of each of the three weeks you will receive an email with a reminder to visit the class blog for that day's lesson.
• A password-protected blog dedicated to each class will serve as our clubhouse.
• A facebook group will be created for you to (optionally) share your paintings, and enjoy and learn from the artwork of others. (However, if you are shy about posting your art, Fred is always available to look at your work via email.)
• The class materials will be up and available for download until "forever," if for some reason you need to miss a day (or a couple of weeks).
• Upon registration, you will receive an email within 48 hours confirming your sign-up. On the Friday before your session begins, you will receive a "test" email to make sure you can receive/view everything.
• What you will need: You will be able to view vimeo.com videos.
• Class fee is good for participants living in a single household.
QUESTIONS? carla@carlasonheim.com
_ _ _ _ _ _ _
SIGN UP TODAY!
– – – – – – – – – – – – – – – – – – – – – – – – – – – – – – – – – – –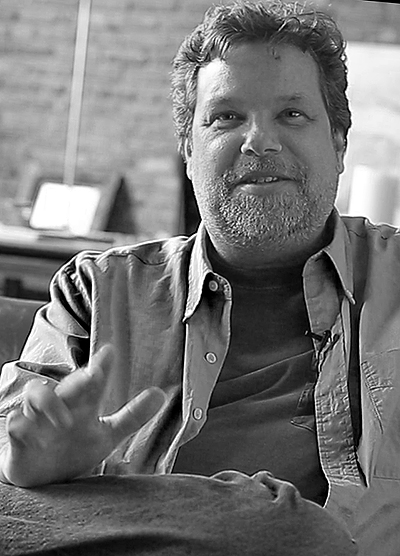 Fred Lisaius is a painter, sculptor, and a popular art teacher at Bellevue College, WA  ("Fred is perfect!"). Fred is represented by the Patricia Rovzar Gallery in Seattle, and his work is in many private and corporate collections. Fred recently had a show at the Bainbridge Island Art Museum.  From his statement:
The deeper I go into the forest the closer I feel to the truth. Off of the trail, there is a quiet calm where ideas can be contemplated and refined. In my paintings and my sculptures, I utilize the forum of nature to explore our relationship to the natural world and to each other.
 – – – – – – – – – – – – – – – – – – – – – – – – – – – – – – – – – –
---