Hello! I met Karine Swenson about 10 years ago when we were both living in Salida, CO. Karine now lives in Joshua Tree, CA (and I in Seattle), so I miss our long talks at her gallery about art and life! She has two classes with us: "Intro to Abstract Painting" and "Elements: Building Blocks of Painting" (a NEW class beginning May 12, 2015!). Karine is a smart, insightful instructor and I know you will enjoy her classes! — Carla

Meet Artist Karine Swenson from Silly U on Vimeo.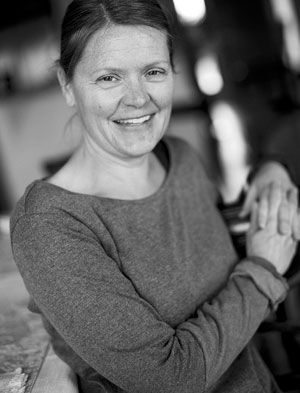 Karine Swenson grew up just outside of a town called Rapid City, South Dakota in the Black Hills. The closest neighbor was a mile away. Reared in this environment, Swenson's connection with the natural world was strong. After receiving her BA in painting from Augustana College in Sioux Falls, South Dakota, she moved to Colorado. She has spent most of her life in small towns that sit right next to the last remaining bits of wilderness. From the mountains of Colorado, the ocean surrounding Maui, Hawaii and now the desert near Joshua Tree, California, she feels the most at home out in nature. In the studio, her second home, she can explore her relationship with the natural world. Her oil paintings are reflections of this relationship. Swenson has been a full time artist for the past ten years.
See more wonderful art at Karine's website: www.karineswenson.com.
And here is a selection of recent work: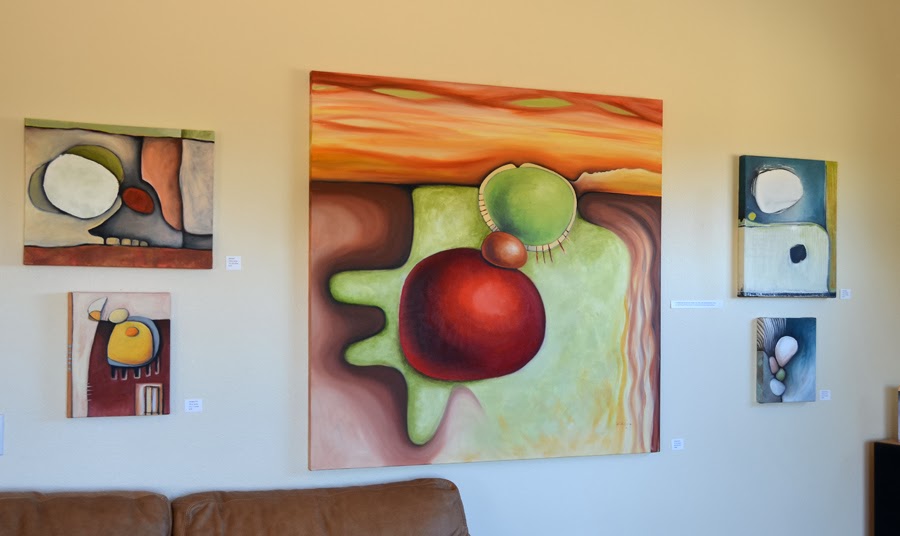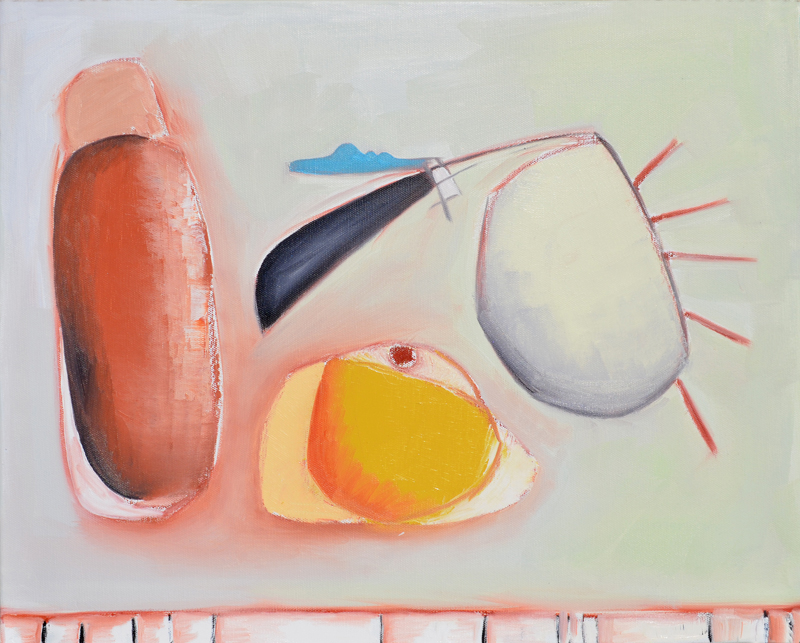 "Nothing in Common." Oil on Canvas, 16 x 20 inches.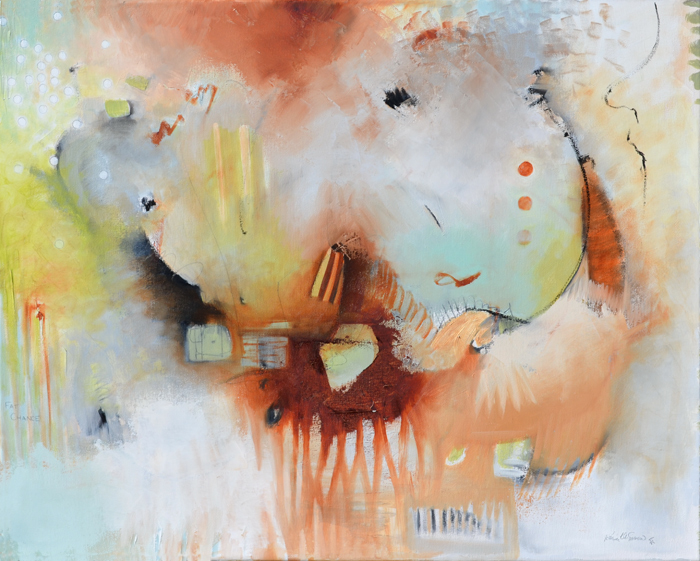 "Mental Meanderings." Oil on canvas, 24 x 30 inches.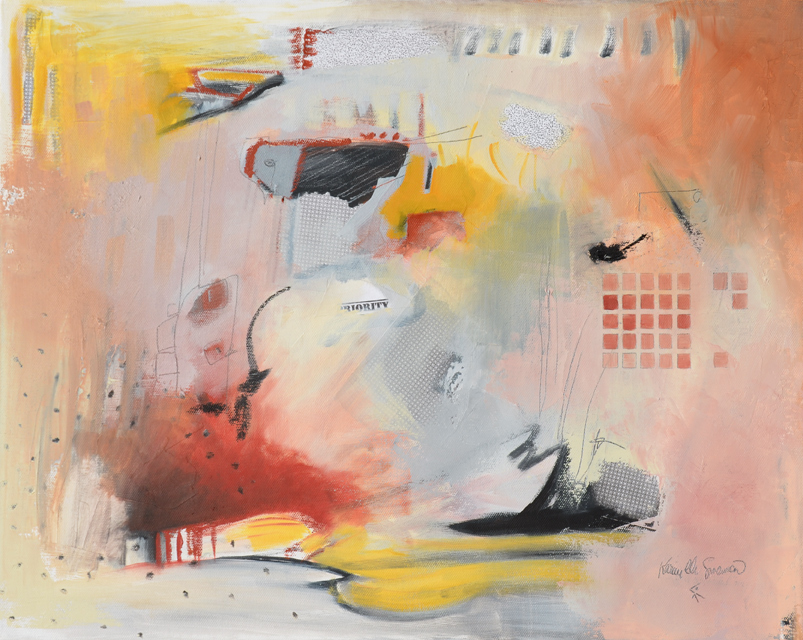 "Priority." Security envelopes, oil and graphite. 16 x 20 inches.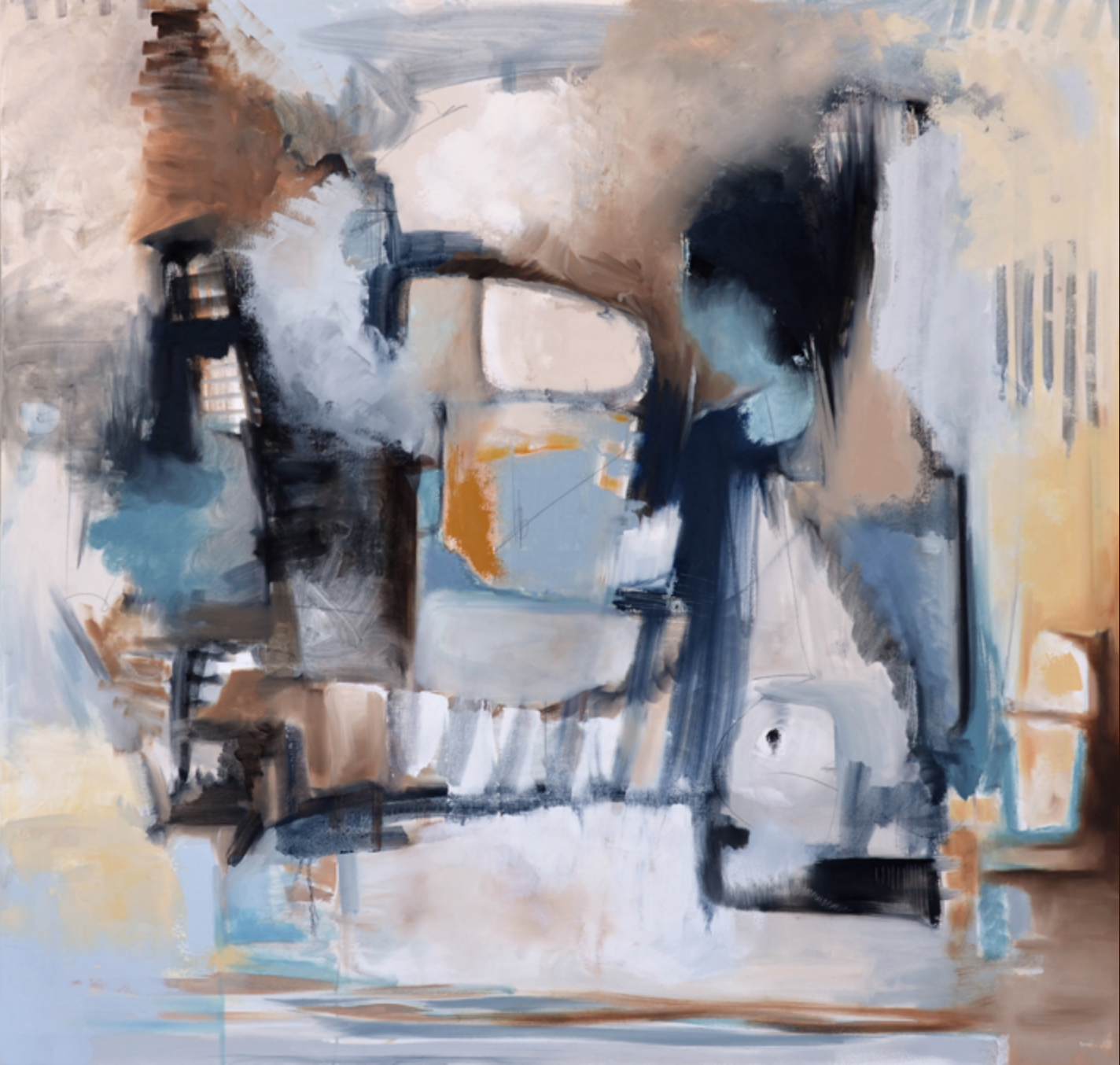 "Somewhere Between." Oil on canvas, 48 x 48 inches.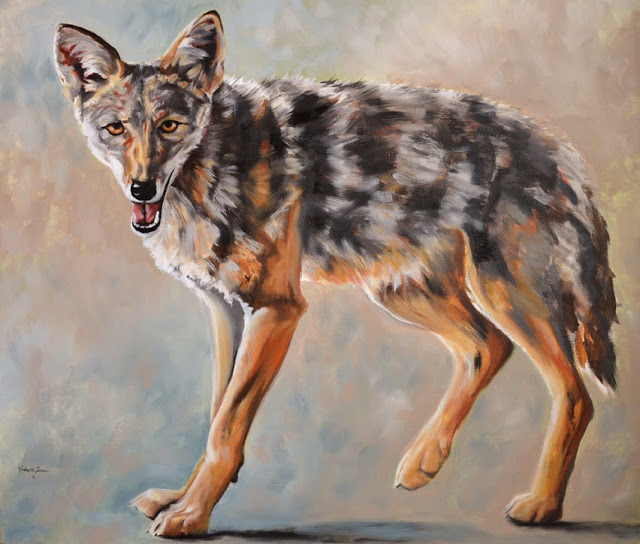 "Confrontation." Oil on canvas, 35 x 40 inches.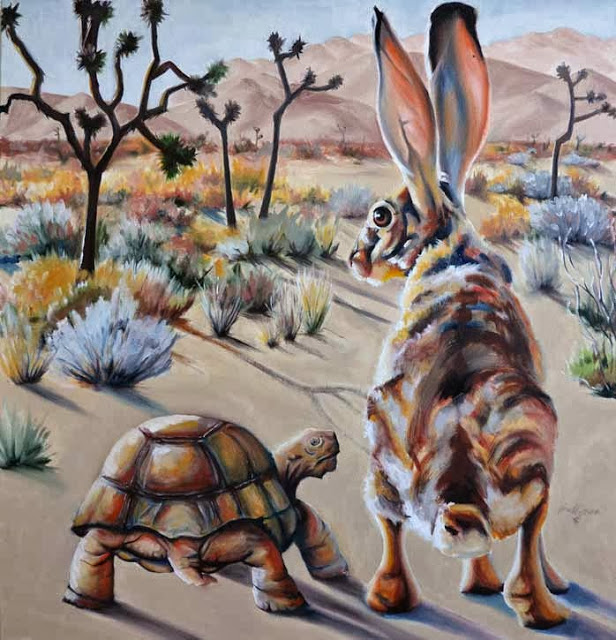 "Ready, Set, Go." Oil on canvas, 36 x 36 inches. 
_______________________
Karine's CV:
Selected Exhibitions 
"Seeing Spots" – Solo Show – Twentynine Palms Gallery, May 2015, 29 Palms, CA
"Walk on the Wild Side" – Solo Show – Metro Galleries, March/April 2015, Bakersfield, CA
"Real and Imagined" Solo Show – Metro Galleries, April/May 2013, Bakersfield, CA
"Portraits," Joshua Tree Public Library, February – September 2012, Joshua Tree, CA
"From the Desert to the Sea," Metro Galleries, April/May 2011, Bakersfield, CA
"Circle of Quiet", Solo show, Red Arrow Gallery, March 2011, Joshua Tree, CA
"Augustana Art: Then & Now," Eide-Dalrymple Gallery, Oct. 2010, Sioux Falls, SD
Hwy 62 Art Tours, October 2008, 2009, 2010, 2011, 2012 & 2013
"Desert Winds", September 2009, Spezzano Gallery, Long Beach, CA
"Clarity", Solo Show February, March 2009, True World Gallery, Joshua Tree, CA
The City of Palm Springs Annual Juried Art Show, January 2009, Palm Springs, CA
*NCAA National Juried Show, April 2007, Fort Collins, CO
AVAC Open Awards show, July 2006 and 2004, CMC, Buena Vista, CO
"From the Island" Solo show, Den Gallery, November 2005, Denver, CO
*National Juried Art Show, Cedar Key Art Center, March 2005, Cedar Key, FL
Catharsis, April 2004 and 2005, Cool Mountain Art, Salida, CO
*Drawing from Life, February 2003, Wailuku, HI
*Schaefer Portrait Challenge, January 2003, Maui Arts & Cultural Center, Kahului, HI
Awards and Honors
Artist Award, Joshua Tree National Park Art Show & Faire, 29 Palms Art Gallery, December 2013
2nd place, Southland Show, 29 Palms Art Gallery, November 2010
1st place, painting, Purple Agave Gallery, Spring 2009
Representation
Metro Galleries, Bakersfield, CA present
Art of Framing, San Diego, CA June 2011 to November 2013
JTAG, Joshua Tree, CA 2010, 2011, & 2012
Cultureclash, Salida, CO January 2007 to May 2011
Sandy Carson Gallery, Denver, CO 2005 to 2007
Cool Mountain Art, Salida, CO 2004 to 2006
Art Pacific Gallery, Wailea, HI 2003 to 2004
Maui Hands Gallery, Paia and Makawao, HI 2001 to 2003
Education
1992 B.A. Augustana College, Sioux Falls, SD Painting and Drawing
1990 studied painting and sculpture, UNM, Albuquerque, NM