Inspired by Lives & Letters
---
_____________
Inspired by Lives & Letters
Instructor: Lendon Noe
3-Week Class • 6 Lessons

Now available as a self-study class.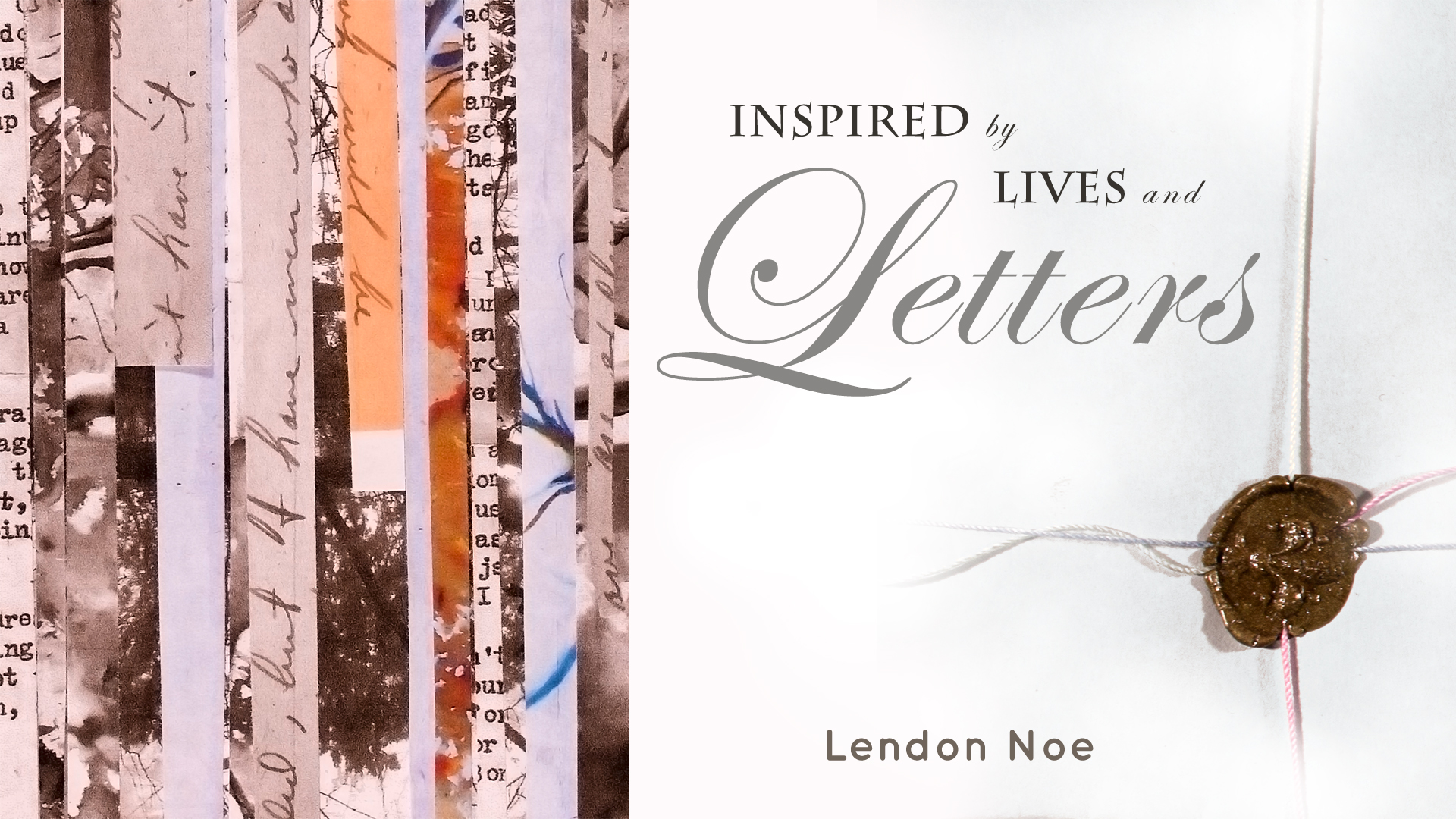 As artists we are always looking for inspiration. What's my next project going to be? What is it that I am trying to say with my artwork?
Rather than just wait in hopes of a muse, I often go looking!
One of my sources for inspiration has been in the lives as revealed in the letters of my favorite poets and authors, and in this class I would like to share some of my approaches  with you.
It's not unlike a treasure hunt. A little bit of reading, an interest is sparked, one clue leads to the next, and before you know it you have a whole series of work!
Letters (as in correspondence between two people) will be an underlying theme. We will look at some of my favorites: the Master Letters of Emily Dickinson, Rilke's Letters to a Young Poet and Letters to a Young Painter. We will give a nod to Nick Bantok and his Griffen and Sabine series.  And then John Berger's correspondence with John Christie, and I have some personal letters that are real treasures and I bet you do, too.
We will be working relatively small, usually no bigger than 9″x 12″. In fact, 4″ squares will be another underlying theme. There will be lots of mixed media, ink, tissue and collage techniques, a plaster surface treatment and some optional sealing wax tips. You should come away with quite a few pieces of finished work, some of which could actually be mailed!
I am so looking forward to working with you.
Lendon
___________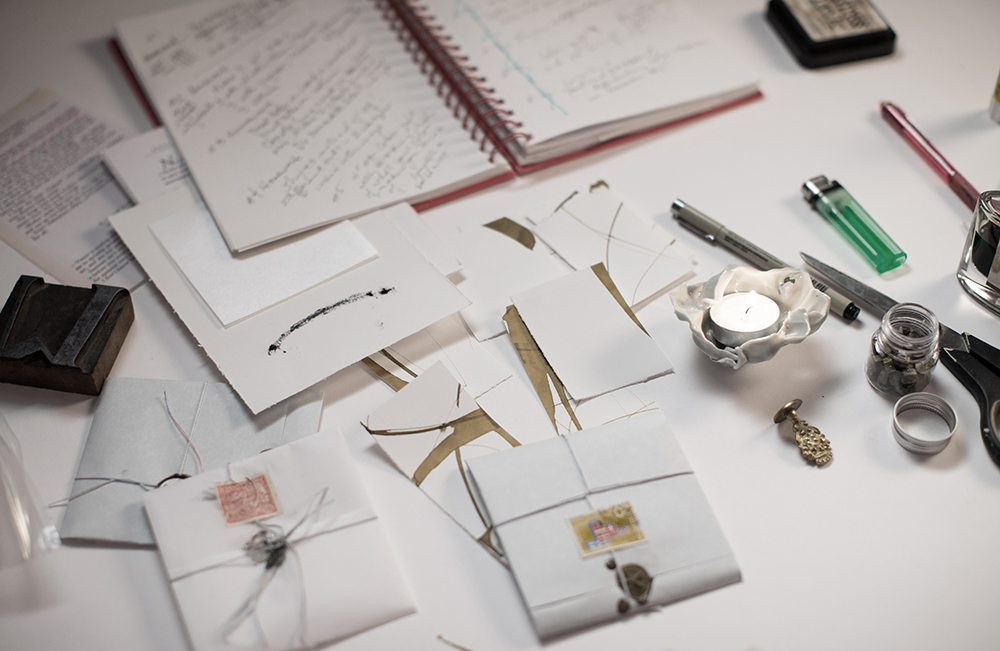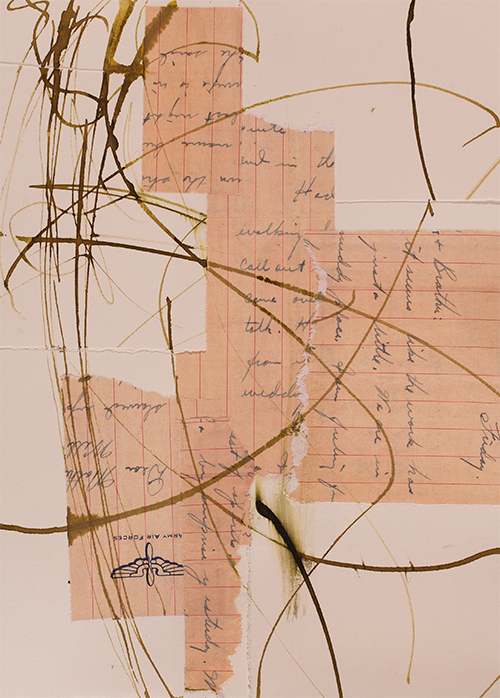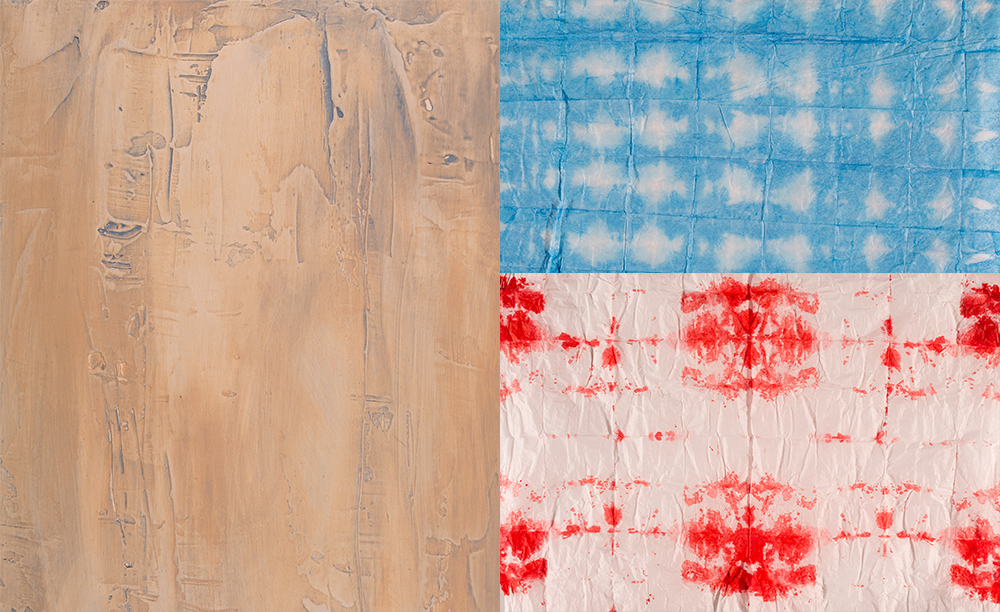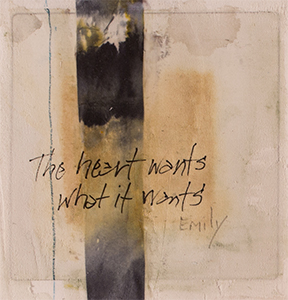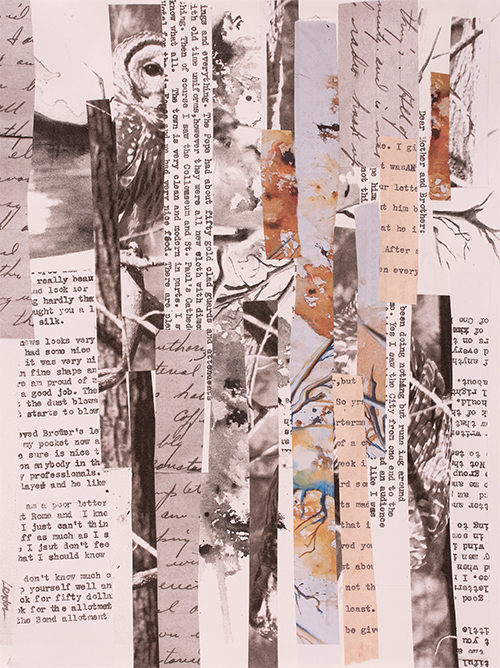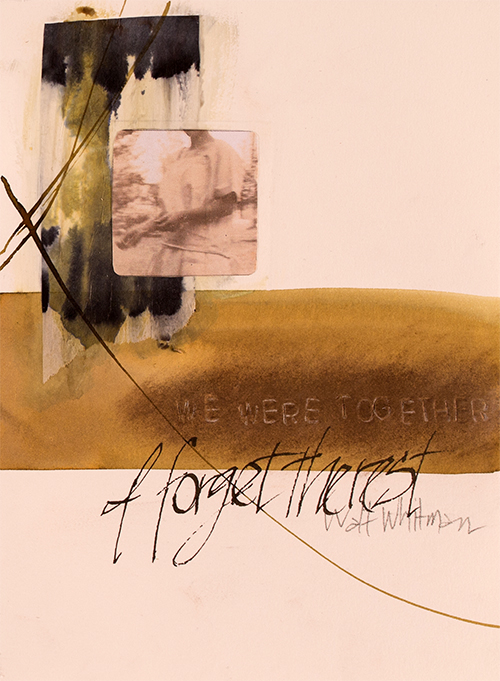 For a list of supplies needed, click HERE.
Class Itinerary:
Week 1
Lesson 1 – Two Different Folds
A letter is a conversation in writing between two people. Begin by folding love notes and love letters, and creating an insert by making line designs as a conversation. "To talk of many things": Considering embellishments.
Lesson 2 – Two New Techniques
Plaster pages surface treatment and folding and dyeing tissue paper designs.
Week 2
Lesson 3 – Creating Conversations
Creating conversations with four-inch square designs using our new techniques. Working text into the mix and getting a little personal.
Lesson 4 – Stripe Designs!
Relief from the square! Continuing to create conversations and now adding images into the mix.
Week 3
Lesson 5 – I Send You This Cadmium Red
A little conceptual art. A little performance art. Revealing a little of ourselves, finding support in the process and Sol LeWitt. Creating art by instructing others.
Lesson 6 – As Time Goes By
A concertina that reflects a conversation between our present and our past. Folding and using our techniques in a book project.
Sign up today!
__________________________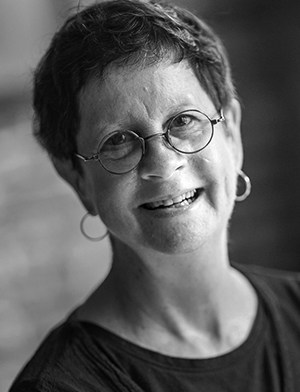 Lendon Hamilton Noe is a native of Jackson, Tennessee, where she has been a Professor of Art at Lambuth University, Head of the School of Arts and Communications, and Chair of the Visual Art Department. She taught primarily, drawing, painting and design. She graduated from Rollins College in Florida, earning the BA in Art and English Literature. She studied in Denver at the Rocky Mountain School of Art and then returned to Tennessee and completed an MS in Art Education at UT Knoxville. She completed her MFA in Painting and Mixed Media at Vermont College. Her work includes oil painting, original prints, mixed media, and installation. See more of Lendon's work at her website: www.lendonnoe.com.
– – – – – – – – – – – – – – – – – – – – – – – – – – – – – – – – – – –
NUTS & BOLTS
Here's how this online class works:
• During the three weeks of class, you will receive an email each Tu-Th with a reminder to visit the class blog for that day's lesson.
• A password-protected blog dedicated to each class will serve as our clubhouse and where you will find all the class materials as they are uploaded.
• A Facebook group will be created for you to (optionally) share your paintings, and enjoy and learn from the artwork of others. (However, if you are shy about posting your art, Lendon is always available to look at your work via email.)
• The class materials will be up and available for download indefinitely, if for some reason you need to miss a day (or a couple of weeks).
• Upon registration, you will receive an email within 48 hours confirming your sign-up. On the Friday before your session begins, you will receive your class codes.
• Class fee is good for participants living in a single household.
QUESTIONS? carla@carlasonheim.com
FAQs – If you've never taken an online class before and would like to know more about our online classes, click HERE.
___________________
---